Distribution lagged for months at overseas US military bases during COVID-19 vaccine rollout, IG says
By
Stars and Stripes
February 4, 2022
---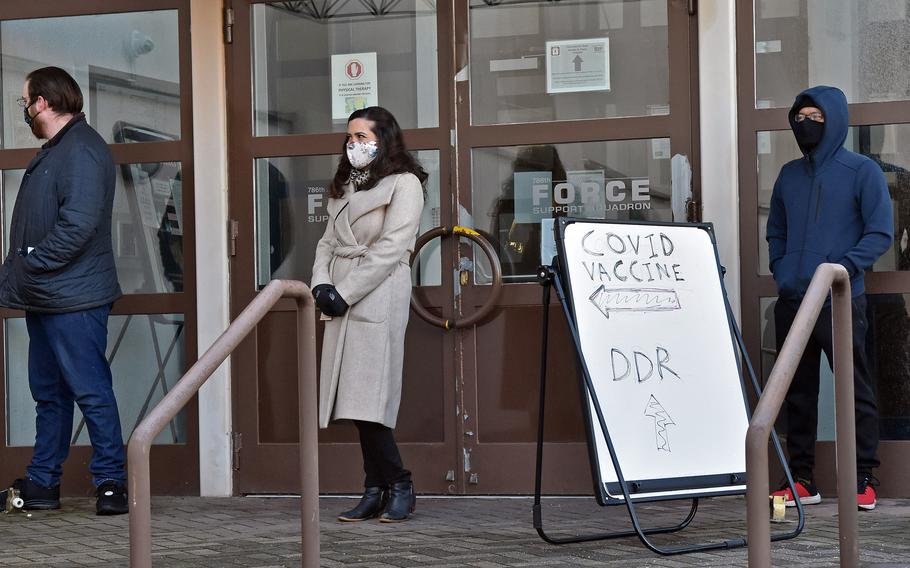 Stars and Stripes is making stories on the coronavirus pandemic available free of charge. See more stories here. Sign up for our daily coronavirus newsletter here. Please support our journalism with a subscription.
The Army and Air Force didn't prioritize overseas service members and dependents who had no other COVID-19 vaccination options, leading to long distribution delays at many U.S. bases last year, a Pentagon Inspector General's report said.
The report confirmed what many in places such as Germany and Japan already knew after waiting months longer for the shots than their counterparts based elsewhere.
When the vaccines first became available in late 2020, the Defense Health Agency rolled out a tiered vaccination plan.
Those first in line included health care workers, first responders, deploying troops and special operations personnel, among others, said the report released Thursday, which looked at the challenges DHA faced between February and May 2021.
At the time, coronavirus vaccination was not mandatory for service members or DOD civilians, and supply was limited. But shots became increasingly available off base in the U.S. to a broader part of the population during that same time period, unlike in most of Europe and Asia.
The Navy told the IG that it prioritized vaccine distribution overseas, including in Europe, while Army and Air Force officials said they did not, the report said.
Sailors and their families in Naples were among the first people anywhere in Europe to receive the vaccine, when the command opened up eligibility to beneficiaries aged 18 and up in January 2021. The Navy base in Sicily soon followed suit.
Meanwhile, some commands had difficulty identifying DOD civilians and contractors eligible for the vaccine within their treatment area because they did not typically receive military health care. And many people were confused by the system.
In a COVID-19 survey conducted by the IG, 67.44% did not know which tier they were part of, the report said.
As a result, "an individual might not have known when they were eligible … potentially delaying them from receiving the vaccine," it said.
Meanwhile, inoculation efforts stalled while supplies trickled in.
The shortage, especially in Europe, caused widespread frustration among personnel and families waiting months to get their turn for a first jab amid soaring coronavirus infections and lockdowns across the Continent.
Officials at overseas locations told IG auditors that they were not allocated enough vaccine doses for their beneficiaries, who were almost exclusively dependent on the U.S. military for vaccinations.
In March 2021, the Army was still vaccinating only those in the highest priority groups.
A month later, an official at an unnamed military treatment facility overseas said the clinic needed more than 20,000 doses to fully vaccinate those in the top two priority categories alone, but it was only receiving 1,000 doses a week, the report said.
Vaccine supplies stalled even in some Navy communities overseas. An official at Yokosuka Naval Base in Japan said people were frustrated because they had no option other than to wait for the vaccine through DOD.
Yokosuka was among five sites overseas that the IG team visited. The others were Naples and Caserma Ederle, Italy; Ramstein Air Base, Germany; and Kadena Air Base in Okinawa.
DHA took steps that spring to increase vaccine distribution overseas, the IG report noted.
By May 10, it had provided enough vaccine for 80% of the eligible population to receive their first shot, according to the report.
But the delays caused widespread dissatisfaction in many military communities at the time.
"I feel that we have been abandoned by the Department of Defense," a military spouse in Belgium told Stars and Stripes in March 2021 on condition of anonymity because of concerns of repercussions for her family.
The IG recommended that the DHA director review problems encountered during the COVID-19 vaccine distribution and determine ways to better support future pandemic responses.
DHA disagreed with the recommendation, noting that it already prepared an after-action report. It said it meets weekly with various agencies to review and improve vaccine distribution.
---
---
---
---