Navy secretary orders sailors and Marines to get COVID-19 vaccinations within 90 days
by
Alex Wilson
Stars and Stripes
September 2, 2021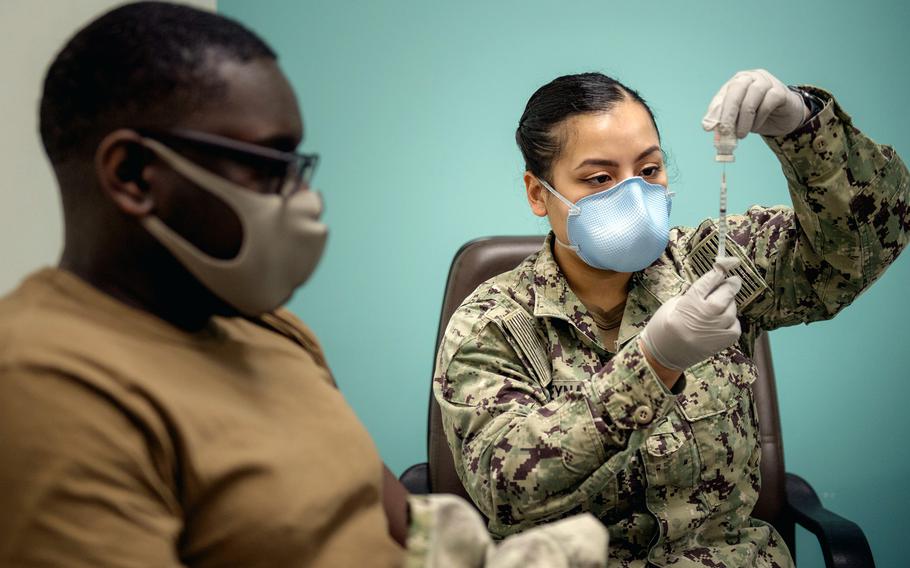 Most U.S. sailors and Marines have less than 90 days to get vaccinated against COVID-19 or face disciplinary action, according to a recent order from the Secretary of the Navy.
Secretary Carlos Del Toro declared the order "effective immediately" in an Aug. 30 naval administrative message that followed Defense Secretary Lloyd Austin's Aug. 24 command for mandatory vaccinations.
Del Toro gave reservists 120 days to get vaccinated. The deadlines fall on Nov. 28 and Dec. 28 for active-duty service members and reservists, respectively.
"As the faithful maritime protectors of our country in peacetime and war, each of us must take ownership of our readiness to preserve and protect the force, and ensure the success of our mission," Del Toro wrote.
The U.S. Food and Drug Administration on Aug. 23 granted approval to the two-shot Pfizer-BioNTech vaccine, which had been under emergency use authorization.
The following day, Austin ordered all troops to get vaccinated, at the direction of their respective services.
Vaccinations within the U.S. military were voluntary under the emergency use authorization. Only the Pfizer vaccine is approved, so far, although the others are still available at military clinics.
Some service members may be exempt, including those taking part in COVID-19 clinical trials until they conclude, according to Del Toro's message.
However, unvaccinated sailors and Marines who previously contracted COVID-19, the coronavirus respiratory disease, are not exempt, according to a separate administrative message from Vice Adm. W. R. Merz, deputy chief of naval operations for operations, plans and strategy.
Service members who received a medical exemption while vaccines were approved under an emergency use authorization will be reevaluated, according Merz's message. 
The vaccine mandate is a lawful order and failure to comply is punishable under Article 92 of the Uniform Code of Military Justice, according to Del Toro and Merz.
"The Chief of Naval Operations and Commandant of the Marine Corps have authority to exercise the full range of administrative and disciplinary actions to hold non-exempt Service Members appropriately accountable," Del Toro wrote. 
Punishments may include discharge from the service or disqualification for promotion or reenlistment.