USS Truman departs Mediterranean after eventful Europe deployment
By
Stars and Stripes
August 31, 2022
---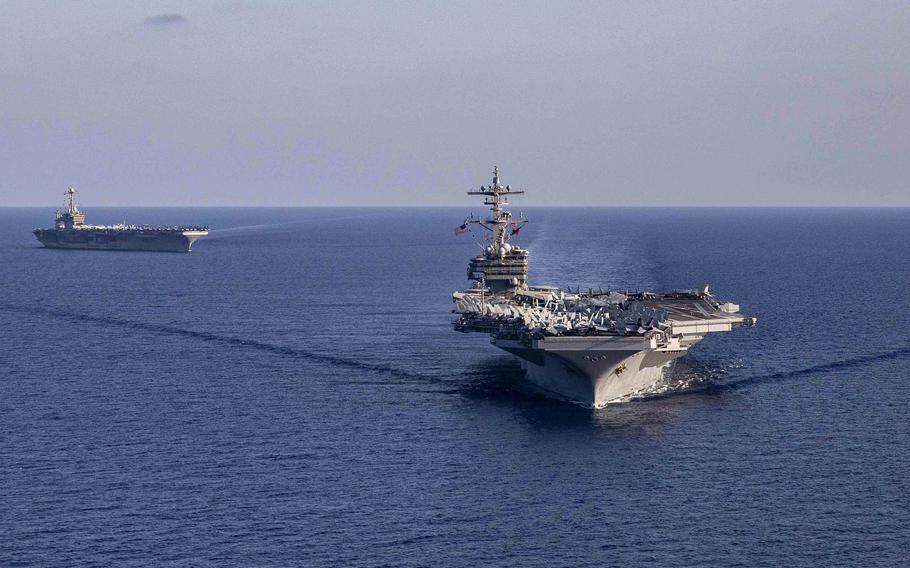 NAPLES, Italy — The Harry S. Truman Carrier Strike Group left the Mediterranean Sea this week after serving more than eight months on a deployment that coincided with the buildup and full-scale invasion of Ukraine by Russia.
USS Harry S. Truman, along with the embarked Carrier Air Wing 1 and Destroyer Squadron 28, transited the Strait of Gibraltar on Tuesday, the Navy said in a statement Wednesday.
The carrier's homeport is in Norfolk, Va.
Truman's departure leaves the George H.W. Bush Carrier Strike Group on duty in the Mediterranean, part of the U.S. Naval Forces Europe-Africa/U.S. 6th Fleet area of responsibility.
The USS George H.W. Bush arrived in theater Thursday, sailing with Truman in the Ionian Sea for much of the last week while commanders met and handed off duties as well as transferred ammunition, according to the statement.
George H.W. Bush officially relieved Truman on Saturday, the Navy said.
"This has been a meaningful deployment for our strike group," said Rear Adm. Paul Spedero, commander of the Harry S. Truman carrier group.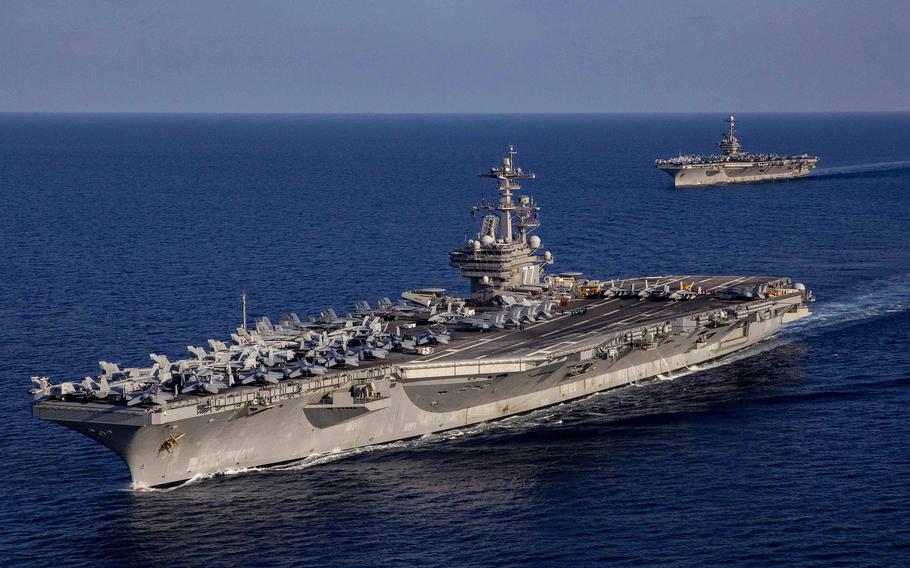 The Truman arrived in the Mediterranean in December, scheduled eventually to move on to U.S. Naval Forces Central Command/U.S. 5th Fleet's area of responsibility in the Middle East.
But later that month, Defense Secretary Lloyd Austin ordered the carrier to remain in the Mediterranean as Russia staged military troops and equipment along Ukraine's borders in preparation for its Feb. 24 attack. Moscow also ordered ships from its Baltic Sea fleet into the Mediterranean and launched attacks on Ukraine from the Black Sea.
During its time in the region, the Truman supported patrol and training flights in Eastern Europe, sailed the Adriatic, Ionian and Aegean seas and made port calls in Italy, Croatia, Spain and other locations.
In July, an F/A-18E Super Hornet was blown off its deck in the Ionian Sea. The plane was recovered earlier this month.
---
---
---
---