Navy jet recovered after Truman mishap was not upgraded with advanced features
By
Stars and Stripes
August 11, 2022
---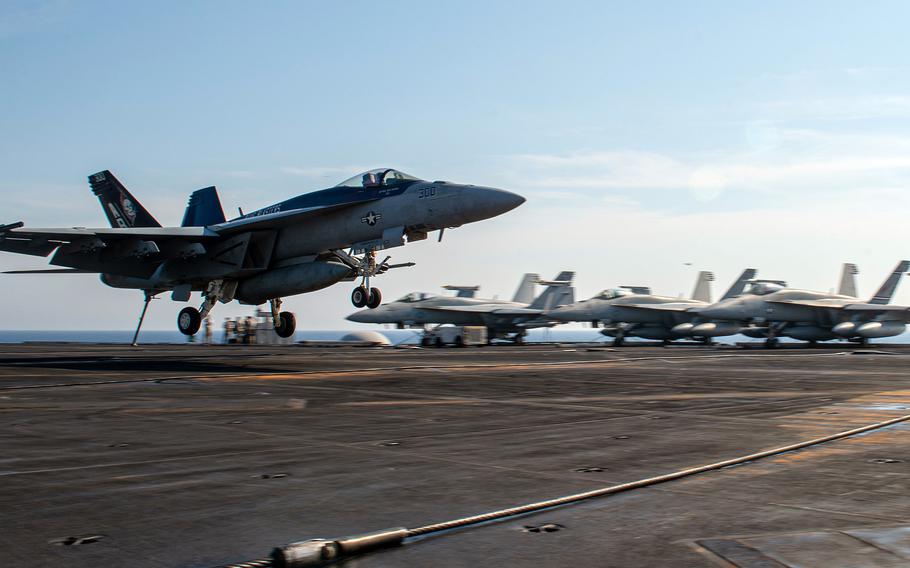 NAPLES, Italy — The $67.4 million Super Hornet that blew off the deck of a Navy carrier into the Mediterranean Sea lacked the cutting-edge technology available in the plane's latest version, according to the service.
It was a Block II, an older version of the jet that had not been updated, Capt. Tamara Lawrence, a U.S. Naval Forces Europe-Africa/U.S. 6th Fleet spokeswoman, said Wednesday.
Newer, or Block III, versions carry technology upgrades that include an infrared search-and-track system useful in pinpointing stealth aircraft, better radar equipment and a precision-approach landing system.
That technology could be vulnerable to exploitation by the Chinese or Russians, experts have said.
The F/A-18E from the USS Harry S. Truman was lost July 8 in rough weather, and was recovered Aug. 3 from a depth of about 9,500 feet roughly a half-mile from the estimated point where it entered the water.
It was found in the Ionian Sea, a portion of the Mediterranean that is south of the Adriatic Sea and bounded by Sicily, southern Italy, southern Albania and the western coast of Greece.
It is being examined at Naval Air Station Sigonella's NATO pier complex in Augusta Bay, Italy, as part of an ongoing investigation and will be transported to the U.S., Lawrence said.
Among the equipment search crews used was a CURV-21 remotely operated vehicle, or ROV, equipped with a continuous transmission frequency modulation sonar.
The ROV was among other needed equipment flown to NAS Sigonella by Air Force C-17 Globemaster III cargo planes from Dover Air Force Base in Delaware, according to Lawrence.
"The search and recovery took less than 24 hours," she said. "The team operated safely and efficiently to meet the timeline."
The Navy is slowly phasing out the Super Hornet, which was introduced in 1999, but it plans to purchase 78 Block III versions and upgrade existing Block II models, Boeing, the plane's manufacturer, said in September.
---
---
---
---