Possible part defect identified in ejection seats of some Navy aircraft, prompting fixes
By
Stars and Stripes
July 27, 2022
---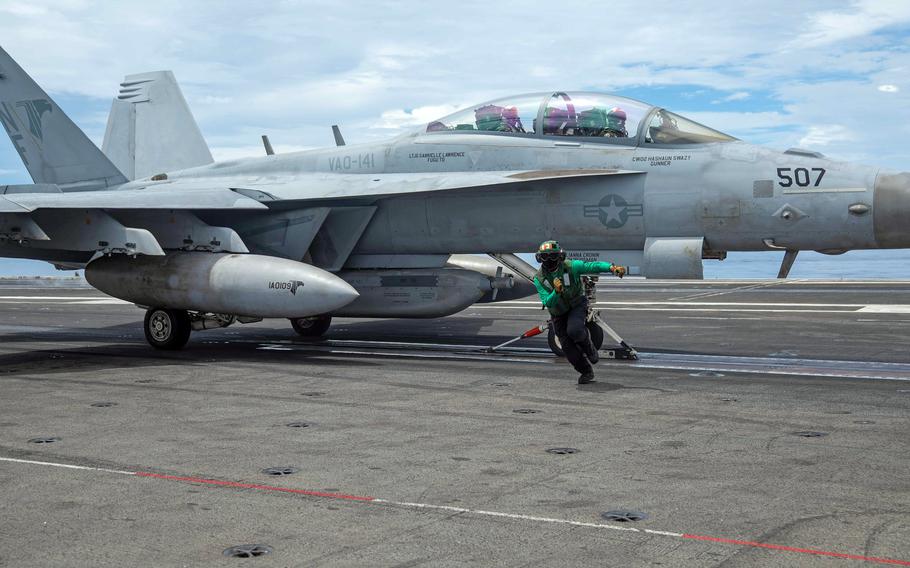 Updated July 29,2022 4:18 a.m. Eastern Time.
The Navy and Marine Corps are replacing a potentially defective part used in ejection seats on some airplanes, such as Super Hornets and Growlers, the service announced.
Citing operational security, Navy officials Wednesday would not say how many planes are involved, how many replacements already had been installed or when the replacement process would be completed. They also wouldn't specify what the defect was and did not say if affected jets had been grounded.
On Thursday, the Air Force in a statement said it was grounding 279 training aircraft over the same ejection seat concerns.
The replacement is limited to aircraft with a cartridge-actuated device, or CAD, which is activated when a crew member pulls a handle to eject and deploy a parachute, Naval Air Systems Command said in a Tuesday statement.
Furthermore, only those aircraft that fall in a range of lot numbers need a CAD replacement, the Navy said. Planes affected include the F/A-18B/C/D Hornet, F/A-18E/F Super Hornet, E/A-18G Growler, T-45 Goshawk and F-5 Tiger II, according to the statement.
"The CAD will be replaced at the aircraft's assigned squadron, and the aircraft will be inspected before its next flight," the command said in the statement.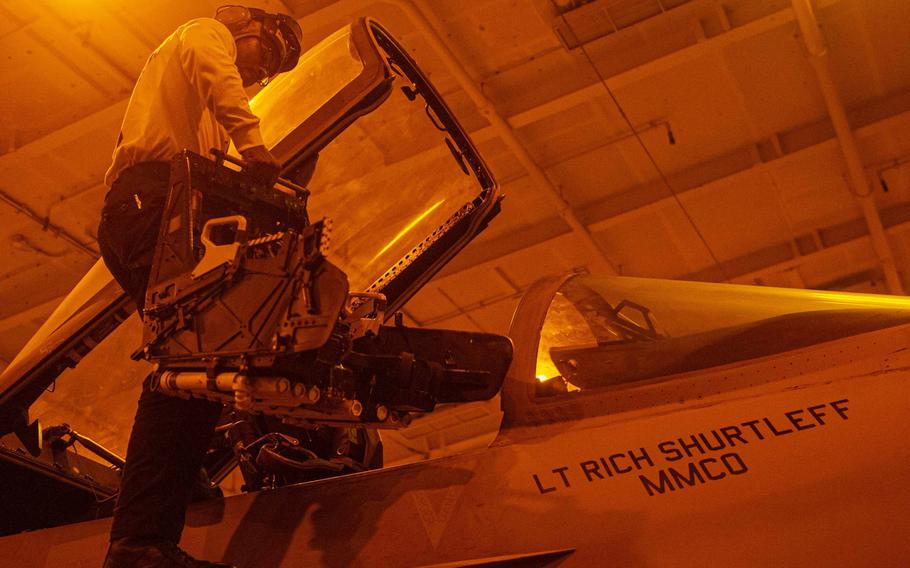 There currently are no impacts to naval aircraft supporting operations worldwide, said Marcia Hart, a NAVAIR spokeswoman.
CADs and propellant actuated devices, or PADs, control a variety of functions. There can be as many as 20 of them in an ejection seat, controlling functions like jettisoning the canopy and time-delaying the parachute, according to Mesa, Ariz.-based Task Aerospace, Inc.
Shipping of replacement CADs to Navy fleet maintenance centers started Sunday and will continue through the week. Radiography was used to ensure each unit was properly manufactured, the Navy said.
On Friday, the British air force announced on Twitter it was grounding all nonessential flights of its Typhoon fighters and its Red Arrows aerobatics team because of a "technical issue which may affect the safe operation of our ejector seats."
Red Arrows later were cleared but nonessential flying still was paused for Typhoon jets as a precaution, the air force said in subsequent tweet.
The Navy said it was notified of the potential defect by vendor Martin-Baker, an English manufacturer of ejection seats. The issue was discovered during routine maintenance of ejection seats, Hart said. 
Among ejector seats Martin-Baker makes for the U.S. military is the MK-14, which is used in the F/A-18 and T-45 Goshawk, according to the company's website.
About 2,200 of those seats are in use. They are sold to Finland, Kuwait, Malaysia and Switzerland as well, the company said. Martin-Baker also makes ejection seats used in the Typhoon and the U.S. Air Force's T-38 Talon, among others.
---
---
---
---