Trio of Navy commanders relieved of duties, bringing total of recent leadership dismissals to 6
By
Stars and Stripes
June 13, 2022
---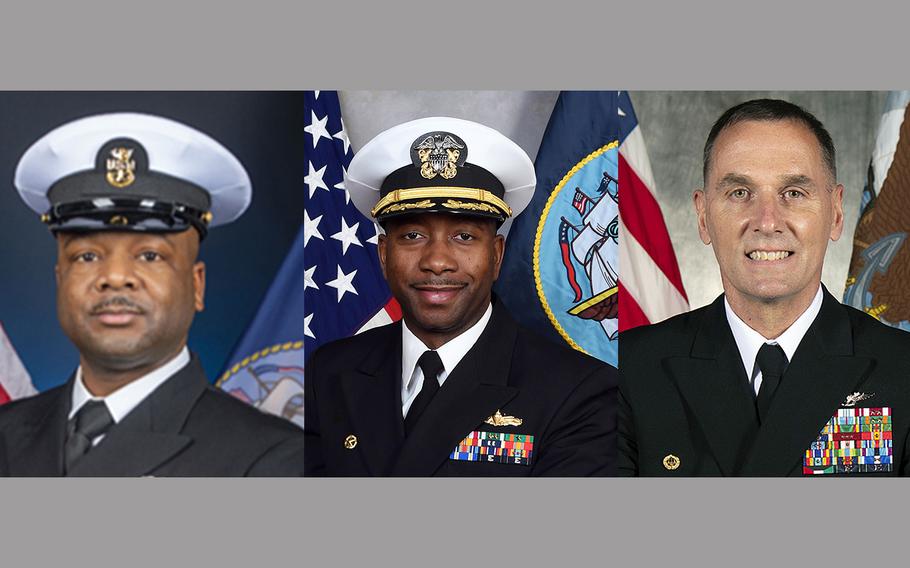 Three U.S. Navy leaders, including two serving aboard a destroyer, were ousted late last week, the latest in a recent string of removals by the service.
USS Bulkeley commanding officer Cmdr. Devine Johnson and Command Master Chief Earl Sanders were relieved of their duties Friday because of "a loss of confidence in their ability to effectively function as a leadership team," the Navy said in a Saturday statement.
Capt. William Harkin, the deputy commodore of Destroyer Squadron 2, will be temporarily assigned as commanding officer of Bulkeley until a replacement is identified.
Master Chief Petty Officer Christy Reed, of the same squadron as Harkin, will take over as command master chief until a replacement for Sanders is assigned, the Navy said.
In a separate action, Capt. Jeffry Sandin was removed as commanding officer of Recruit Training Command in Great Lakes, Ill., on Saturday, the Navy said in another statement.
Capt. Kertreck Brooks, chief of staff of the Naval Service Training Command, has assumed responsibilities of command. Sandin was reassigned to Naval Service Training Command headquarters.
In all, the service has relieved six leaders of their duties since May 31. The three other instances involved the commanding officer of an electronic attack squadron deployed to Europe and the commanding officer and executive officer of the Naval Justice School.
In each case, the Navy provided few details about the removals, saying only that the personnel had lost their posts because of a loss of confidence in their leadership ability.
Before taking command of the Bulkeley on Aug. 20, 2021, Johnson was the ship's executive officer. Sanders had served as the Bulkeley command master chief since June 2021.
Prior to that, Sanders was the command master chief of electronic attack squadron 130 at Naval Air Station Whidbey Island in Washington state, according to his online biography.
Sandlin reported as commanding officer of Recruit Training Command in May 2021.
---
---
---
---