US Navy carrier-based jets policing southern Europe as part of NATO's Russia deterrence mission
By
Stars and Stripes
March 3, 2022
---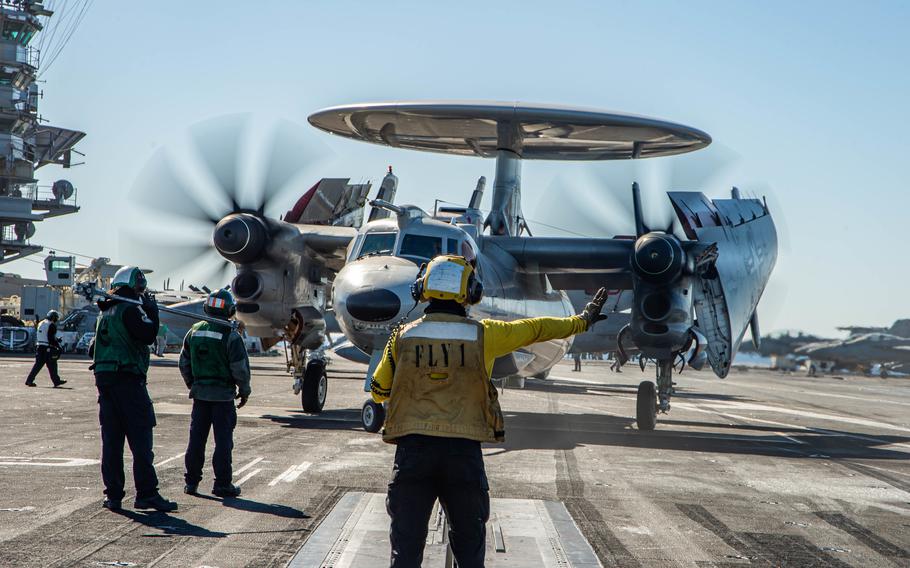 NAPLES, Italy — U.S. Navy fighter planes from a carrier strike group in the Mediterranean Sea are patrolling southern Europe's skies as part of NATO's effort to check Russian aggression and support alliance members, Navy officials said Thursday.
Over the past month, U.S. and allied pilots have flown air policing and training missions originating from the USS Harry S. Truman Carrier Strike Group, the Navy said in a statement.
The Navy did not say how many flights are involved, but the level of support is "consistent with what carrier air wings have provided during similar missions," said Lt. Cmdr. Shawn P. Eklund, a spokesman for the Harry S. Truman/Carrier Strike Group 8.
"Bottom line, the entire air wing of more than 60 aircraft are supporting the NATO (enhanced air patrol) mission," Eklund said.
It's also unclear over which southern European locations the flights occurred or whether any planes had encountered Russian jets.
However, the air wing hadn't experienced any "unsafe or unprofessional interactions with Russian jets since they have been in theater," said Lt. Tyler Barker, a spokesman for U.S. Naval Forces Europe-Africa/U.S. 6th Fleet.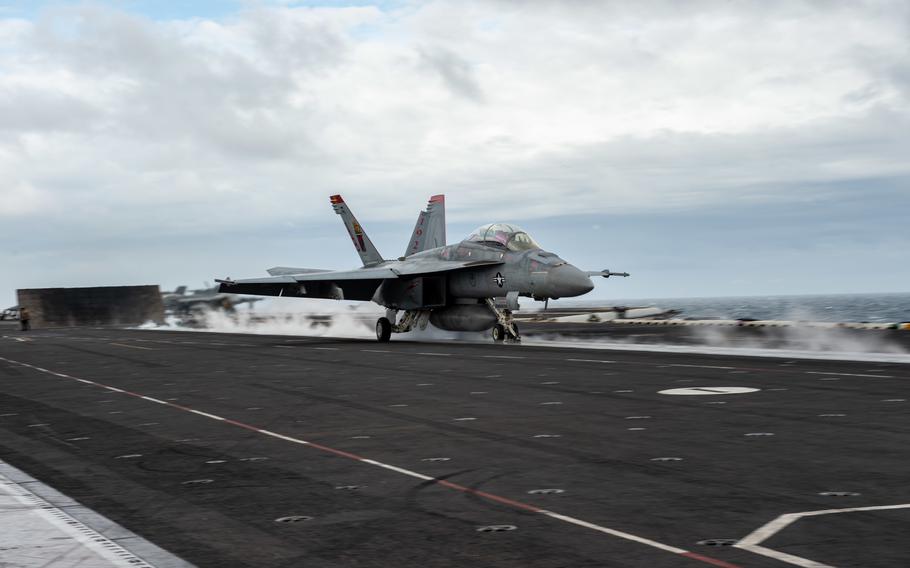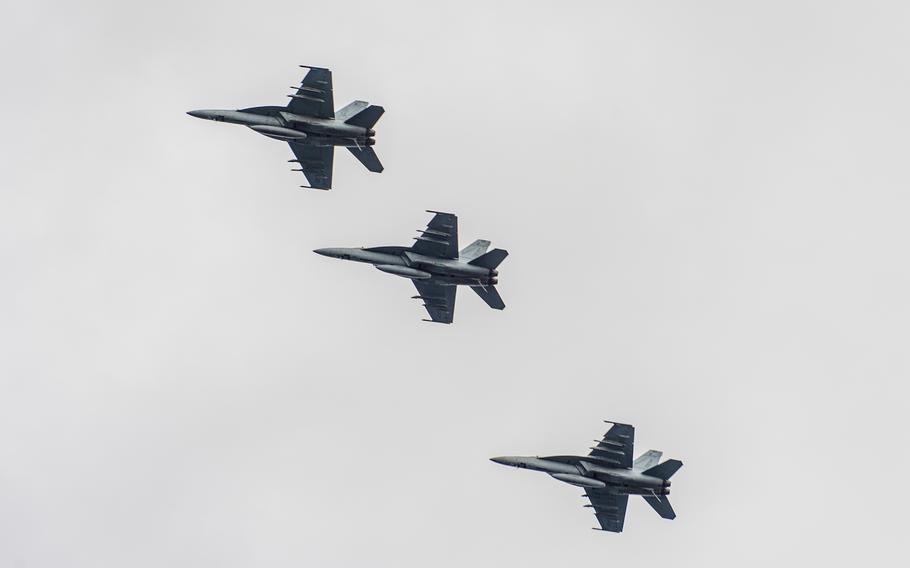 Last month, U.S. officials acknowledged three dangerous encounters between Russian jets and Navy P-8A Poseidon patrol planes over international waters in the Mediterranean Sea during the Feb. 12-13 weekend.
The Truman policing and training flights have been carried out by fighter attack squadrons 11, 211, 81 and 34, and Electronic Attack Squadron 137, the Navy said.
The Air Force's 48th, 52nd and 31st fighter wings as well as the 435th Air Ground Operations Wing out of Ramstein Air Base in Germany and the 606th Air Control Squadron from Aviano Air Base in Italy supported the flights, according to the statement.
The air policing flights began Feb. 24, Eklund said.
Training flights with the Romanian air force occurred Feb. 8-15 and included four U.S. F/A-18 Hornet jets based at Borcea Fetesti Airfield in Romania.
The training missions were a critical jump-off point for NATO's enhanced air policing and demonstrate the work of the air wing and the Truman with allies to defend territorial integrity, Capt. Patrick Hourigan, the carrier wing's commander, said in the statement.
Enhanced, or augmented, air policing is part of a multi-pronged approach developed by NATO after Russia invaded and annexed Crimea in 2014.
Baltic air policing is "continuously augmented" by a second detachment based at Amari, Estonia, according to NATO's website.
In southern Europe, various allied air force detachments temporarily augment Romania and Bulgaria's forces, according to NATO's website.
"It's a good mission," VFA-11 pilot Lt. Cmdr. Richard Watkins said about the policing flights in a statement. "We have a unique ability to operate from an aircraft carrier, and by working with our NATO allies, we really get to showcase our cohesive unified force."
Pilots from the Truman also have trained with the U.S. and Italian air forces under Italian tactical command and control, according to the Navy statement.
In early February, the Truman sailed alongside the French Charles de Gaulle and Italian Cavour carrier strike groups in a show of NATO strength prior to Russia's full-scale invasion of Ukraine.
---
---
---
---