US military spouses in Europe organize impromptu donation drives to aid Ukraine
By
Phillip Walter Wellman and Jennifer H. Svan
Stars and Stripes
February 28, 2022
---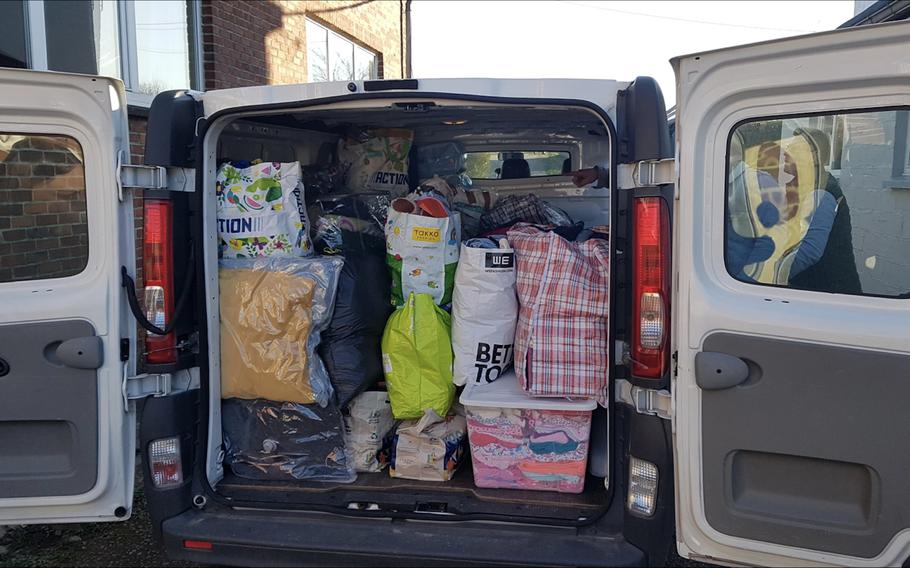 Spouses of American service members and civilians in Europe are stepping up efforts to help Ukrainians affected by the Russian invasion, while helping some in their communities cope with fears for their loved ones in Ukraine.
In Belgium, a spouses group formed on Facebook will collect clothes, blankets and other donations every Thursday from 4-7 p.m. at the gym at U.S. Army Garrison Benelux in Chievres, said Claire Carter, who is helping to organize the effort.
Volunteers will transport the supplies to the Ukrainian Embassy in Brussels, about 35 miles away, every Friday to be delivered, she said.
On its Facebook page, the embassy posted a list of useful donation items including clothes, generators, various medicines and medical supplies.
The spouses group is also trying to get solar battery chargers for cellphones to Ukraine so that soldiers can communicate with each other and with their family members.
"We are in touch with families who have fled Lviv (in western Ukraine) and are now in Poland, but they can't keep in touch with their husbands and they are pleading for solar chargers," Carter said.
Group members have been writing to companies like Amazon and the Army and Air Force Exchange Service to ask for chargers, but as of Monday had no confirmed donations from them.
The spouses have purchased 15, but each device costs $70 and "we need hundreds," Carter said.
Meanwhile, at Ramstein Air Base in Germany, two Ukrainian women married to Americans are spearheading a separate donation drive.
They will collect donations Friday at 4 p.m. in the parking lot outside the base's west gate, by the Ramstein air show disaster memorial.
Evgeniya Cole, 38, and Anya Douglas, 37, are asking for items that friends and family in Ukraine say are desperately needed.
They need bandages, rubbing alcohol and other disinfectants, over-the-counter painkillers, cotton balls, sanitary pads, thermometers, medical gloves, diapers and baby wipes, batteries, blankets, gloves and nonperishable snacks.
They also are supplying medical and hygienic supplies for combatants, along with flashlights and binoculars.
In Dubno, where Cole's parents live in western Ukraine, the electricity is turned off at night "and the soldiers cannot see," she said.
A Ukrainian friend of Cole's who lives in Poznan, Poland, has offered to pick up the donations Saturday in her construction company's van and drive them to the Ukraine border, where volunteers will distribute them in Ukraine with buses, Cole said.
She's trying to arrange additional transportation in case of an overflow of donations. Hundreds of people expressed interest to help after Cole posted a request for donations on a local spouses Facebook page over the weekend.
The needs are pressing, despite the millions in money and supplies being donated by other countries to Ukraine, Douglas said.
"My mom was in Kyiv in a bomb shelter freezing for three days because there were no blankets," she said.
Douglas' mom and her 85-year-old grandmother returned to their apartment Monday in the country's capital to shower and gather their belongings. They had been hiding in a subway converted into a bomb shelter since Saturday night, Douglas said.
"I'm still in disbelief that this happened. We have not used the word bomb shelter for how many years?" she said.
Douglas plans to drive from Ramstein to pick up her mother and grandmother if they can get to the border by train.
The organized donation drive by spouses in Belgium follows an ad hoc collection by Americans at the Benelux garrison and the surrounding NATO community, which resulted in several busloads of aid leaving for Ukraine on Sunday.
"With the recent influx of refugees from Afghanistan to Ramstein Air Base, we had some experience with the collecting for refugees and anticipating their needs," said Valerie Avella, one of the group's organizers, whose great-grandparents emigrated to the U.S. from Ukraine and who still has family in the country. "The Ukrainian military's needs are much more significant and pressing."
Members across NATO's Supreme Headquarters Allied Powers Europe, or SHAPE, community participated in this weekend's donation drive, in which supplies were bused to Ukraine independently with the help of a local Ukrainian church near the Belgian city of Mons.
The church, Chapelle Ukrainienne de la Protection de la Vierge Marie, will continue to collect donations.
Members of the spouses group said any help at their Thursday donation drive would be appreciated. People are also welcome to come out for support.
"When the invasion first happened, there were a lot of tears from the ladies," Carter said. "A lot were worried. What's going to happen to Europe? Is it going to escalate?
"So we are going to collect donations on Thursdays, and we are also going to sit and have coffee and talk and reassure anyone who is worried. We are making sure the spouses are taken care of because it's a worrying time for everybody."
---
---
---
---