US, Japanese helicopter crews team up for 'first of its kind' anti-submarine warfare exercise
by
Alex Wilson
Stars and Stripes
October 13, 2021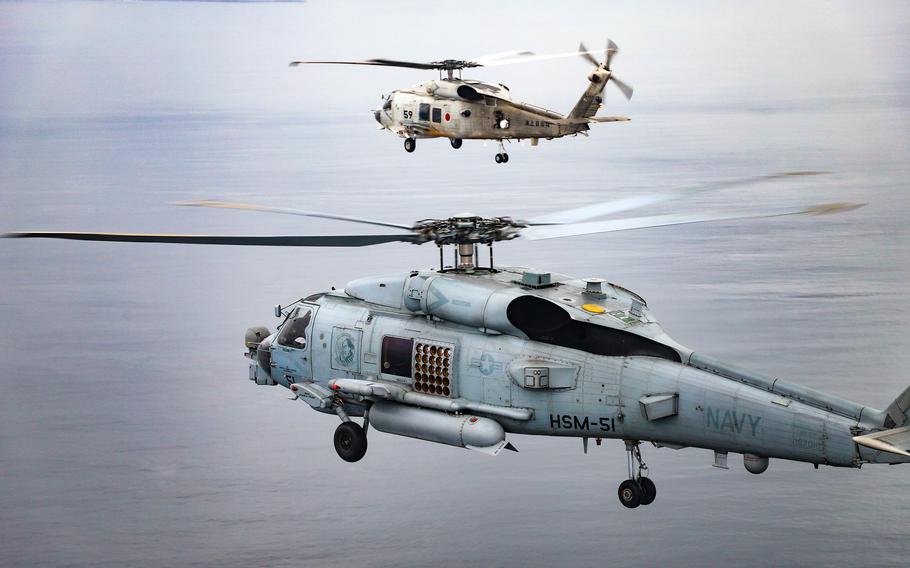 A pair of American and Japanese helicopter crews paired up to practice detecting and tracking enemy submarines during a "first of its kind" exercise for the squadrons based outside Tokyo.
Two MH-60R Seahawks from the Navy's Helicopter Maritime Strike Squadron 51 flew alongside an SH-60K from the Japan Maritime Self-Defense Force's Air Development Squadron 51 for the Sept. 14 drills, the Navy announced in a news release Tuesday.
The focus on anti-submarine warfare was new for the two squadrons, Task Force 70 spokesman Lt. Cmdr. Joe Keiley said in a Wednesday email. Their helicopters use a collection of sensors and sonar buoys to detect and track the subs, 7th Fleet spokesman Lt. Mark Langford told Stars and Stripes by phone that day.
"The exercise that we conducted with JMSDF demonstrated that we are fully capable of integration between our two nations," one of the U.S. pilots, Lt. Kris Appel, said in the Navy's release. "I believe this sets us up for an increase in lethality and prepares us to face any future challenges our two countries may face together."
China and North Korea, both of which have contributed to mounting tensions in the Indo-Pacific region, have a significant number of submarines in their fleets.
China has approximately 50 diesel-electric submarines and 10 nuclear submarines, according to a 2020 Department of Defense report. North Korea has about 70 subs, although none are nuclear powered, the DOD reported in 2015.
The exercise, conducted in the Philippine Sea off Japan's southern coast, also helped the squadrons practice flight formation safety and tactics, according to the Navy.
"We were able to improve our joint operational skills through this event," one of the Japanese pilots, Lt. j.g. Jumpei Yoshimura, said in the release. "We are looking forward to flying the next event with the U.S. Navy."
Both squadrons are based at Naval Air Facility Atsugi, approximately 28 miles southwest of Tokyo.