One of the Navy's 'newest and most capable' destroyers joins 7th Fleet in Japan
by
Alex Wilson
Stars and Stripes
October 4, 2021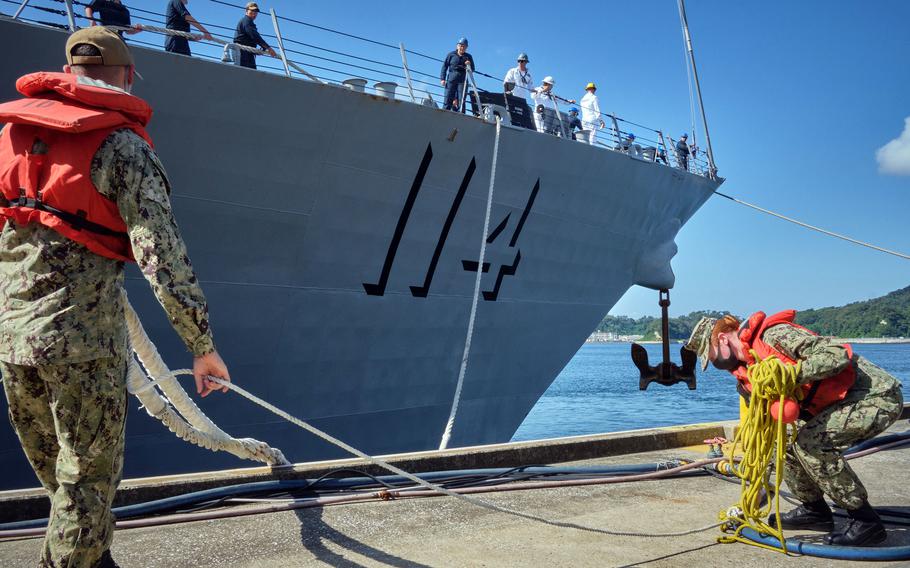 YOKOSUKA NAVAL BASE, Japan – The USS Ralph Johnson steamed into Yokosuka on Monday, completing a nearly three-week journey from the United States to its new homeport in Japan.
The guided-missile destroyer arrived at 10 a.m. with more than 100 sailors manning the rails and working the decks. It departed its former home, Naval Station Everett in Washington state, on Sept. 15.
"Ralph Johnson comes over as one of the newest and most capable destroyers in the U.S. Navy," Capt. Chase Sargeant, commander of Destroyer Squadron 15, said in a Navy new release. "The addition of Ralph Johnson demonstrates our unwavering commitment to maintain maritime security in the Indo-Pacific alongside our alliances and partnerships."
The ship is replacing the USS Mustin, which departed Yokosuka for San Diego in June.
Commissioned in March 2018, the Ralph Johnson boasts one of the newest versions of the Aegis Combat System. Those ballistic-missile defense capabilities can make significant contributions to the 7th Fleet, according to executive officer Cmdr. Isaiah Infante.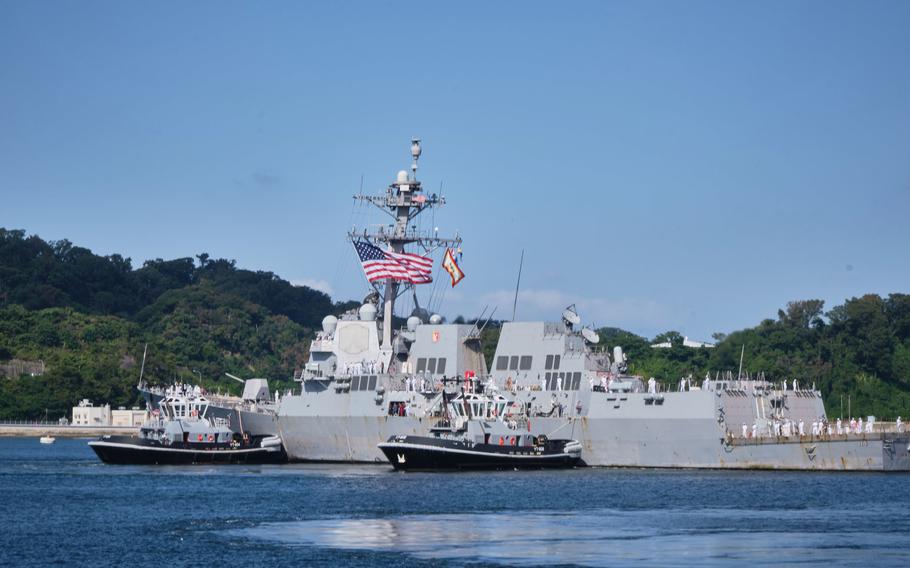 "It has the upgraded baseline, which obviously has different capabilities when it comes to missile defense," he told Stars and Stripes on Monday.
The Baseline 9 system, launched in 2015, features remote launching capabilities, improved target identification and better performance against "more advanced threats", according to a Sept. 30 report from the Congressional Research Service.
The USS Rafael Peralta, which joined 7th Fleet in February, is also equipped with the Baseline 9 system.
The Ralph Johnson arrives in the wake of a series of North Korean missile tests over the past few weeks, the most recent of which launched on Sept. 30. Those weapons include short-rage hypersonic, long-range cruise and anti-aircraft missiles.
En route to Yokosuka, the Ralph Johnson's crew received a crash course in Western Pacific weather while navigating around Typhoon Mindulle.
"That's just part of working out here in the 7th Fleet area of operations," Infante said.
Now that they've safely arrived, Infante said the crew is looking forward to learning more about the area.
"We're happy to be here, and we're looking forward to getting to know our new home," he said.