Three aircraft carriers train together near Okinawa as China ramps up pressure on Taiwan
by
Alex Wilson
Stars and Stripes
October 4, 2021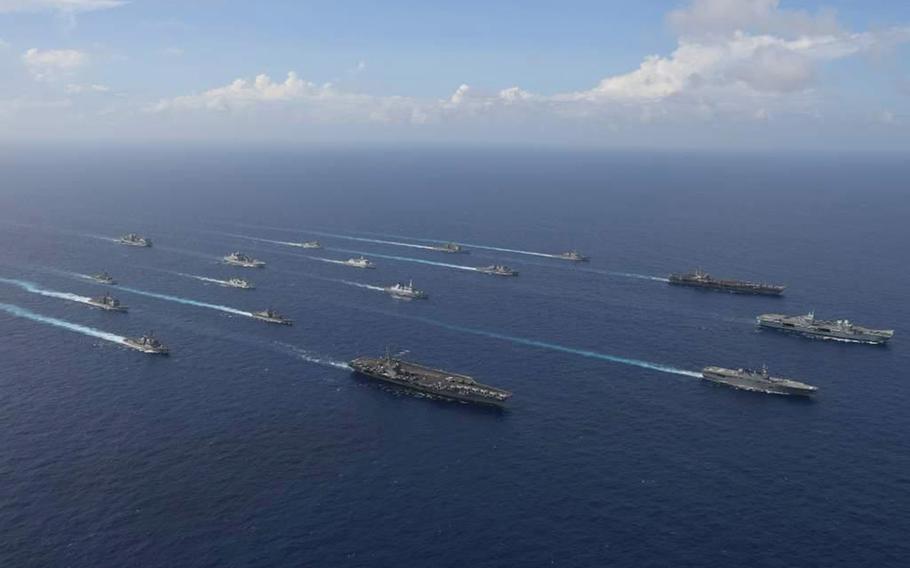 Three aircraft carriers — two American and one British — were among an armada of 17 warships from six countries that trained together over the weekend in the Philippine Sea.
The USS Ronald Reagan, fresh off its deployment to the Middle East, met the USS Carl Vinson and HMS Queen Elizabeth on Saturday southwest of Okinawa, according to a Japan Maritime Self-Defense Force news release Monday. They were accompanied by other vessels from the United States, Japan, United Kingdom, New Zealand, Netherlands and Canada.
The training, which included air defense, anti-submarine warfare, tactical maneuvers and communication drills, continued through Sunday, the release said.
Seventh Fleet on Monday referred questions about the exercise to the Hawaii-based U.S. Indo-Pacific Command, which did not immediately respond to an email seeking comment.
U.S. Navy ships involved in the exercise included the guided-missile destroyers USS Shiloh, USS Chafee, USS The Sullivans and the guided-missile cruiser USS Lake Champlain, according to the release. The other nations' vessels included destroyers, frigates and replenishment ships.
Photos of the training showed the three carriers, along with the Japan's flattop helicopter destroyer JS Ise, leading the 13 other vessels through the sea.
The exercise wrapped up as the Chinese military flew 16 warplanes over waters south of Taiwan, less than 400 nautical miles from Okinawa.
China sent 38 warplanes into the area on Friday and 39 aircraft on Saturday, the most in a single day since Taiwan began releasing reports on flights in September 2020. The flights came in daytime and nighttime sorties.
A statement from U.S. State Department spokesman Ned Price warned that China's military activity near Taiwan risks miscalculation and undermines regional peace and stability.
"We urge Beijing to cease its military, diplomatic, and economic pressure and coercion against Taiwan," the statement said.
Information from The Associated Press was used in this report.