USS Ronald Reagan returns to 7th Fleet waters after assisting Afghanistan withdrawal
by
Alex Wilson
Stars and Stripes
September 18, 2021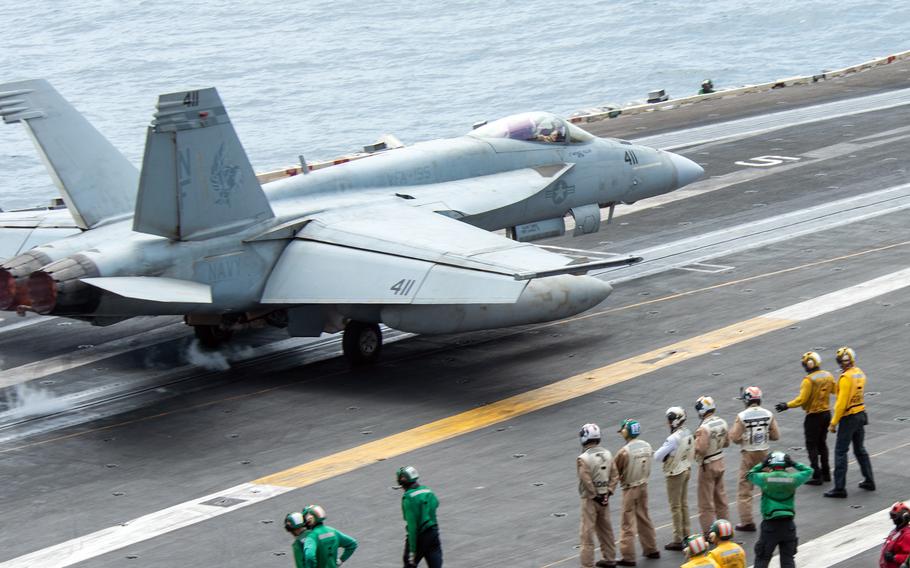 The USS Ronald Reagan is back with the 7th Fleet after spending nearly three months in the Arabian Sea supporting the U.S. withdrawal from Afghanistan.
The aircraft carrier, homeported at Yokosuka Naval Base in Japan, arrived in the Middle East with its strike group on June 25. Its movement out of 5th Fleet and into the Indian Ocean — first reported by USNI News on Thursday citing an anonymous Navy official — was confirmed Saturday by Task Force 70 spokesman Lt. Cmdr. Joe Keiley.
The strike group, which includes the guided-missile destroyer USS Halsey and the guided-missile cruiser USS Shiloh, had been "supporting naval operations and providing airpower to protect U.S. and coalition forces as they conducted drawdown operations from Afghanistan," Keiley told Stars and Stripes in an email.
Upon its arrival in the Middle East, the Ronald Reagan teamed up with and eventually relieved the USS Dwight D. Eisenhower, which Defense Secretary Lloyd Austin had ordered to remain in the region after the Afghanistan drawdown started on May 1.
Among other missions, the Ronald Reagan's F/A-18 Super Hornets flew missions over Kabul to maintain "enhanced security," according to Army Maj. Gen. William Taylor, Joint Staff deputy director for regional operations.
The carrier also trained alongside the HMS Queen Elizabeth in mid-July as the Royal Navy carrier made its way toward the Indo-Pacific region.
As the Ronald Reagan left 5th Fleet, the Essex Amphibious Ready Group entered the Persian Gulf, the Navy announced on Sept. 13. Led by the amphibious assault ship USS Essex, the group includes the amphibious transport dock USS Portland, dock landing ship USS Pearl Harbor and the 11th Marine Expeditionary Unit.