Dock landing ship USS Germantown departs Japan after a decade in the Indo-Pacific
By
Stars and Stripes
September 16, 2021
---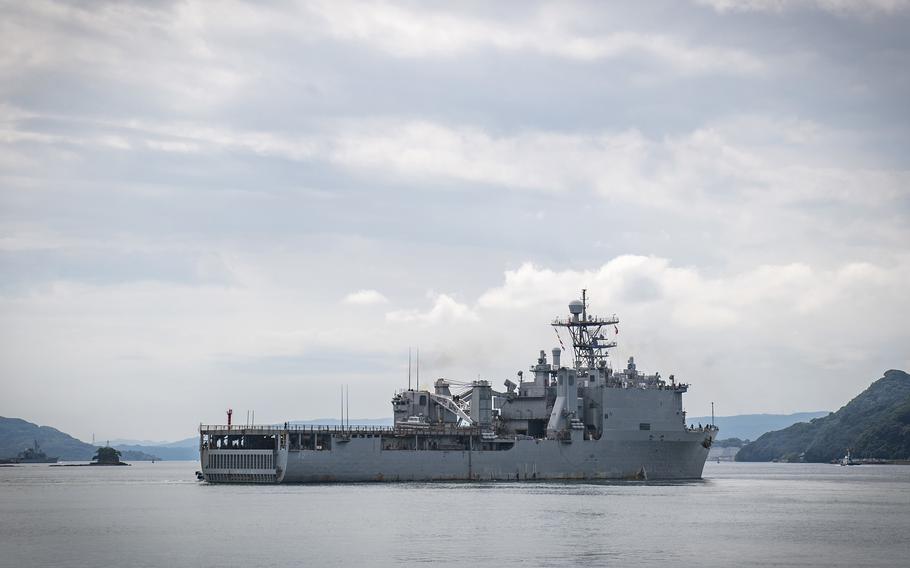 The USS Germantown steamed out of Sasebo Naval Base on Wednesday following a decade of service in the Indo-Pacific region.
The U.S. Navy announced the dock landing ship's departure in a Wednesday news release. The ship is sailing for San Diego as part of a scheduled rotation, according to Sasebo Naval Base spokesman Aki Nichols.
"Germantown and the sailors who have sailed with her have made an incredible impact across the entire 7th Fleet theater," said Rear Adm. Chris Engdahl, commander of Expeditionary Strike Group 7, in the release.
Organized around the amphibious assault ship USS America, the strike group and the 31st Marine Expeditionary Unit compose a rapid force for a range of missions, from humanitarian and disaster relief to combat operations.
The Germantown's sister ship, the USS Rushmore, is slated to replace the Germantown later this year, according to the Navy. The Rushmore, commissioned in 1991, is homeported in San Diego.
The Germantown first arrived in Sasebo in 2011, when it relieved the USS Harpers Ferry. Dock landing ships launch Marines making amphibious landings in air cushioned and conventional landing craft and in helicopters, according to the Navy. The ship's company numbers about 400.
During its tenure in the region, the 609-foot-long Germantown participated in numerous operations and exercises, including Cobra Gold, Valiant Shield, Kamandag, Sama Sama, Tiger Triumph 2019 and three Talisman Sabre exercises.
"It has been our immense pleasure to serve here in 7th Fleet, with the finest warfighters in the Navy and Marine Corps," said Cmdr. Cullen Greenfield, commander of the Germantown, in the release. "Working with our partners and allies to foster an integrated, global effort to safeguard free and open access to the Indo-Pacific region is a critical duty, and it has been a tremendously rewarding opportunity for this team."
Prior to departing for the Pacific, the Germantown also participated in Operations Desert Shield and Desert Storm, where it exercised in the United Arab Emirates in preparation for a possible amphibious assault. The ship later supported Operation Enduring Freedom, according to the Navy.
---
---
---
---