Navy's monthly Taiwan Strait transits continue with guided-missile destroyer USS Barry
by
Alex Wilson
Stars and Stripes
September 18, 2021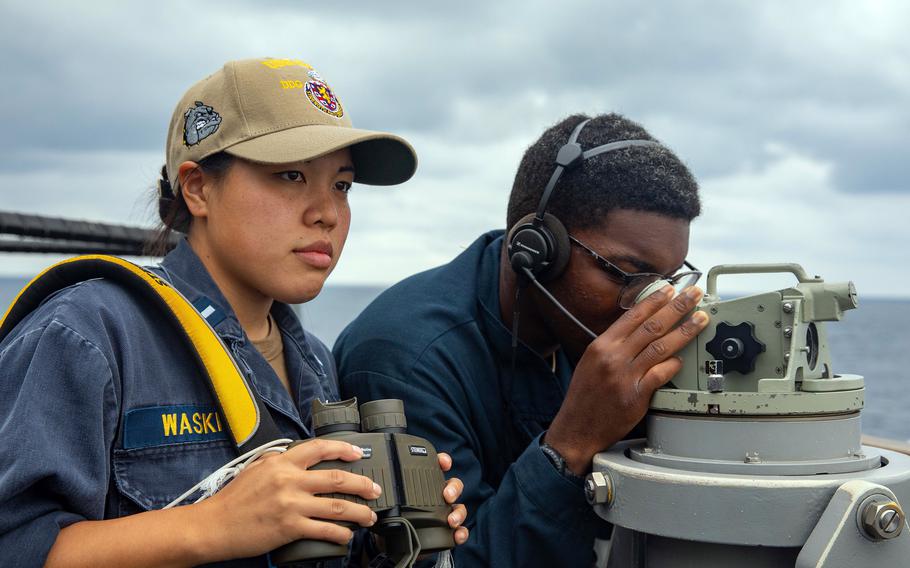 YOKOSUKA NAVAL BASE, Japan – Another U.S. guided-missile destroyer has steamed through the Taiwan Strait, marking the Navy's ninth journey through the politically sensitive waterway this year.
The Yokosuka-based USS Barry made the trip on Friday, the Navy announced in a news release that day.
"The ship's transit through the Taiwan Strait demonstrates the U.S. commitment to a free and open Indo-Pacific," a 7th Fleet spokesman, Lt. Nicholas Lingo, said in the release. "The United States military flies, sails, and operates anywhere international law allows."
The guided-missile destroyer USS Kidd and the Coast Guard cutter Munro made the last trip through the strait on Aug. 28.
The Navy routinely steams through the approximately 110-mile waterway that separates China and Taiwan. The Chinese government routinely condemns the operations as provocative. Beijing considers Taiwan, a functioning democracy, a breakaway province that must be reunited with the mainland, possibly by force.
China had maintained for years that unification with Taiwan would be peaceful and mutual, but the turnabout in Hong Kong has led many international observers to ponder whether Beijing is preparing for forcible reunification.
The Barry's passage comes a little over a week after another Yokosuka-based destroyer, the USS Benfold, steamed through the South China Sea during a freedom-of-navigation operation on Sept. 8. The Benfold sailed within 12 nautical miles of Mischief Reef in the Spratly Islands, a disputed chain that's claimed either partially or wholly by several countries.
China has built up Mischief Reef and constructed underground storage, radar and communications arrays and other improvements, according to the Asia Maritime Transparency Initiative. The U.S. does not recognize any territorial claim to the reef.
The head of U.S. Indo-Pacific Command, Adm. John Aquilino, said during a press conference last month that the U.S. is ready for "any contingency that may occur," including armed conflict, when it comes to the Indo-Pacific region and Taiwan.
"We are here to continue to operate to ensure peace and prosperity through the region, and we have to be in a position to ensure that status quo remains as it applies to Taiwan," he said.