HMS Queen Elizabeth stops in Guam for a second time during maiden deployment
by
Alex Wilson
Stars and Stripes
September 17, 2021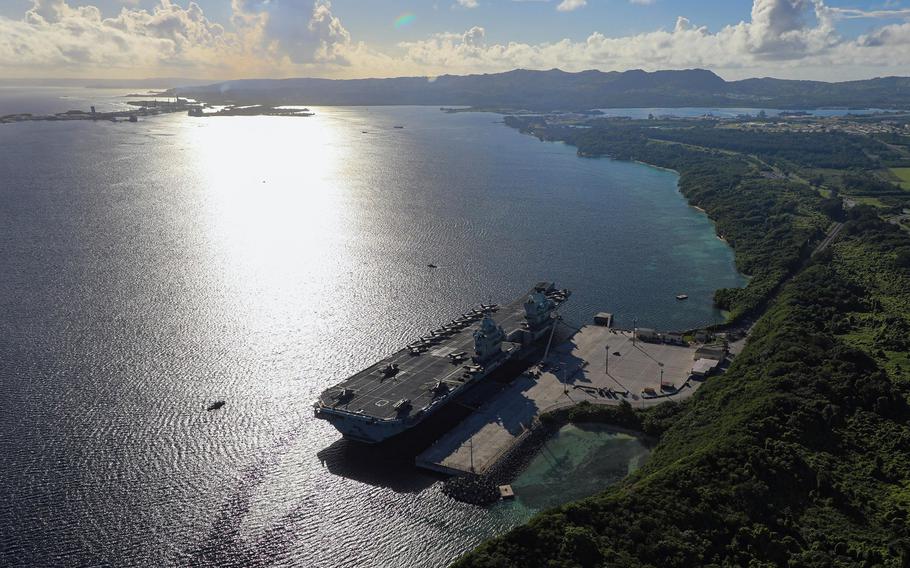 The HMS Queen Elizabeth steamed into Naval Base Guam this week for the British aircraft carrier's second visit to the U.S. island territory in about a month.
The carrier, through its official Twitter account, announced the stop Sept. 13 and said it would undergo scheduled maintenance while in port. The carrier and its strike group also visited Guam on Aug. 6 as it makes its way through the Indo-Pacific region.
Naval Base Guam is offering a variety of support to the Queen Elizabeth, base spokeswoman Theresa Cepeda told Stars and Stripes in an email Friday.
"These support services include but are not limited to Port Operations, Security, Morale, Welfare, and Recreation, Base Communications, Fleet Logistics and Supply, and Navy Exchange Guam," she wrote.
Cepeda said she could not confirm whether the carrier's sailors would be given liberty on base.
However, Cepeda said Royal Navy sailors were expected to follow coronavirus mitigation measures, which include wearing a face mask and social distancing.
A spokesman for the Queen Elizabeth did not respond to requests for comment on Friday.
Royal Navy sailors were granted shore leave during the Queen Elizabeth's August visit. Two from the strike group were arrested during an incident at a Guam nightclub.
The ship's second stop in Guam comes less than a week after it departed Yokosuka Naval Base in Japan, where it stayed five days after arriving Sept. 4.
While in Japan, Queen Elizabeth sailors were not allowed to leave the ship in an effort to prevent the spread of COVID-19.
While Japan's coronavirus cases are now in decline after the peak of a fifth wave, the country reported nearly 16,000 new infections the day the Queen Elizabeth pulled into Yokosuka. Guam, which is also coming off another coronavirus wave, reported 174 cases on Monday.
The Queen Elizabeth is on its first operational deployment, which started in May and is expected to cover approximately 26,000 nautical miles.