Austin: Nuclear sub pact with Australia to deter China's 'destabilizing' acts in Indo-Pacific region
by
Corey Dickstein
Stars and Stripes
September 16, 2021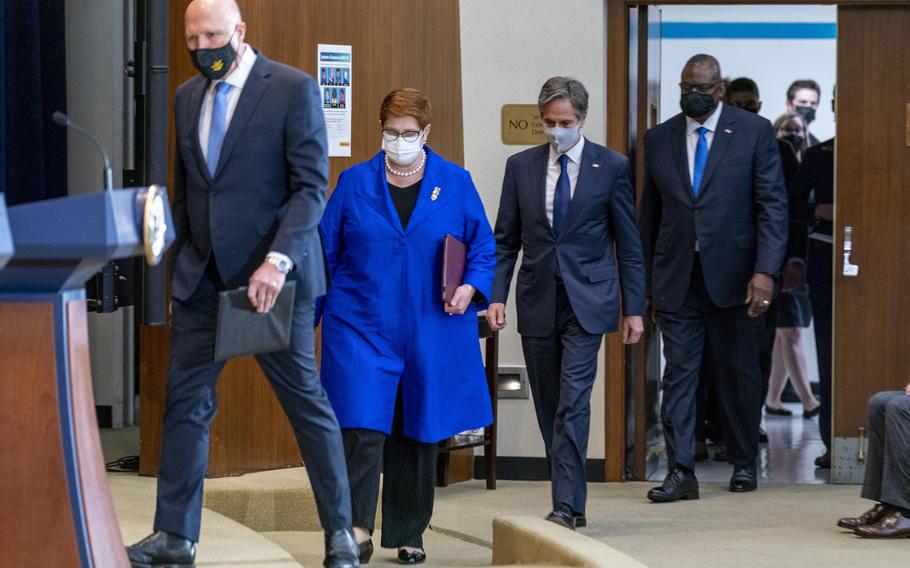 The new defense technology agreement between the United States, the United Kingdom and Australia that allows Australia to build nuclear-powered submarines is designed in part to check "destabilizing activities" by China, Defense Secretary Lloyd Austin said Thursday.
Top diplomats and military leaders for the United States and Australia on Thursday discussed the "increasingly contested security environment" in the Indo-Pacific region, where China has worked to assert its growing military power, Austin said, after a hourslong meeting at the State Department. He said the first step of the new pact, dubbed AUKUS and unveiled Wednesday evening at the White House, will provide Australia the ability to strengthen its military by building eight nuclear-powered submarines.
"That's pretty exciting, because it will provide Australia additional flexibility and capability that will be very, very beneficial to all of us going forward," Austin said in a news briefing alongside Secretary of State Antony Blinken and their Australian counterparts.
Austin and Australian Defense Minister Peter Dutton said the new agreement could also result in an increase in the number of American troops training in Australia, the number of bomber training flights in the region and the sharing of other technology. But they also said those details had yet to be forged. The new cooperative is meant to share between the three nations other advanced technologies, including artificial intelligence and cyber capabilities, which are considered critical to modernizing their militaries.
The AUKUS pact was first announced Wednesday evening in a White House event featuring President Joe Biden, who was joined by British Prime Minister Boris Johnson and Australian Prime Minister Scott Morrison by video conference. None of the national leaders mentioned China in their remarks, and Biden administration officials said in a background briefing earlier Wednesday for reporters that the new alliance was "not aimed or about any one country."
However, Austin, Blinken and their Australian counterparts all mentioned China in brief remarks after their meetings Thursday.
Austin said the meetings discussed a wide range of issues within the Indo-Pacific region, including terrorism and climate change, but the officials also discussed in detail "China's destabilizing activities and Beijing's efforts to coerce and intimidate other countries, contrary to established rules and norms."
"While we seek a constructive, results-oriented relationship with the [People's Republic of China], we will remain clear-eyed in our view of Beijing's efforts to undermine the established international order," Austin said.
The defense secretary has labeled China the Pentagon's No. 1 priority even before he was confirmed for the job by the Senate in January. Pentagon officials have said the U.S. military must modernize its weaponry, its homeland defense capabilities and the way its troops fight to ensure it retains its advantage against China, as well as Russia. China has invested heavily in its military in recent years — especially in its naval and nuclear forces and in emerging technology such as hypersonic weapons and space capabilities, Pentagon officials have said.
The United States has also long called on China to stop building up and militarizing artificial islands — often land parcels claimed by multiple countries — in the South China Sea. The practice, U.S. officials have long said, threatens free and open trade in the region.
China expressed its dissatisfaction with the AUKUS agreement via a series of statements from its top officials Wednesday and Thursday.
"The nuclear submarine cooperation among the U.S., the U.K. & Australia severely undermines regional peace & stability, intensifies [the] arms race and undercuts [international] non-proliferation efforts," Chinese Foreign Ministry spokesman Lijian Zhao tweeted Thursday. "It's highly irresponsible and shows double standards on using nuclear export for geopolitical games."
While the agreement would provide Australia the nuclear-powered submarines, it does not give Australia any nuclear weapons or nuclear-capable missiles, officials said.
Dutton brushed off the Chinese statements about the pact, saying the agreement would promote peace in the region, which is now facing "significant uncertainty more so than at any other time since the Second World War."
"This is not the first time we've seen outbursts from China in terms of Australia's position," he said. "We do believe it's in Australia's national security interest to deepen our relationship with the United States with other partners … [and] make sure that peace prevails in the Indo-Pacific — all of which we're doing as part of this discussion."
China was not the only nation unhappy with the new agreement. France, a key ally to all three countries who signed the AUKUS pact, also expressed displeasure with the agreement, which will mean killing a previous multibillion dollar agreement for France to build conventional submarines for Australia.
"It was really a stab in the back," French Foreign Minister Jean-Yves Le Drian said on France-Info radio, according to The Associated Press. "We built a relationship of trust with Australia, and this trust was betrayed."
Blinken said France would continue to be a vital partner in the Indo-Pacific region when asked Thursday about the French reaction.
Dutton said Australia's decision was based on the new opportunity to invest in better, longer-lasting technology and not intended to anger France.
"The core advice to us from the [Australian] Chief of Navy and the Chief of Defence Force has been that a conventional diesel submarine was not going to provide us with a capability into the second half of the 2030s, 2040s and beyond, and we needed a nuclear-powered submarine," Dutton said. "And, in the end the decision that we have made is based on what is in the best interests of our national security, and the prevailing security and peace within the Indo-Pacific, and therefore it became a natural partnership with the U.K. and the U.S., our two oldest, most enduring partners."