HMS Queen Elizabeth is expected to call on Yokosuka Naval Base during Japan visit
by
Alex Wilson
Stars and Stripes
September 3, 2021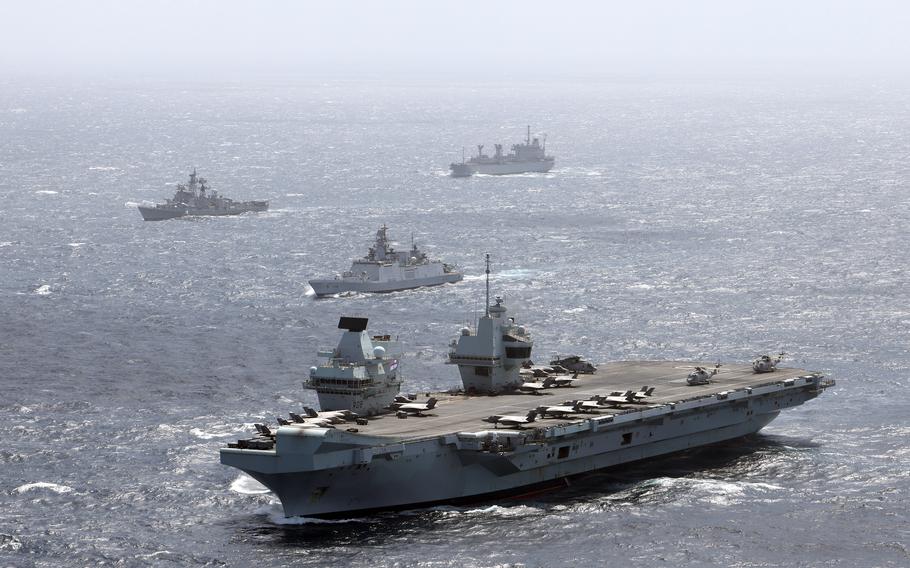 YOKOSUKA NAVAL BASE, Japan — The HMS Queen Elizabeth is slated to make a port call at the home of the U.S. Navy's 7th Fleet during the Royal Navy carrier's inaugural visit to Japan.
The Queen Elizabeth will arrive in the country over the weekend, British Embassy Tokyo announced Friday in a news release. The flagship of the U.K. Carrier Strike Group is in the middle of a nearly eight-month maiden deployment that's expected to span 26,000 nautical miles and include stops in 40 countries.
"The U.K.-Japan relationship has a long history," the United Kingdom's ambassador to Japan, Julia Longbottom, said in the release. "We believe this visit marks the elevation of our defense and security relationship to a new level."
The Yokosuka port call was confirmed during a phone call Friday with Naval Forces Japan spokeswoman Cmdr. Katie Cerezo, who could not specify exactly when the Queen Elizabeth will arrive.
The strike group includes two destroyers, the HMS Diamond and Defender; two frigates, the HHMS Richmond and Kent; a nuclear-powered submarine; a Dutch frigate, HNLMS Eversten; and a U.S. destroyer, USS The Sullivans.
Ten Marine Corps F-35Bs are also aboard the Queen Elizabeth.
Another carrier, the USS Carl Vinson, departed Yokosuka on Tuesday after four days of crew rest and relaxation. Sailors were restricted to base due to coronavirus precautions.
Activities of the U.K. group, which experienced a COVID-19 outbreak in mid-July, will be in line with prevention measures set by the Royal Navy and Japanese government, according to the embassy's release.
"All parties are paying very close attention to the coronavirus situation, and so the Queen Elizabeth sailors will be observing a strict protocol," Cerezo said.
The strike group is expected to participate in drills in the air and at sea with the Japan Self-Defense Forces, according to the embassy's news release.
"To operate alongside the JSDF in exercises covering surface warfare, anti-submarine warfare and air warfare, we have pushed our partnership to a new level," Capt. Simon Staley, U.K. defence attaché to Japan, said in the release. "In demonstrating our maritime capability and ambition we can work further with Japan in developing equipment together in the future."
The U.K. strike group has already participated in several naval drills that have included U.S. and Japanese forces.
During the U.S. Navy's Large-Scale Exercise 2021 in late August, the Queen Elizabeth held a cross-deck training exercise with the amphibious assault ship USS America in which the two flagships swapped F-35Bs at sea.
In July, the Queen Elizabeth, the Yokosuka-based USS Ronald Reagan and the U.S. Navy's Iwo Jima Amphibious Ready Group conducted large-scale exercises in the Indian Ocean. The U.K. carrier trained with the Indian Navy about a week later.