Pair of Royal Navy warships will begin patrolling Indo-Pacific region this summer
by
Alex Wilson
Stars and Stripes
July 30, 2021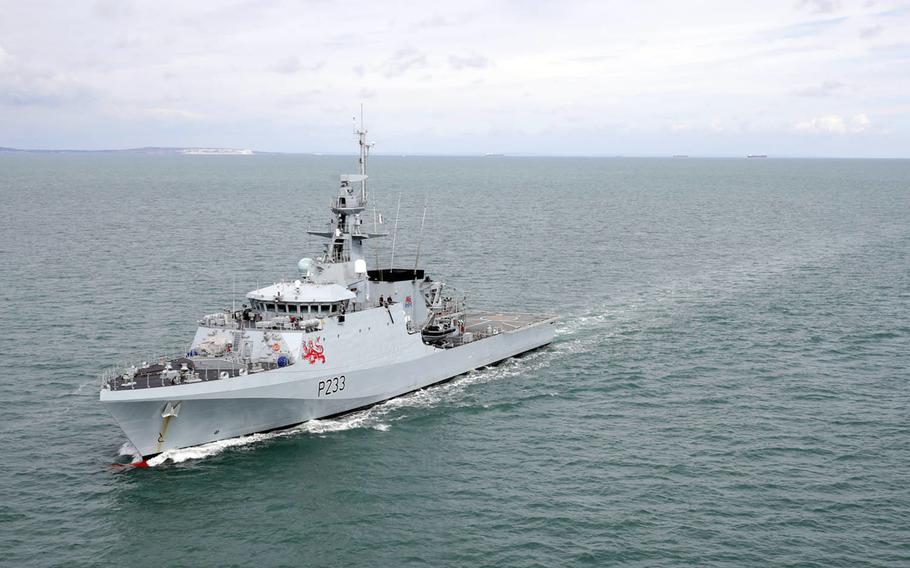 The Royal Navy will permanently station two offshore patrol vessels in the Indo-Pacific region later this summer, according to the U.K. Ministry of Defence.
The HMS Spey and HMS Tamar, both River-class vessels, will deploy in August and "will be supported by partners during their operations, including Australia, Japan and Singapore," according to an email from the ministry to Stars and Stripes on July 21.
A spokesman attributed that information to the ministry itself, in keeping with the department's policy. It did not specify where the ships would be stationed.
The ships, nearly 300 feet long, have a range of more than 5,500 nautical miles, a maximum speed better than 24 knots and a maximum crew of 45, plus a contingent of 50 Royal Marines, according to the Royal Navy website.
They also have flight decks that can support a Merlin helicopter.
Jeff Kingston, director of Asian Studies at Temple University Japan, described the deployment as a "largely symbolic" gesture meant to demonstrate solidarity with the United States and its allies in their ongoing efforts to contain China.
"This is aimed at countering China's regional hegemonic ambitions and rising tensions associated with this powershift," he wrote in an email to Stars and Stripes on Thursday.
Kingston said he doesn't expect the gesture will have lasting significance, or the U.K. to remain active in the Pacific for long.
"Boris Johnson needs to show the British that [the U.K.] still stands tall in post-Brexit world and appeals to those who crave to punch above the U.K.'s weight and is also eager to demonstrate that London remains Washington's reliable deputy sheriff," he wrote.
The Spey and Tamar are currently homeported in Portsmouth, England. Their armament includes a remotely operated Oerlikon 30 mm gun for defense against short-range missiles and other explosives, and an Oerlikon KAA200 20 mm automatic cannon for short-range, anti-aircraft defense.
The Spey, skippered by Lt. Cmdr. Ben Evans, was commissioned on June 18, according to the Royal Navy's website. The fifth and last of the second-generation River-class ships, the vessel was built by BAE Systems at its shipyard on the River Clyde.
The Tamar, fourth of its class and led by Lt. Cmdr. Michael Hutchinson, was commissioned in December in Portsmouth. It was also built by BAE Systems.
The two ships will precede a scheduled visit by the HMS Queen Elizabeth and the U.K. carrier strike group to Japan and the Indo-Pacific in September.