Coast Guard Sector Guam rebrands itself during cutters' triple commissioning ceremony
by
Alex Wilson
Stars and Stripes
July 29, 2021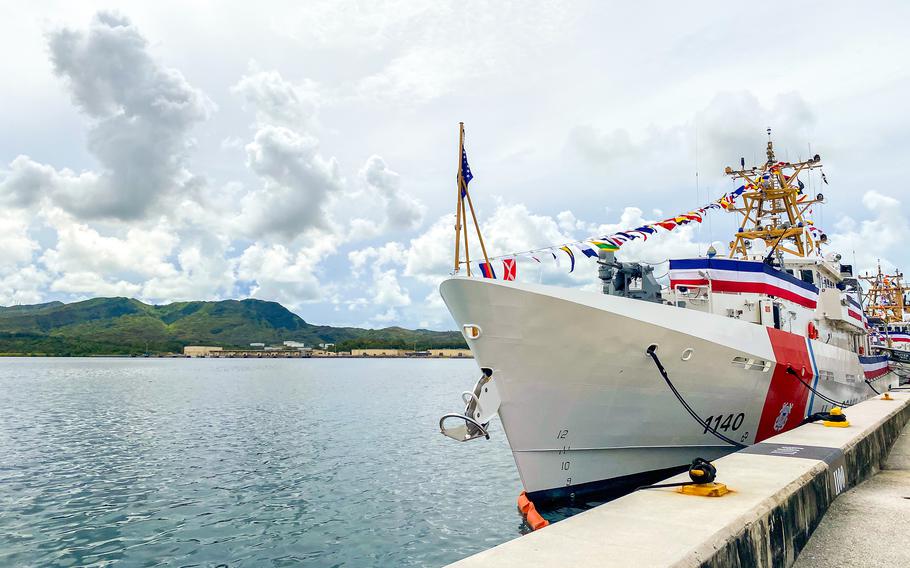 The U.S. Coast Guard renamed its Guam outpost the Coast Guard Forces Micronesia/Sector Guam during a rare, triple commissioning of fast-response cutters there Thursday.
The service's commandant, Adm. Karl Schultz, announced the rebranding of Sector Guam during the commissioning of the cutters Frederick Hatch, Myrtle Hazard and Oliver Henry.
"This change signifies a different operational construct than how we've operated beforehand. Today, these [cutters] are so capable that we bring expeditionary capability to the region that we haven't had before," he said during the livestreamed event.
Schultz in October 2019 said that placing the three cutters in Guam is a response to "coercive and antagonistic behavior from China."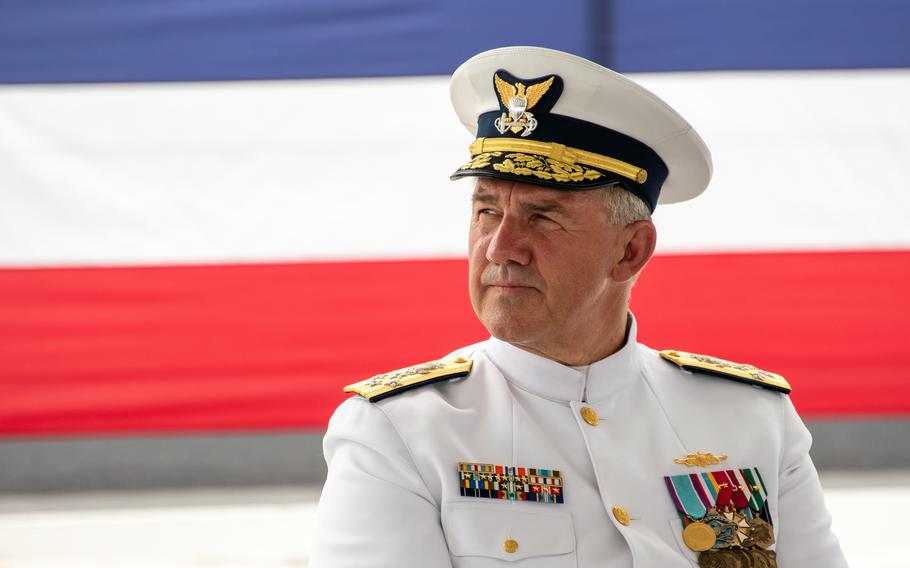 During the ceremony, the admiral echoed former national security adviser Robert O'Brien, who said in October that the Guam-based cutters are expected to help police China's illegal fishing in the region through fisheries patrols, enhanced surveillance and enforcement efforts with U.S. partners in the Western Pacific whose own capacities are limited.
"Coastal nations worldwide seek to strengthen their coastal forces and to whom do they look? They look to our Coast Guard as a key strategic partner," Schultz said during Thursday's ceremony. "Many small nations lack the capacity to protect their vast waters, to protect and thwart those threats from sea and to protect their rich maritime and natural resources."
Rear Adm. Matthew Sibley, commander of Coast Guard District 14, explained the roles the cutters are expected to fill.
"Coast Guard Sector Guam has already started routinely deploying these fast-response cutters over 1,400 nautical miles from Guam to counter foreign intelligence collection, combat illegal unregulated and unreported fishing, execute search-and-rescue cases and deliver vital support to remote island nations," he said during the ceremony.
Sibley said the cutters' homeport, Guam, is more than a strategically important island for the U.S. It also presents a unique area of operations for the Coast Guard to conduct exercises and utilize new assets.
The fast-response cutters are designed for missions beyond the traditional search-and-rescue work for which the Coast Guard is best known. Armed with four, .50-caliber machine guns and a remote-controlled, 25-mm cannon, the $65 million vessels may also be used for drug interdiction, defense operations, maritime law enforcement and environmental protection.
They can reach speeds up to 28 knots and remain at sea for five days, giving them a range of more than 2,500 nautical miles, according to the Coast Guard.
In December, the Navy, Marine Corps and Coast Guard issued Advantage at Sea, a tri-service naval strategy responding to China's "revisionist approach that aims at the heart of the United States' maritime power."
Beijing's strategy hinges on the use of a multipronged deployment of ships from its navy, coast guard and maritime militia "to subvert other nations' sovereignty and enforce unlawful claims," the report said.
The report suggested that a more robust Coast Guard presence in the Western Pacific could provide joint force commanders greater flexibility in responding to China's "gray zone" confrontations that remain below the threshold of armed conflict.