Coast Guard on Guam now at full strength after cutter Frederick Hatch's arrival
by
Alex Wilson
Stars and Stripes
June 30, 2021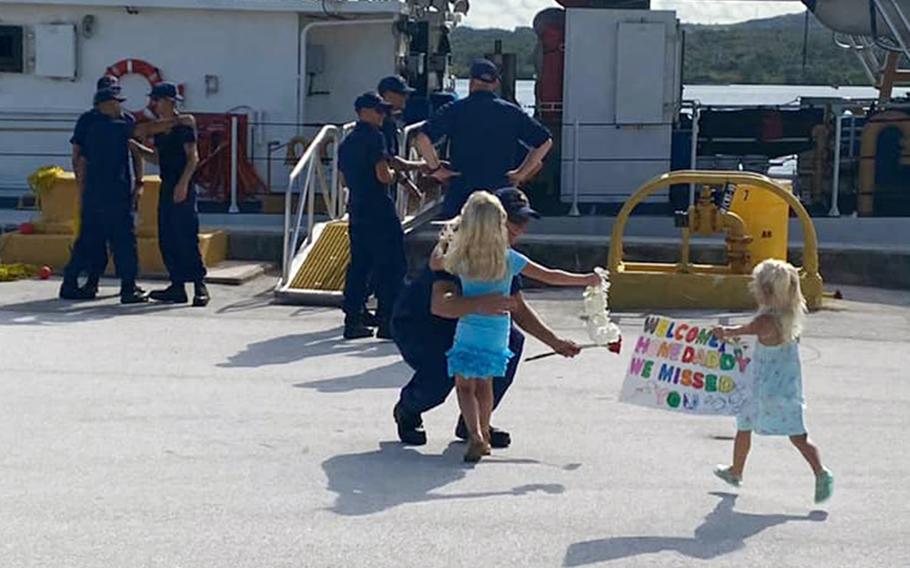 After a 69-day journey, one of the Coast Guard's newest Sentinel-class fast-response cutters arrived Tuesday at its new homeport on Guam.
The 154-foot Frederick Hatch steamed into Apra Harbor after departing Key West, Fla., on April 21. It joins its two sister cutters, the Myrtle Hazard and the Oliver Henry, which arrived on the U.S. island territory in September and December, respectively.
Placing the three cutters on Guam is meant as a response to "coercive and antagonistic behavior from China," Coast Guard commandant Adm. Karl Schultz said in October 2019.
The Frederick Hatch, built in Louisiana by Bollinger Shipyards, carries a crew of 24. Approximately 100 of their dependents had already arrived on Guam ahead of the cutter. Photos posted to the ship's Facebook page on Tuesday showed spouses and children greeting the arriving crew with heartfelt embraces and colorful signs.
The ship's commander, Lt. Craig R. Rooke, said the crew had been apart from their families since November, when they reported to Louisiana.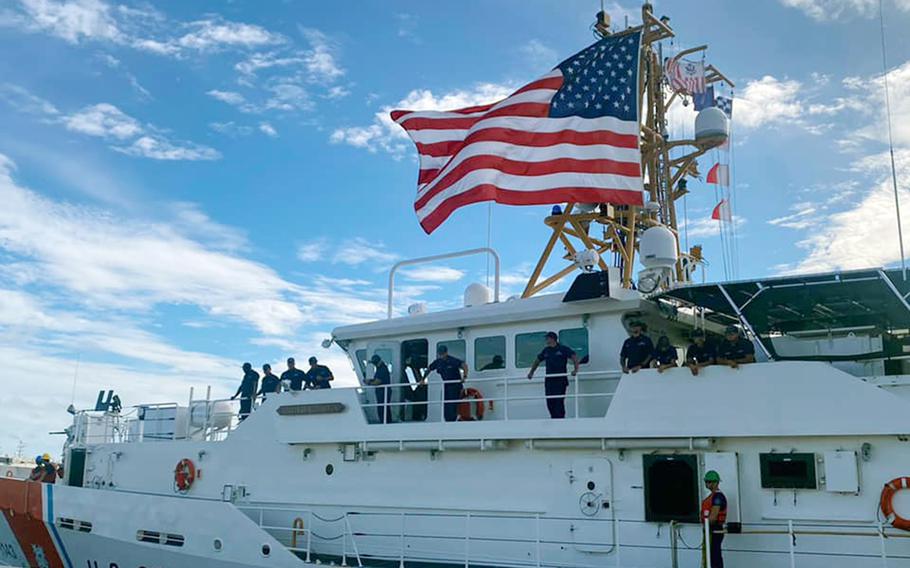 "For the majority of the crew, they'd never been underway before, so it was an experience," he told Stars and Stripes in a phone interview Wednesday. "It was stressful, but at the same time we made it enjoyable as well."
Throughout its journey, which covered approximately 11,400 nautical miles, the cutter stopped at Guantanamo Bay Naval Base, transited the Panama Canal and made port calls in Mexico, Los Angeles and Hawaii.
The voyage also provided time for training exercises and real-world experience, according to the cutter's prolific Facebook posts. In one instance, the vessel stopped to rescue a sea turtle from entangled trash.
The Frederick Hatch also received a marijuana decal after interdicting a vessel that was smuggling illegal substances, although details of the incident were not released.
"A lot of [the crew] were learning their jobs and there was a lot of training – everyone handled it very well," Rooke said. "It was a good time, we learned a lot and we're excited to be out here in Guam."
Now that they're in homeport, Rooke said the crew will be taking some time off before preparing for the triple commissioning of the Frederick Hatch and its sister ships on July 29.
The trio of fast-response cutters now homeported on Guam replace the Coast Guard's 110-foot patrol boats and possess advanced communications technology and surveillance systems, according to a statement issued by the service in February.
Armed with four .50-caliber machine guns and a remote-controlled 25-mm cannon, the $65 million cutters can be used for drug interdiction, defense operations, maritime law enforcement, search and rescue and environmental protection.
They can reach speeds up to 28 knots and can remain at sea for five days, giving them a range of more than 2,500 nautical miles, according to the Coast Guard.
The Guam-based cutters are expected to help police China's illegal fishing in the region through "fisheries patrols, enhance maritime domain awareness and enforcement efforts" with U.S. partners in the Western Pacific "who have limited offshore surveillance and enforcement capacity," then-national security adviser Robert O'Brien said Oct. 23.
In December, the Navy, Marine Corps and Coast Guard issued "Advantage at Sea," a tri-service naval strategy responding to China's "revisionist approach that aims at the heart of the United States' maritime power."
"Since the beginning of the 21st Century, our three services have watched with alarm the growing naval power of [China] and the increasingly aggressive behavior of the Russian Federation," the report said.
Beijing's strategy hinges on the use of a multipronged deployment of ships from its navy, coast guard and maritime militia "to subvert other nations' sovereignty and enforce unlawful claims."
The report suggested that a more robust Coast Guard presence in the Western Pacific could provide joint force commanders greater flexibility in responding to China's "gray zone" confrontations that remain below the threshold of armed conflict.
Twitter: @AlexMNWilson