Navy charges USS Bonhomme Richard sailor with setting blaze that destroyed ship
by
Wyatt Olson
Stars and Stripes
July 29, 2021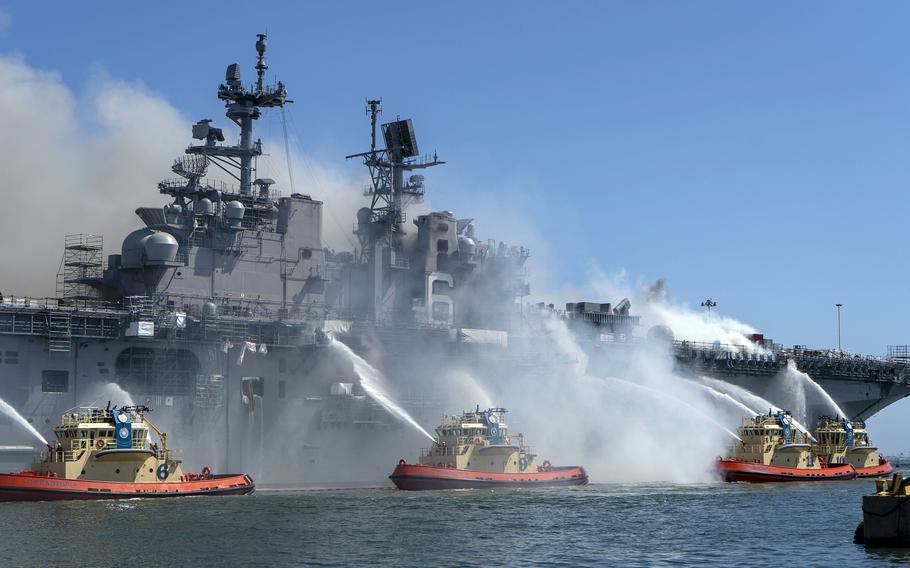 A crewmember of the Navy's fire-decimated USS Bonhomme Richard has been charged with starting the blaze under the Uniform Code of Military Justice, the service said Thursday.
The charges "were brought forth against a Navy Sailor in response to evidence found during the criminal investigation into the fire" that began July 12, 2020, while the amphibious assault ship was docked in San Diego, according to a statement by Cmdr. Sean Robertson, a spokesman for the Navy's 3rd Fleet.
The statement did not identify the sailor, and Robertson did not respond to a emailed query by Stars and Stripes.
"Evidence collected during the investigation is sufficient to direct a preliminary hearing in accordance with due process under the military justice system," Robertson said in the statement.
Vice Adm. Steve Koehler, the commander of 3rd Fleet, is considering court-martial charges, he said.
Koehler has ordered a preliminary hearing headed by an impartial hearing officer who will make determinations and recommendations, including "whether or not there is probable cause to believe an offense has been committed," he said.
The Bonhomme Richard was undergoing maintenance at Naval Base San Diego when the blaze seared through 11 of the ship's 14 decks, destroyed its forward mast and damaged the superstructure before being put out four days later.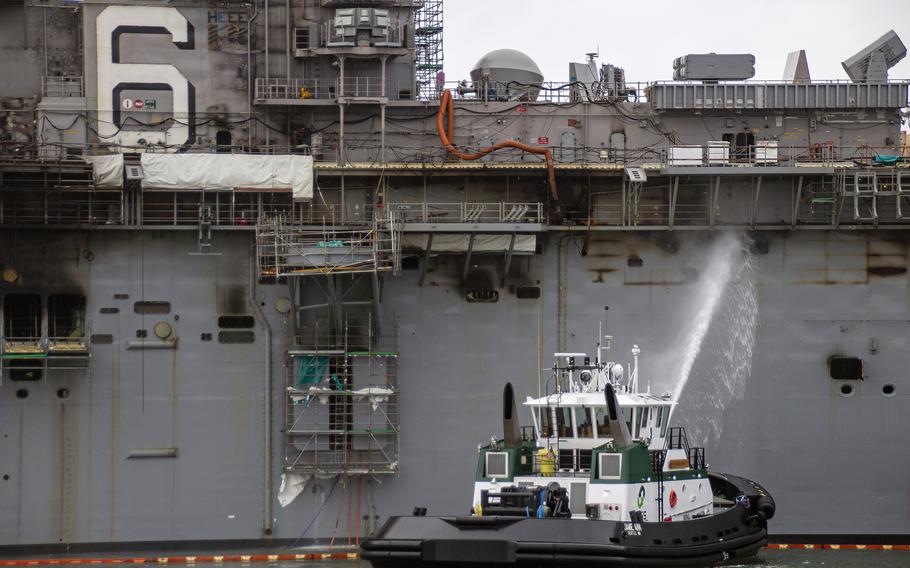 More than 60 sailors and civilians were treated for minor injuries, such as smoke inhalation.
The Navy announced in December that the ship, only 22 years in service, would be scrapped because repair would be too expensive.
The Navy has not made public several investigations into the blaze.
A Navy spokesman told the San Diego Union-Tribune this month that a command investigation into the circumstances surrounding the fire had been completed and is being reviewed by Navy leaders.