Navy instituted fire-safety compliance checks after USS Bonhomme Richard blaze last year
by
Wyatt Olson
Stars and Stripes
July 23, 2021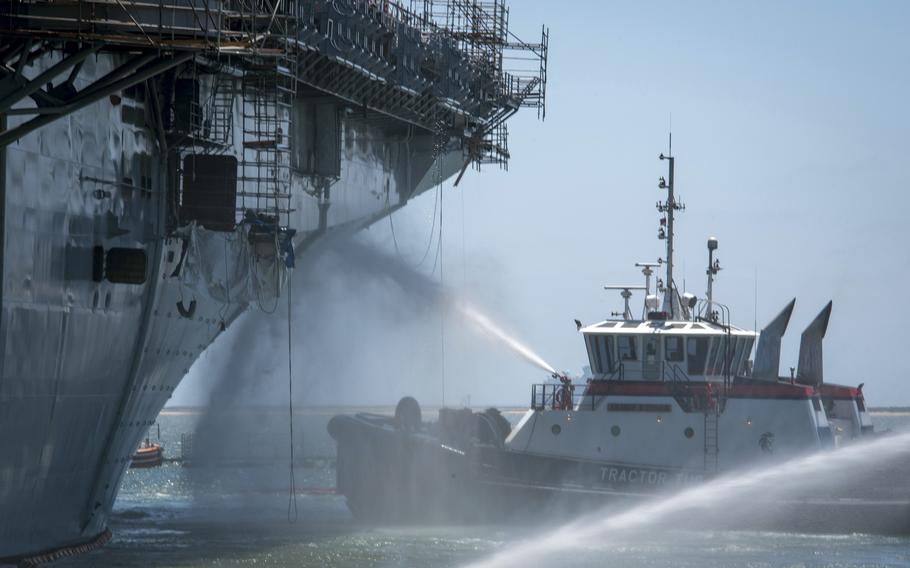 The Navy has hired a cadre of fire marshals to evaluate firefighting training and protocols in ports and shipyards in response to the devastating fire last year aboard the USS Bonhomme Richard, the commander of Naval Surface Forces said Thursday.
"They're out there, ensuring that the waterfront maintenance people, along with the private contractor, and the ship's crew are doing their proper safety inspection," Vice Adm. Roy Kitchener said during a conference call with reporters.
The amphibious assault ship was undergoing maintenance at Naval Base San Diego when it caught fire July 12, 2020. The blaze seared through 11 of the ship's 14 decks, destroyed its forward mast and damaged the superstructure before being put out four days later.
More than 60 sailors and civilians were treated for minor injuries, such as smoke inhalation.
The Navy announced in December that the ship, only 22 years in service, would be scrapped because repair would be too expensive.
The Navy has not made public several investigations into the blaze.
A Navy spokesman told the San Diego Union-Tribune last week that a command investigation into the circumstances surrounding the fire has been completed and is being reviewed by Navy leaders. A criminal investigation by the Naval Criminal Investigative Service is still ongoing, Navy spokesman Lt. Andrew DeGarmo told the newspaper.
Kitchener was asked Thursday what changes the Navy had made, even as the investigations remain in flux. The service first reviewed fire-safety compliance at all levels, from ships to regional maintenance centers, he said.
"We went through and we found that, in some cases, maybe we weren't doing as well as we should," he said. "We're pretty good at firefighting at sea and all those procedures, but when we got to the industrial environment it was, OK, looks like we need to kind of make sure there's a little bit of education."
The newly hired fire marshals have been tasked with making waterfront spot checks for compliance, Kitchener said. He did not say how many had been hired.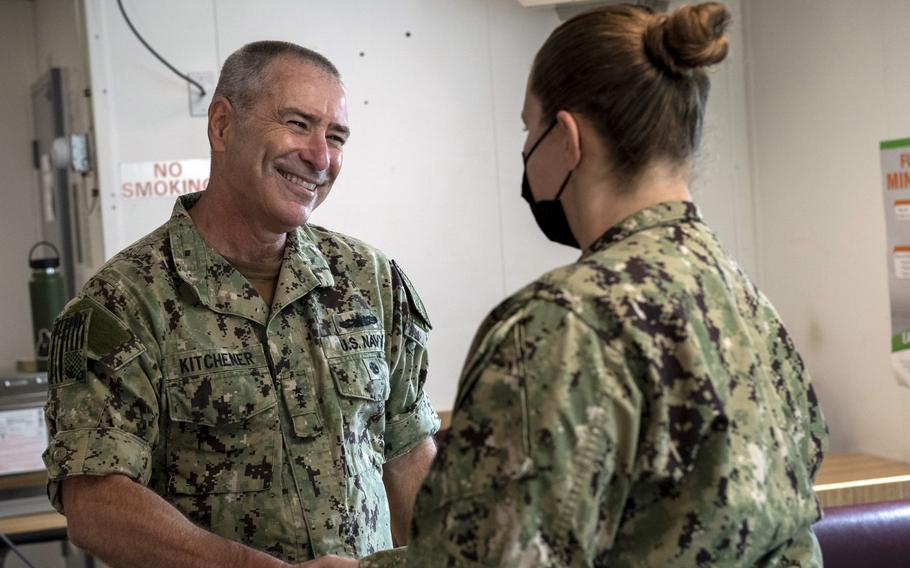 "Their job is to go out, evaluate the training that the ships are doing to fight fires in the industrial environment, because it is different [than at sea]," he said.
Those inspections found that "high-end fire detection systems" on ships are sometimes taken offline during certain points of the maintenance process, Kitchener said.
"We wanted to make sure there were no gaps or if we were going to bring them [offline] that we had some scenario to back them up," he said.
The Navy has also added training at its premier "schoolhouse" at Naval Station Newport, R.I., designed to educate officers heading out to commands about special considerations for environments such as shipyards, Kitchener said.