Sailor being investigated for arson after blaze aboard USS Bonhomme Richard, reports say
by
Caitlin Doornbos
Stars and Stripes
August 27, 2020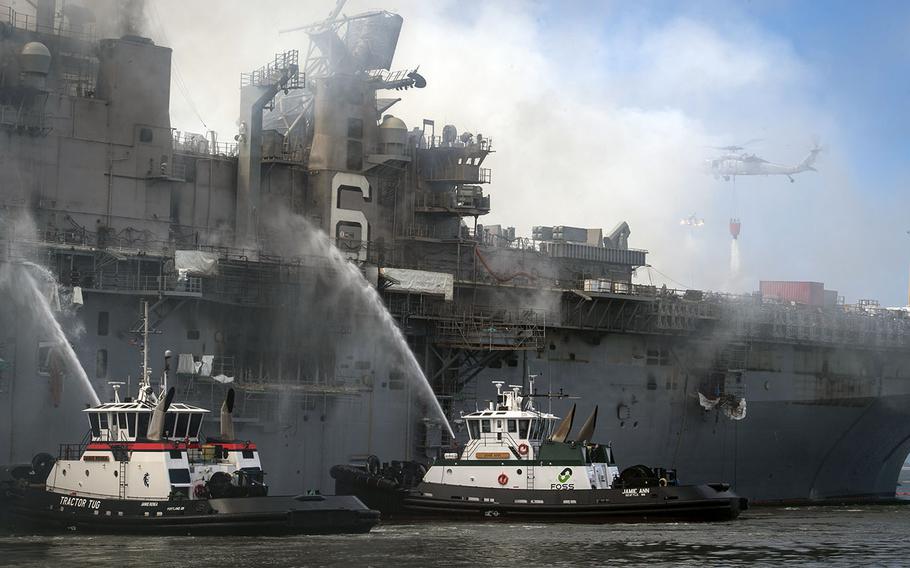 Investigators are questioning a U.S. sailor considered an arson suspect in the fire that left the amphibious assault ship USS Bonhomme Richard extensively damaged while moored at Naval Base San Diego in July, according to reports published Wednesday.
No one has been charged and no motive has been discovered, according to The New York Times. The Naval Criminal Investigative Service and the Bureau of Alcohol, Tobacco, Firearms and Explosives have focused on one sailor from the ship, according to a report Wednesday in the Times, which cited an unnamed Navy official.
The Associated Press, citing an unnamed senior defense official, said Thursday that investigators are questioning a sailor considered a suspect.
The fire started aboard the vessel on a Sunday morning and burned for four days. Wind and explosions spread and intensified the flames, causing extensive damage. Eleven of 14 decks were damaged by fire and water and the ship's superstructure was nearly gutted, according to a July email from Chief of Naval Operations Adm. Mike Gilday to admirals and master chiefs.
The fire has clouded the warship's future. Replacing the Bonhomme Richard could cost $4 billion, according to the AP, which cited defense analysts.
A scant crew of 160 sailors, far from the full complement, were aboard the ship when the fire was reported around 8:30 a.m. "The fire started in the lower vehicle storage area — six decks below the flight deck and near the middle of the ship — spreading aft, forward and up," Gilday wrote in the email.
One of the ship's fire suppression systems was down for maintenance, Rear Adm. Philip Sobeck, commander of Expeditionary Strike Group 3, which includes the Bonhomme Richard, said at the time.
No one died in the fire, but 38 military and 23 civilian firefighters were treated for injuries such as heat exhaustion and smoke inhalation. More than 400 sailors from 16 ships at the base fought the fire.
The investigation into the fire remains underway. A
Navy official told U.S. Naval Institute News that the service didn't "want anyone to jump to conclusions."
"We are going to be thorough and methodical," the unnamed official said, according to USNI News.