UK aircraft carrier Queen Elizabeth makes port call on Guam with its strike group
by
Alex Wilson
Stars and Stripes
August 6, 2021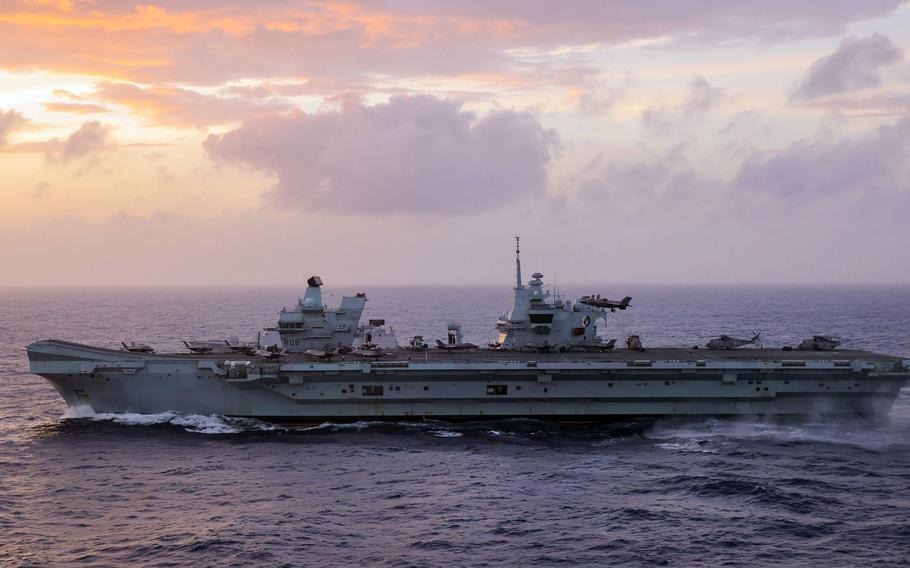 The aircraft carrier HMS Queen Elizabeth and its strike group made a port call Friday at U.S. Naval Base Guam, one of the group's many stops as it moves across the Indo-Pacific.
Royal Navy Commodore Steve Moorhouse, commander of the strike group, said in a U.S. Navy news release Friday that the group has visited more than 20 nations since it departed the United Kingdom in May.
"Our visit to Guam provides an opportunity for some much-deserved rest and recreation," he said. "We are grateful to the U.S. Navy for the use of their facilities, and we look forward to exploring this beautiful Pacific Island."
Guam Gov. Lou Leon Guerrero welcomed the strike group, while Naval Base Guam commander Capt. Mike Luckett described the group's deployment as "an incredible and historic milestone for both the Royal Navy and the U.S. Navy," according to the release.
Guam, which has vaccinated 80% of its population, reduced many of its coronavirus restrictions in July. However, about 100 new cases of COVID-19, the coronavirus respiratory disease, popped up in the past week. Most of those infections occurred among the unvaccinated.
U.K. sailors will follow Naval Base Guam's policies and local regulations, including coronavirus preventative measures, during their stay, according to the Navy.
In mid-July, the BBC reported an outbreak of approximately 100 coronavirus cases aboard ships of the U.K. carrier strike group, despite having a 100% vaccination rate. U.K. Secretary of State for Defense Ben Wallace subsequently confirmed that crew aboard four ships had tested positive for the virus.
The strike group's stop in Guam concludes roughly the first third of the group's deployment, which is slated to cover 26,000 nautical miles over 7 ½ months and visits to 40 nations. The strike group is slated to arrive in Japan in September.
The Queen Elizabeth is escorted by numerous Royal Navy vessels, the Royal Netherlands Navy frigate HNLMS Eversten and the guided-missile destroyer USS The Sullivans. F-35B Lightning II aircraft from Marine Fighter Attack Squadron 211 are also embarked on the ship.
Before arriving on Guam, the group steamed through the contested South China Sea, according to a tweet Wednesday from the U.S. Navy.
The strike group has also participated in several exercises, including its first operation alongside the USS Ronald Reagan strike group in the Gulf of Aden on July 12.
The HMS Queen Elizabeth's Indo-Pacific presence is the first U.K. strike group deployment to the region in 25 years. The carrier is making its first operational deployment.
The Royal Navy has said it intends to send two more vessels to the Western Pacific. The HMS Spey and HMS Tamar, River-class offshore patrol vessels, will be permanently deployed in the region sometime this month, a Royal Navy spokesman said in July.