USS Carl Vinson strike group is first to deploy with F-35C stealth fighters
by
Wyatt Olson
Stars and Stripes
August 3, 2021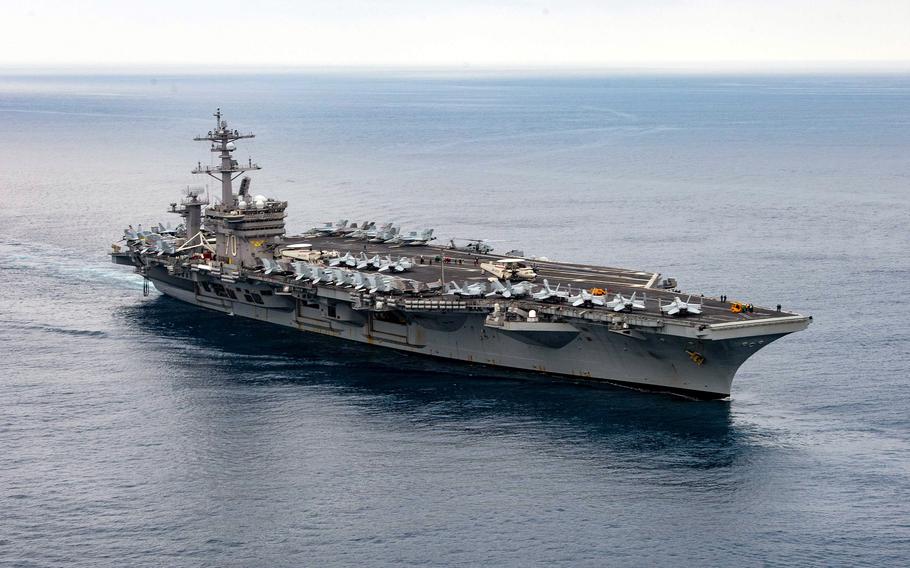 The USS Carl Vinson and its strike group steamed from San Diego on Monday, marking the first time that a carrier strike group is deploying with F-35C Lightning II fighter jets and Navy CMV-22B Osprey aboard, the Navy said.
The carrier completed a 17-month upgrade late last summer so it could support F-35s, the newest generation of fighter jet, as well as Ospreys, the tiltrotor aircraft that can land vertically like a helicopter and fly like a fixed-wing plane.
The fifth-generation F-35C is the carrier version of the stealth fighter that costs $94.4 million each, according to the Navy. Air superiority is its role. The CMV-22B Osprey is the replacement for the fixed wing C-2A Greyhound, a logistics workhouse that delivers people, mail and cargo from shore to ship.
The strike group trained near the Hawaiian Islands for two weeks in June at the same time the Russian navy held a massive exercise in nearby waters that included targeting a mock carrier strike group with missiles.
The ships and aircraft deployed as Carrier Strike Group 1 include the Carl Vinson; nine squadrons of Carrier Air Wing 2; the guided-missile cruiser USS Lake Champlain; and six guided-missile destroyers of Destroyer Squadron 1.
Those destroyers are USS Higgins, USS O'Kane, USS Chafee, USS Dewey, USS Stockdale and USS Michael Murphy.
The deployment of the strike group, which is manned by more than 7,000 sailors, is "in support of global maritime security operations," the Navy said in a news release Sunday.
The service does not disclose future locations or operations of its ships, but the Indo-Pacific seems a likely place to deploy because there is no U.S. carrier in the region.
The carrier USS Ronald Reagan, which is homeported at Yokosuka Naval Base, south of Tokyo, is deployed to the Middle East. The USS Theodore Roosevelt arrived in Washington last month to undergo its own lengthy retrofit for F-35 fighters, along with other needed upgrades.
Great Britain deployed the carrier HMS Queen Elizabeth and a strike group to the Pacific this summer, and late last week it was patrolling the contested South China Sea.
The Marine Corps' Fighter Attack Squadron 211 is operating F-35s from the carrier.
The Navy guided-missile destroyer USS The Sullivans is also part of that strike group.