USS Ronald Reagan arrives in Middle East to assist US drawdown from Afghanistan
by
Caitlin Doornbos  
Stars and Stripes
June 25, 2021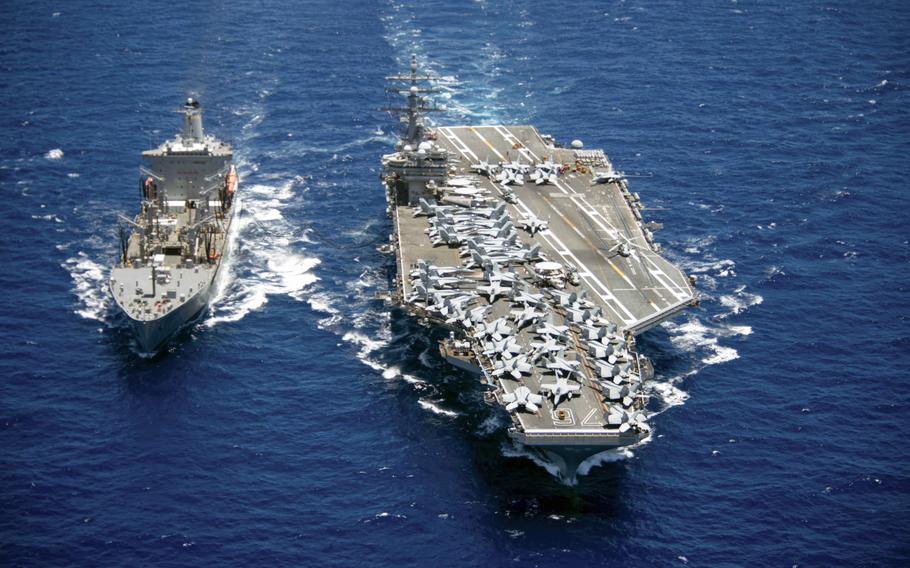 WASHINGTON — The aircraft carrier USS Ronald Reagan and its strike group arrived in the Middle East on Friday to help protect troops withdrawing from Afghanistan, the Navy announced.
The Reagan, and its crew of 5,000 service members, joins the aircraft carrier USS Dwight D. Eisenhower, which has been in the region since early April. Defense Secretary Lloyd Austin later that month ordered the ship to stay there ahead of the drawdown's May 1 start.
"The Ronald Reagan [strike group] will operate and train alongside regional and coalition partners and provide airpower to protect U.S. and coalition forces as they conduct drawdown operations from Afghanistan," the Navy said in its announcement.
The ship's strike group includes the guided-missile cruiser USS Shiloh and guided-missile destroyer USS Halsey, according to the announcement.
Based in Yokosuka, Japan, the Reagan typically patrols the 7th Fleet area of operations in the Western Pacific, a region wrought with tension over China's military buildup on islands and reefs in the South China Sea.
Friday marks the first time since 2012 that the ship has entered the 5th Fleet region, which includes the Arabian Sea, Red Sea, Persian Gulf, Gulf of Oman and parts of the Indian Ocean, according to the Navy.
"As an inherently flexible maneuver force capable of supporting routine and contingency operations, the carrier's presence demonstrates the U.S. Navy's commitment to regional partners and maritime security," the service said in its statement.
But with the ship now in the 5th Fleet region — the 7th Fleet region is no longer protected by an aircraft carrier.
The aircraft carrier USS Carl Vinson was in the Pacific Ocean as of Tuesday, according to a Navy statement that day, but the ship was in the 3rd Fleet's area of responsibility, which spans from Hawaii to California.
The Navy did not say Friday whether the Eisenhower would travel home now that the Reagan has arrived. Before Austin ordered the carrier to stay in the region to assist with the drawdown, the Eisenhower already had been deployed since February.
The Reagan departed Yokosuka on May 19.
Twitter: @CaitlinDoornbos