Biden commits to evacuating Afghan interpreters as deadline for US military withdrawal looms
by
Caitlin Doornbos  
Stars and Stripes
June 24, 2021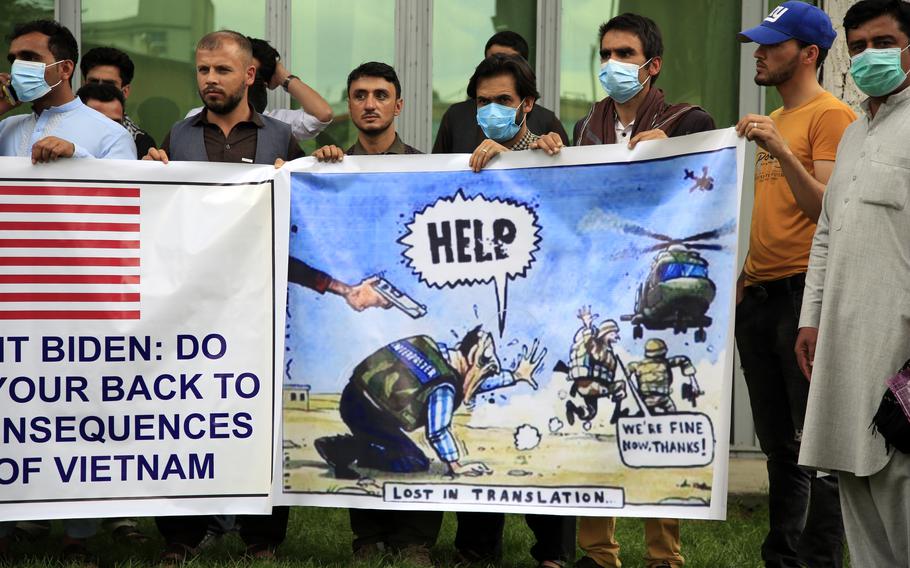 WASHINGTON — President Joe Biden on Thursday pledged to evacuate thousands of Afghan interpreters and others who aided U.S. forces for nearly two decades as the deadline for troops to withdraw from the country looms.
"They're going to come. We've already begun the process," Biden told reporters after an event highlighting a bipartisan agreement on infrastructure legislation. "Those who helped us are not going to be left behind."
It was the first time that Biden publicly committed on evacuations from Afghanistan after weeks of mounting pressure from lawmakers for his administration to commit to a plan to remove Afghans who helped the U.S. before they are left unprotected.
"We have a moral obligation to protect our brave allies who put their lives on the line for us," Rep. Peter Meijer, R-Mich., said last week during a House hearing. "We've been working for months to engage the administration and make sure there's a plan, with few concrete results."
Though Sept. 11 is the deadline for U.S. forces to be out of Afghanistan, the drawdown will be "largely" complete within the next two weeks, The Associated Press reported Thursday, citing unnamed officials. After that, about 650 U.S. troops will remain in Afghanistan to provide security for diplomats, according to the AP report.
With efforts wrapping up faster than expected, several lawmakers, including Reps. Joe Wilson, R-S.C., and Michael McCaul, R-Texas, urged the Biden administration on Thursday to work faster as the withdrawal nears its end.
"We can't process these [visas] fast enough during the evacuation process," McCaul wrote in a tweet. "In our time of need, the Afghans interpreters helped us. We cannot desert them now."
Noting that "time is running out," Rep. Mike Waltz, R-Fla., urged the administration to provide further information.
"This is a promising development but we need to see the plan and action," Waltz wrote on Twitter. "Congress needs to be briefed."
But the administration has been tight-lipped on details.
Chief Pentagon spokesman John Kirby told reporters Thursday that the Defense Department is "deeply involved" with the Afghan evacuation plan but declined to give specifics on actual efforts.
"Not all such evacuation operations require military aircraft to conduct," he said. "It's not like we haven't done this before using chartered aircraft, commercially leased aircraft or contracted aircraft."
Kirby also said it remains unclear where the evacuees will be transported. Some lawmakers have suggested sending them to Guam or another country as the State Department processes their visa applications.
"Planning is ongoing -- lots of options available both in terms of transportation and terms of potential locations," Kirby said. "We're just not there yet where I can specifically announce exactly how this is going to transpire."
"We know we have an obligation to these men and women and their families, and we're working our way through how best to meet that obligation," he added.
Twitter: @CaitlinDoornbos