'Finally back to normal': Bars, nightclubs no longer off-limits to Yokosuka sailors under new coronavirus rules
by
Matthew M. Burke and Alex Wilson
Stars and Stripes
June 22, 2021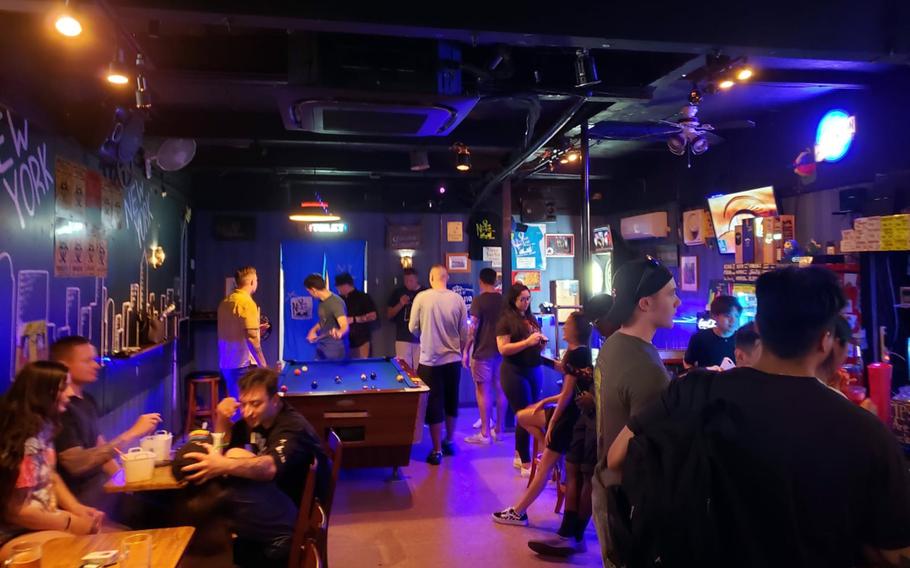 YOKOSUKA NAVAL BASE, Japan — Bars, nightclubs and tattoo parlors are no longer off-limits for most sailors in Japan as more people receive COVID-19 vaccines and overall infection numbers decline.
The decision to relax many off-duty restrictions was announced Tuesday evening by Yokosuka's commander, Capt. Rich Jarrett, during a town hall streamed live on Facebook.
"For normal risk liberty locations … our sailors and family members can now visit bars, clubs, izakayas, and additionally places like tattoo parlors, amusement parks and other recreational activities," he said. "However, individual commanding officers may impose limitations on those activities in separate policies."
Restrictions remain in place for high-risk areas, such as certain parts of central Tokyo, said Jarrett, who advised sailors and their families to heed local restrictions. Masks will continue to be required off base, for example.
"You may also find that some food and beverage establishments continue to close early in the evening and alcohol may not be available based upon request from the Kanagawa prefecture government," Jarrett told his town-hall audience. "Still, this is a big step for our community, and we're eager to continue to return to normal."
It didn't take long for Yokosuka's sailors to start taking advantage of their newfound freedom. Yuko Cairns, owner and operator of the New York New York Bar and Grill near the base, said people started showing up around 6:30 p.m., 20 minutes after Jarrett's announcement.
"I feel like we're finally back to normal," said Cairns, who has closed and reopened her bar several times throughout the pandemic. "It feels like the kids are coming back home."
Leave outside the local area is also authorized pending risk and itinerary assessments by leadership, U.S. Naval Forces Japan commander Rear Adm. Brian Fort wrote in a policy document released Tuesday. "Red" areas such as Hokkaido and Kyoto are still off-limits.
As of 8 p.m. Tuesday, the U.S. military in Japan had reported two new coronavirus infections, both at Yokosuka. The base has had two people test positive since Friday, it said in a news release Tuesday afternoon.
One unimmunized base employee came up positive after developing COVID-19 symptoms and another tested positive during a medical evaluation, the statement said. The base has four active cases.
Yokosuka has had nine people test positive so far this month, compared with 10 infections in May.
Japan on Tuesday reported 1,376 new coronavirus infections, 300 more than the same day last week, according to public broadcaster NHK and the World Health Organization. There were 42 deaths nationwide.
The government has counted 785,000 COVID-19 cases during the pandemic and more than 14,000 deaths, the WHO said.
Tokyo on Tuesday reported another 435 coronavirus infections and five deaths, according to NHK, which cited metropolitan government data. That's 98 more than the same day last week.
Osaka prefecture, the nation's second-largest metro area, reported 107 new infections Tuesday and four deaths, NHK said.
Okinawa prefecture, home to most U.S. troops in Japan, reported another 98 new infections Tuesday and four deaths, nine fewer positive cases than the same day last week, according to NHK.
Twitter: @MatthewMBurke1
Twitter: @AlexMNWilson