Mission complete for active-duty troops supporting public coronavirus vaccination sites
by
Caitlin Doornbos
Stars and Stripes
June 21, 2021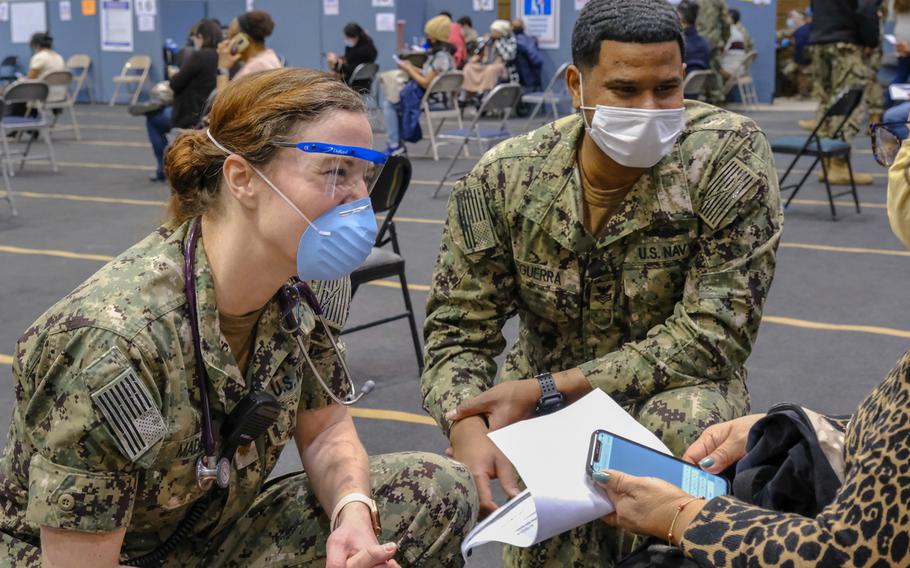 WASHINGTON — Active-duty troops will no longer be tasked with administering coronavirus vaccinations to the public after doling out nearly 5 million shots across the country, chief Pentagon spokesman John Kirby said Monday.
The final federally sponsored coronavirus vaccination site, located in New Jersey, closed Sunday, Kirby told reporters at the Pentagon. Since February, the Defense Department has been deploying active-duty troops to support such federal vaccination sites.
"More than 5,100 active-duty service members supported 48 federal sites across the country, including Guam, Northern Marianas, and the Virgin Islands," he said.
Though active-duty troops have completed their mission, the National Guard will continue to distribute vaccines in state and local communities, Kirby said. As of Monday, the Guard had "helped administer more than 12 million vaccines to the American public," he said.
"As we often see in times of crisis, our troops are marshaled to care for their fellow Americans," Kirby said. "The secretary is very, very proud of the critical role that they played throughout this pandemic and thanks them and their families for the sacrifices and the service that they've rendered their fellow citizens."
As vaccination rates continue to climb, Kirby also said the Defense Department will ease its health protection condition at the Pentagon from Charlie to Bravo on Wednesday, meaning workplace occupancy goals will rise from 40% to 50%. However, the building remains closed to public tours.
"Supervisors will continue to provide maximum telework opportunities to eligible employees," he said. "Personnel who are not fully vaccinated should continue to follow DOD mask and social distancing guidelines."
Twitter: @CaitlinDoornbos