Thousands of active-duty troops sent home from deployments to vaccine sites as demand for shots slows
by
Rose L. Thayer
Stars and Stripes
June 8, 2021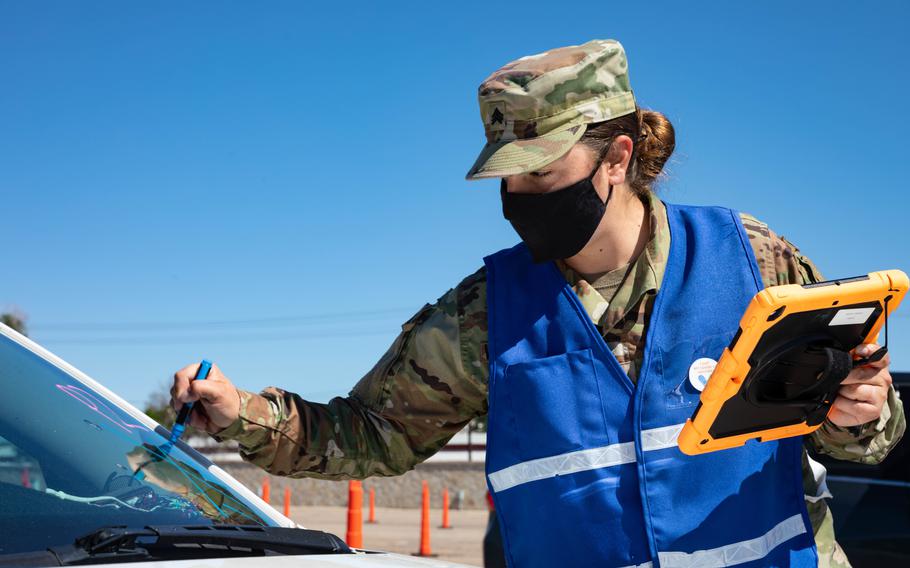 About 250 active-duty troops on Wednesday remained at coronavirus vaccination sites in Colorado, Kentucky, New Jersey, Oklahoma and Oregon, according to Army North, the military headquarters overseeing active-duty personnel working at sites throughout the country.
At the height of the military operation to help administer virus vaccines, 5,150 active-duty personnel were working at federal sites in 25 states, Army North said.
But thousands of active-duty service members began returning to their home duty-stations last month as coronavirus vaccination sites across the country reduced or ended operations because the demand for shots has slowed.
About 500 troops were expected to leave three of the remaining sites Tuesday, said John Kirby, the chief Pentagon spokesman. Earlier this year, service members administered vaccines at more than 30 sites across the country.
Overall, military members have been responsible for helping administer about 16 million shots to the American public, with about 4.9 million coming directly from active-duty soldiers, Marines, sailors and airmen.
"Several [Defense Department]-supported community vaccine centers will be mission complete or will begin reducing personnel as the site's reassess the size of the DOD vaccination support teams needed," Kirby said.
The National Guard still has nearly 13,000 troops at about 812 vaccine sites across 41 states and territories, according to the National Guard Bureau. Of those troops, about 2,200 are administering shots while the remaining service members are supporting operations.
The Defense Department supplied personnel to the sites through a partnership with the Federal Emergency Management Agency that began in February. American demand for coronavirus vaccines peaked in April, when the seven-day average for new doses administered hit 3.3 million a day, according to the Centers for Disease Control and Prevention. That average dropped below a million at the end of May.
About 63% of American adults have at least one dose of the vaccine, according to the CDC.
Twitter: @Rose_Lori