More US bases begin vaccinating their Japanese workers as COVID-19 cases decline
by
Matthew M. Burke and Alex Wilson 
Stars and Stripes
June 18, 2021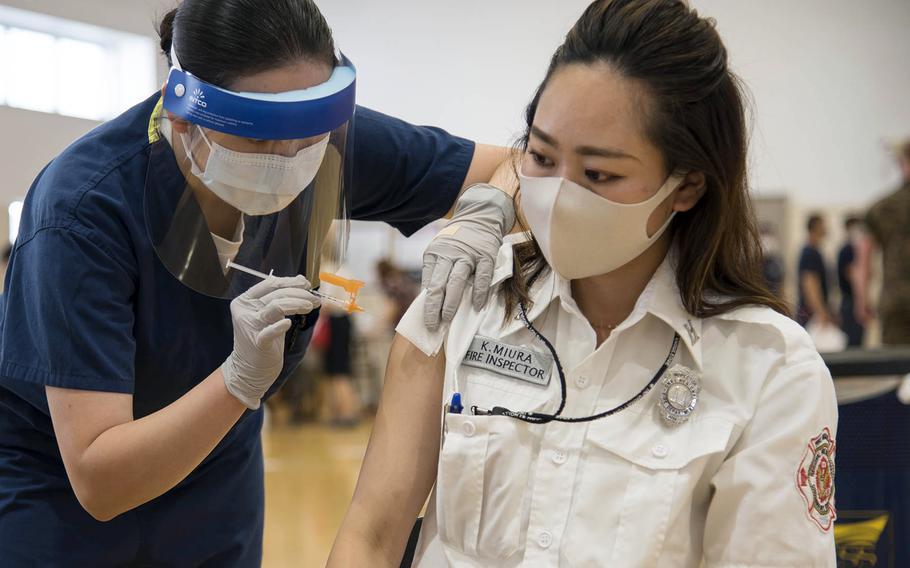 YOKOSUKA NAVAL BASE, Japan – The U.S. military in Japan carried on with vaccinating their Japanese workers Friday as infection numbers among American troops continued to decrease there and in South Korea.
Friday was the first day that Japanese employees could be vaccinated at Yokosuka Naval Base, home of the 7th Fleet 40 miles south of Tokyo. By 8 a.m., more than 120 people were lined up at the Hawk's Nest Training Center to receive their first shots.
Approximately 800 people had signed up to receive the Moderna vaccine that day, although walk-ins were also expected, said Petty Officer 1st Class Jose Salazar, the emergency operations center manager at Yokosuka.
Hiroko Kazama, an accountant working on the base, said she was excited to get her first shot.
"I'm tired of this situation," she said of the coronavirus pandemic. "I want to be able to go and travel."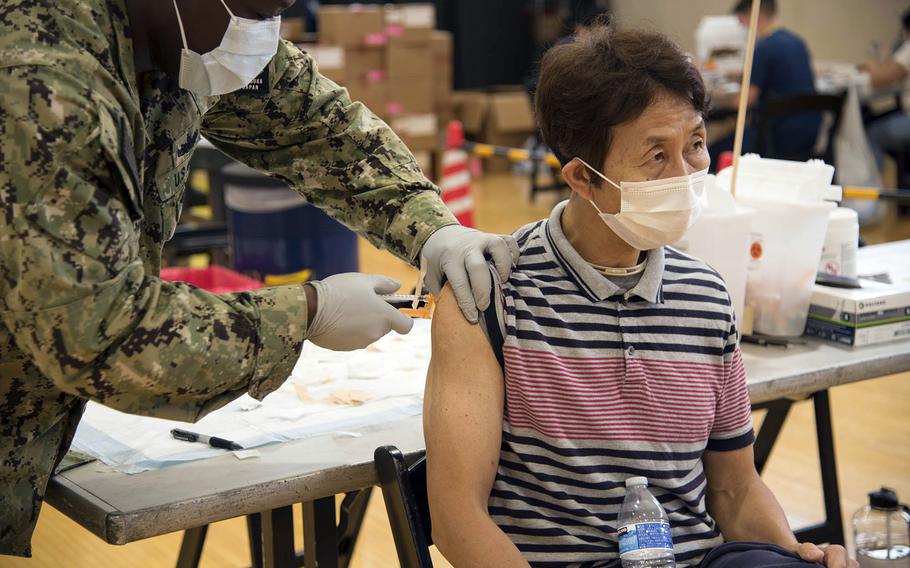 However, Kazama said some of her coworkers are hesitant to receive a vaccine administered by the U.S. military because of Japan's preventive immunization law. They are worried they might not receive government money provided under the law if they suffer significant medical issues after being inoculated.
Yokosuka's commander, Capt. Rich Jarrett, told Stars and Stripes he expects shot clinics for Japanese workers to continue for the next few weeks, and hopes that everyone who opts in will be fully vaccinated by the end of July.
Lt. Cmdr. Daniel Bradshaw, the base's bilateral relations coordinator, said Yokosuka is well prepared for the logistical challenge of vaccinating so many Japanese workers after conducting dozens of shot clinics for U.S. troops and other personnel.
"We've been doing this for quite a while," he said. "In a sense, we've been training for this for months, and we're ready."
Yokota Air Base in western Tokyo, Naval Air Facility Atsugi in Kanagawa prefecture and Marine Corps Air Station Iwakuni in western Japan also distributed first doses of the Moderna vaccine to Japanese base workers Friday, according to Facebook posts from those installations.
The inoculations were announced late last week in a joint statement by U.S. Forces Japan and the Japanese government. The shots are optional and base workers will not be treated adversely should they choose not to receive a vaccine.
Case numbers decline
The U.S. military in Japan and South Korea had reported three new COVID-19 infections as of 7 p.m. Friday.
The Marine Corps on Okinawa had one person test positive at Camp Hansen, according to a Facebook post by Marine Corps Installations Pacific.
U.S. Forces Korea had one service member test positive on Tuesday and another on Wednesday, the command announced in a statement Thursday evening.
A service member at Camp Humphreys tested positive Tuesday after developing symptoms consistent with COVID-19, the statement said. Another at Camp Casey in Dongducheon tested positive before traveling to the United States. Both patients are currently in isolation at Humphreys.
Japan reported 1,623 new coronavirus infections Friday, 489 fewer than the same day last week, according to public broadcaster NHK and the World Health Organization. There were 48 deaths nationwide.
The government has counted 780,000 COVID-19 cases during the pandemic and more than 14,000 deaths, the WHO said.
Tokyo on Friday reported another 453 coronavirus infections and two deaths, according to NHK, which cited metropolitan government data. That's 18 more than the same day last week.
Osaka prefecture, the nation's second-largest metro area, reported 79 new infections Friday and 17 deaths, NHK said.
Okinawa prefecture, which is home to most U.S. troops in Japan, reported another 86 new infections Friday, 59 fewer than the same day last week, according to NHK.
Twitter: @MatthewMBurke1
Twitter: @AlexMNWilson