Skepticism over side effects led to vaccine hesitancy in early stage of effort, study finds
by
Wyatt Olson
Stars and Stripes
June 18, 2021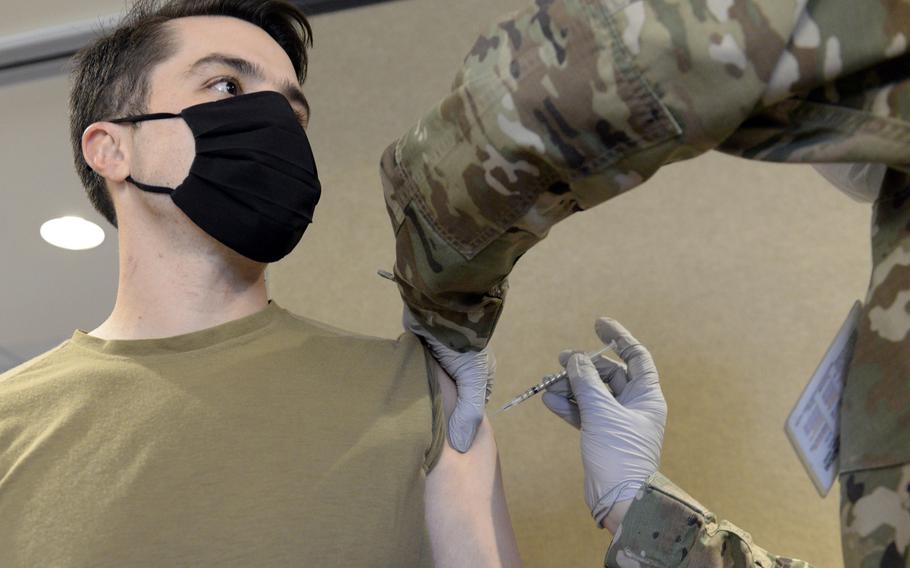 Medical workers and the young were most hesitant to be vaccinated against the coronavirus during the early stages of the vaccine rollout, primarily over concerns of short- and long-term side effects, a study that surveyed personnel at an Air Force base found.
Researchers analyzed responses from 816 people – uniformed, retirees and civilian contractors – associated with Wright-Patterson Air Force Base in Ohio about their likelihood of getting vaccinated, according to the study published June 12 in the journal Military Medicine.
The voluntary survey began in November, a month before the Food and Drug Administration issued its first emergency use authorization for a vaccine. The survey concluded in February.
"In a setting where COVID-19 vaccination is not mandatory, we found that the majority of individuals working at a military [base] would accept the COVID-19 vaccination if offered; however, nearly one-quarter of our respondents would not," the study said.
That rate of hesitancy generally matched what other researchers were finding in civilian populations, the study said.
The researchers believe the findings remain relevant even as the vaccination effort is in its seventh month.
"Much of the concern was regarding short- and long-term effects of the vaccine, and as more companies produce Covid-19 vaccines, there will be ongoing questions related to the safety of the vaccines," Andrew Berglund, one of the study's nine authors and a critical-care physician at the Wright-Patterson Medical Center, said in an emailed response to a query by Stars and Stripes. "Future vaccines designed to prevent Covid-19 or other viruses will likely face similar concerns from the general population in regards to the safety and side effect profile."
Berglund said the research team did not have "concrete data" to determine how prevalent those early attitudes remain today.
"Based on my interactions with patients there is still concern about long term side-effects, but possibly some decreased concern regarding short term side-effects," he said.
As of Wednesday, roughly 84% of sailors, Marines, soldiers and airmen in the U.S. armed forces had been either partially or fully vaccinated, according to Defense Department statistics.
Study participants were asked their age, occupation and whether they would accept a COVID-19 vaccine if offered it. They were then given a list of possible concerns about the new vaccine, including short- and long-term side effects, misinformation on the vaccines, effectiveness, pain associated with its administration, possibility of recipient becoming ill or infected with the coronavirus, and issues involving pregnancy or breastfeeding.
Participants could check as many concerns as they had. Those who were vaccine hesitant showed significantly greater concern about short- and long-term side effects, the vaccine's effectiveness and whether the shot would make them feel sick.
The vaccine-hesitant group was younger, with a median age of about 39, as compared to the median age of 46 for the group that did not feel vaccine reluctant.
Looked at another way, 38% of participants ages 30 and younger were vaccine hesitant compared to the 18% expressing hesitancy who were older than 30.
Respondents in the medical field were also far more likely to be hesitant than non-medical participants.
"Vaccine hesitancy among medical professionals is alarming, since this group experiences COVID-19 in their work environment and is familiar with the associated morbidity and mortality," the researchers said.
The study had some significant limitations.
The survey took place at a single Air Force base so generalizing the findings to other military bases and services "should be done with caution," the study said.
In addition, only about 10% of the base's pool of roughly 8,000 possible respondents took the survey, and those who did were self-selected rather than being chosen randomly by the researchers.
Nevertheless, the researchers concluded that the findings are of particular importance "where refusal to vaccinate is likely to impact the ability of active duty military personnel to perform their duties and may negatively impact overall mission readiness."
Twitter: @WyattWOlson