Austin mulls mandating coronavirus vaccine for troops once fully approved by FDA
by
Caitlin Doornbos 
Stars and Stripes
June 15, 2021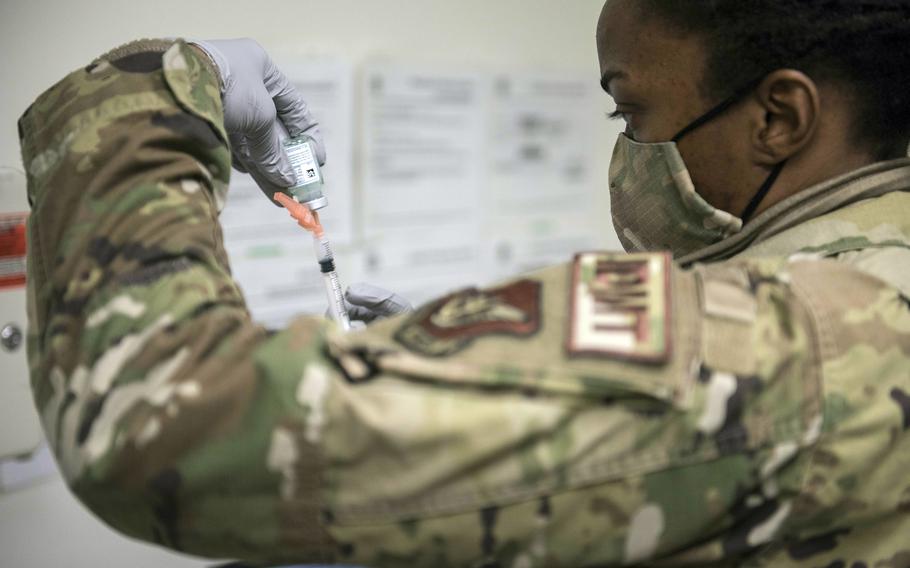 WASHINGTON — Defense Secretary Lloyd Austin is considering whether to mandate the coronavirus vaccine for service members after the shot receives full Food and Drug Administration approval, acting Navy Secretary Thomas Harker told the House Armed Services Committee on Tuesday.
Austin's office is "coming up with guidance" on requiring the vaccine for troops, Harker said during a hearing on the Navy's 2022 budget proposal.
"I believe the secretary is considering making that decision to do so, but it's not something that he has announced to us yet," Harker told the committee during a hearing that included in-person and virtual attendees after more than a year of online-only meetings because of the pandemic.
While the Pentagon can make vaccinations fully cleared by the FDA mandatory for troops, it cannot do so for the coronavirus vaccinations while they are authorized only on an emergency basis, unless the president orders it mandatory. President Joe Biden, so far, has not done so.
Though not yet required, the coronavirus vaccine is optional for service members. To date, 840,492 active duty, Reserve and National Guard troops are fully vaccinated and another 291,809 have received at least one dose, according to the latest Defense Department data published Monday.
That means about half of the total force of approximately 2.3 million active duty, Reserve and Guard troops have received the vaccine so far.
However, a vaccination mandate for troops could come soon as vaccine manufacturers Pfizer and Moderna applied for full FDA approval on May 7 and June 1, respectively. The third vaccine under emergency-use authorization, which was developed by Johnson & Johnson, has not yet applied for full approval.
The FDA requires extensive data and reviews by the Center for Drug Evaluation and Research before issuing full approval. The FDA has not offered a timeline for how long that process will take for the coronavirus vaccines.
Twitter: @CaitlinDoornbos