US military begins vaccinating Japanese base workers against COVID-19
by
Matthew M. Burke
Stars and Stripes
June 16, 2021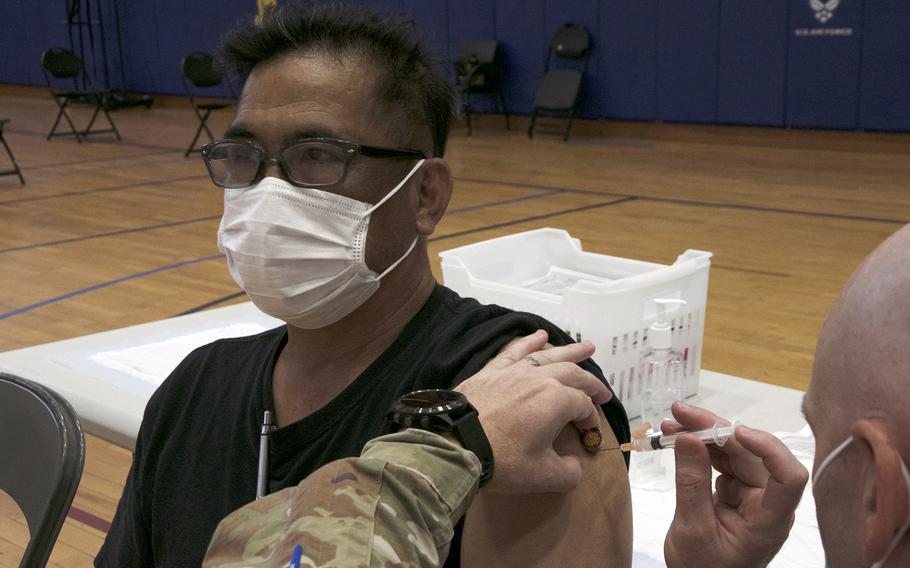 KADENA AIR BASE, Okinawa – The U.S. military in Japan began vaccinating Japanese base employees for COVID-19 this week, and hundreds have already received their first shots.
Kadena Air Base on Okinawa started inoculations for its 3,200 eligible Japanese employees on Tuesday afternoon, said Kadena's COVID-19 vaccine project coordinator, Air Force Lt. Madeleine Kallerud. Approximately 300 people had received their first dose of the Moderna vaccine by the following morning.
"I feel pretty good," said Kadena firefighter Brian Arime, 33, after getting his initial jab Wednesday at the Risner Fitness and Sports Complex. "I know in Japan they're kind of getting the shots, but it's taking time, so I was happy when I heard the locals on base could get it."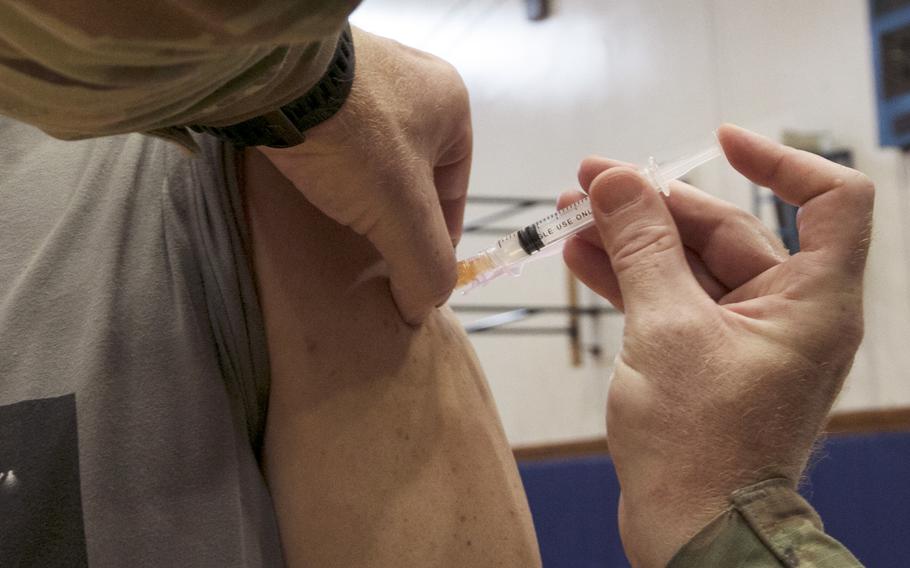 Yasunari Inage, 49, who works at the base library as an information technology assistant, said he had some anxiety about getting vaccinated but felt that the benefits outweighed the risks. He, too, had been waiting for the vaccine to be offered by the Japanese government.
"I know people who tested positive on this base," he said after getting his initial shot Wednesday. "So, I'm like, 'Yea, I need to get vaccinated right away.'"
The vaccinations were announced late last week in a joint statement by U.S. Forces Japan and the Japanese government. Japan, which has lagged other developed nations in inoculating its population, is ramping up its vaccination program ahead of the Tokyo Olympics on July 23.
The shots are optional and base workers will not be treated adversely should they choose not to receive a vaccine, Kallerud said while observing Kadena's shot clinic on Wednesday morning. Over 65 percent of the base's population has received at least their first dose of the vaccine, she said.
"The Japanese national employees that work here are a large part of our workforce," she said. "We're very excited for the opportunity to be extending this opportunity for kind of that last piece of the puzzle."
Kallerud said the Kadena vaccinations will continue through Friday, though there will be future opportunities for Japanese workers to receives shots.,
The Marine Corps on Okinawa also began offering vaccines to Japanese workers during a shot clinic Wednesday at U.S. Naval Hospital Okinawa on Camp Foster, hospital spokesman Joseph Andes said by phone that afternoon. He was not authorized to disclose the number of vaccines distributed.
Meanwhile, U.S. military bases across Japan reported just two new cases of the coronavirus respiratory disease as of 7 p.m. Wednesday.
The Marine Corps had one person at Camp Hansen test positive for COVID-19, according to a Facebook post Wednesday by Marine Corps Installations Pacific.
Kadena closed an on-base Chili's restaurant Wednesday for a thorough cleaning after one person became infected, according to base spokesman Master Sgt. Amanda Junk. No other details were available.
Japan reported 1,515 new coronavirus infections Wednesday, 213 fewer than the same day last week, according to public broadcaster NHK and the World Health Organization. There were 52 deaths nationwide.
The government has counted 775,000 COVID-19 cases during the pandemic and more than 14,000 deaths, the WHO said.
Tokyo on Wednesday reported another 501 coronavirus infections and 12 deaths, according to NHK, which cited metropolitan government data. That's 61 more than the same day last week.
Osaka prefecture, the nation's second-largest metro area, reported 108 new infections Wednesday and 19 deaths, NHK said.
Okinawa prefecture, home to most U.S. troops in Japan, reported another 115 new infections Wednesday, 59 fewer than the same day last week, according to NHK.
Japan announced plans Wednesday to increase arena capacity to 10,000 spectators, or 50 percent, at events in areas that are not in a state of emergency, Kyodo News reported Wednesday, citing Japan coronavirus czar Yasutoshi Nishimura.
The rule may apply to the Tokyo Olympics if a state of emergency expires on June 20, as scheduled, for Tokyo and nine other prefectures, including Osaka and Okinawa.
At the same time, researchers at the National Institute of Infectious Diseases warned that another state of emergency may be needed during the games, should events be held with spectators, Kyodo said in a separate report.