Safety program brings first-responders' perspective to Marine drivers on Okinawa
By
Stars and Stripes
August 26, 2022
---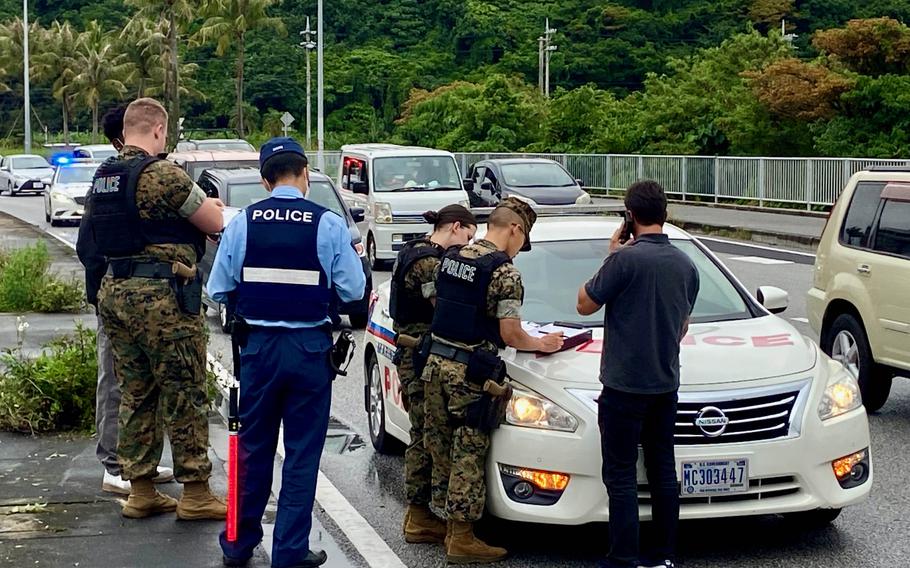 CAMP FOSTER, Okinawa — The Marine Corps aims to reduce the hazards of driving on Okinawa by exposing its young troops to the consequences of traffic collisions as explained by first responders.
Presentations of the Street Smart program are scheduled at all six Marine Corps camps on Okinawa from Monday through Friday.
Street Smart brings two firefighters or paramedics to walk their audiences through a trauma scene, from extricating crash victims and keeping them alive to prepping them for transportation to an emergency room, according to SAFE, a nonprofit organization that produces the presentations.
Each 90-minute presentation emphasizes the consequences of driving while impaired or failing to wear seat belts.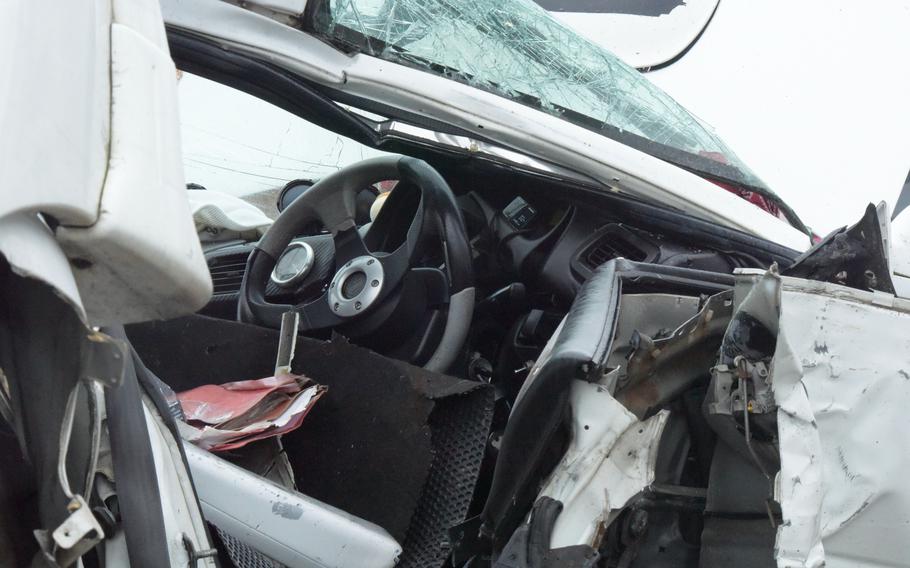 Street Smart was last presented at Marine camps on Okinawa 10 years ago and this year follows in the wake of two fatal crashes right outside the Camp Foster gate.
"Our target audience is young Marine SOFA-licensed drivers who often have limited driving experience both in the U.S. and here in Japan," Shawn Curtis, safety director for Marine Corps Installations Pacific, told Stars and Stripes in an email Thursday.
"We hope the training session is impactful with attendees and that they make good use of the information presented and employ proper risk management when making decisions while behind-the-wheel," he said.
SOFA, the status of forces agreement, outlines the rights and responsibilities of the U.S. military in Japan. Marines must be 18 or older to obtain a SOFA license, according to the Marine Corps Provost Marshal's Office. Staff sergeants and below must have their commanding officer's written approval.
Two sessions are scheduled at 8 a.m. and 4 p.m. Monday at Marine Corps Air Station Futenma; at 8 a.m. Tuesday and Wednesday at Camp Hansen; at 1 p.m. Tuesday at Camp Courtney; at 1 p.m. Tuesday at Camp Schwab; at 8 a.m. and 10 a.m. Thursday and again at 1 pm. Friday at Camp Foster; and 2 p.m. Thursday and 8 a.m. Friday at Camp Kinser.
Traffic collisions involving U.S. service members on Okinawa have common threads, Curtis said. Many result from driving too fast for conditions, texting while driving or driving under the influence of drugs or alcohol.
SOFA driving violations on Okinawa for drunken driving increased from 41 in fiscal year 2020 to 66 in fiscal year 2021, according to the Okinawa Prefectural Police website. Speed-limit violations rose from 330 in 2020 to 403 in 2021.
Okinawa tends to have an increase in traffic accidents at the onset of the rainy season, which is normally from May through June, according to an email from Marine Corps Installations Pacific on Thursday.
On May 8, a vehicle driven by a Marine veered off Route 58 outside Camp Foster's gate struck and killed a 61-year-old pedestrian. On May 14, another young Marine died when his car left the roadway at nearly the same spot and crashed into a light pole and pedestrian fence.
On May 15, a Marine suspected by Japanese police of drunken driving collided with a local taxi, according to a police spokesman.
"We've extended an invite to local government officials and Okinawa Prefectural Police to observe this program and our level of commitment with educating our young Marines and sailors on the importance of being good ambassadors while behind the wheel," Curtis said.
More information about the program is available at www.safeprogram.com/faq.html.
---
---
---
---