Marine dies after apparent single-vehicle crash outside Camp Foster, Okinawa
By
Stars and Stripes
May 14, 2022
---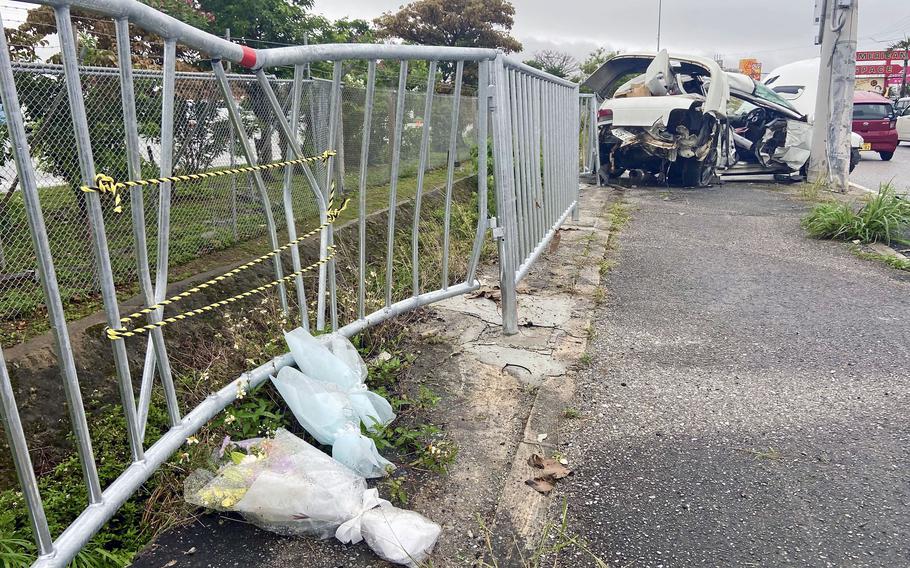 CAMP FOSTER, Okinawa — Okinawa police say a Marine was killed early Saturday after the car he was driving veered off a road and crashed into a light pole and pedestrian fence outside this Marine Corps base on Okinawa.
The Marine corporal was pronounced dead at 6:14 a.m. at U.S. Naval Hospital Okinawa on Camp Foster, according to Okinawa City Police Station interpreter Takaho Kinjo.
The crash happened at 4:50 a.m., Kinjo told Stars and Stripes by phone on Saturday. The service member's mangled white, late-model, four-door vehicle could be seen on the sidewalk along Route 58 in front of Camp Foster.
The accident's cause is under investigation, Kinjo said.
The Camp Foster Provost Marshal's Office declined to confirm any details on Saturday. Base public affairs could not be reached for comment.
The wrecked vehicle was spotted Saturday morning approximately 10 feet from where Katsuya Ishikawa, 61, was struck and killed by a vehicle driven by Lance Cpl. Joshua David Siegel on May 7.
Okinawa police said Siegel was being questioned in their investigation, but alcohol was not involved and he was not arrested.
Correction
This article has been corrected. A previous version of this story misidentified the Marine's rank. He was a corporal.
---
---
---
---