Marine Corps to curtail usage of Amtracs in wake of deadly accident
by
Chad Garland
Stars and Stripes
December 16, 2021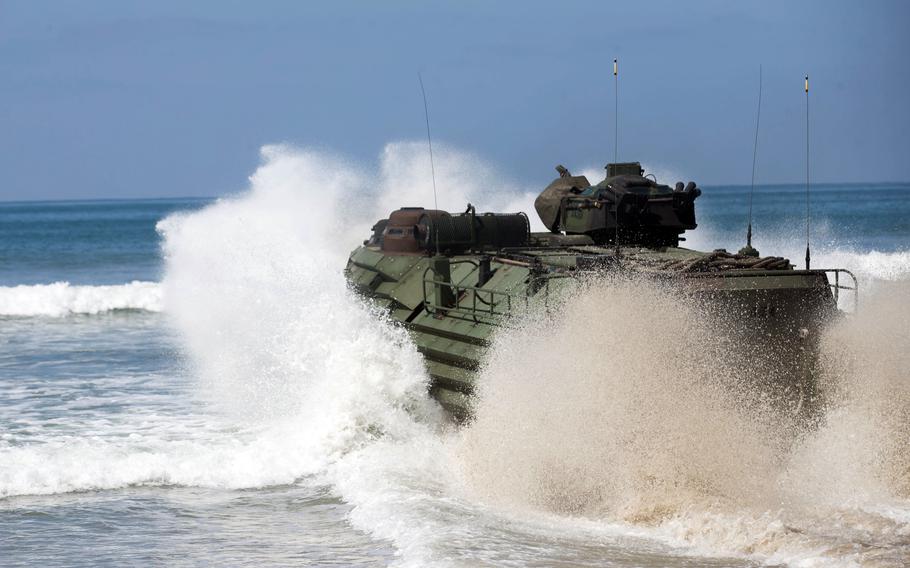 The Marine Corps will no longer send its amphibious assault vehicles on regular deployments or training in water except in crisis response, the service said Wednesday.
The decision comes nearly 1 1/2 years after eight Marines and a sailor died when an AAV sank off the coast of California during a training drill.
The decision could be reversed if necessary, as the service still believes that with measures implemented after the fatal event, the vehicles are safe for amphibious operations, spokesman Maj. Jim Stenger said in an email to USNI News.
Also known as Amtracs, the amphibious fighting vehicles have been in use since the 1970s. They'll continue to be used on land, where they perform about three-quarters of their tasks, Stenger said.
The Corps halted waterborne use of the AAVs for months after the deadly July 2020 accident but resumed some use in the water earlier this year.
Stenger said the service is committed to fielding the Amphibious Combat Vehicle, the Corps' second try at replacing the AAVs. The first, called the Expeditionary Fighting Vehicle, was canceled in 2010.
The service approved the ACV for full-rate production a year ago but paused its waterborne operations in September because of problems with that platform's towing mechanism.
"We expect that issue to be resolved soon and for ACVs to return to the water early in the new year," Stenger said.
The AAV's indefinite grounding comes amid the Marine Corps' ongoing focus on returning to its amphibious roots after 20 years of land-based warfare in the Middle East and Central Asia.
Earlier this year, Gen. David Berger, the Marine Corps commandant, told reporters that the service's pool of shared knowledge about amphibious operations had shrunk and would need to be expanded.
Investigations into last year's AAV sinking, the deadliest training accident involving an AAV in the Corps' history, found that the vehicles the platoon had been assigned were in "horrible conditions."
Eight of the service members who died had not been trained how to get out of a submerged vehicle, which is notoriously hard to escape. And most of the service's fleet of AAVs failed an inspection after the accident.
The service fired several officers in the wake of the tragedy, including its inspector general at the time, Gen. Robert Castellvi.
He was commander of the 1st Marine Division before the sinking, and investigators found him responsible for some of the failures that led to it.
---
---
---
---