Okinawa Marines resume waterborne AAV drills nearly a year after fatal accident
by
Matthew M. Burke
Stars and Stripes
June 10, 2021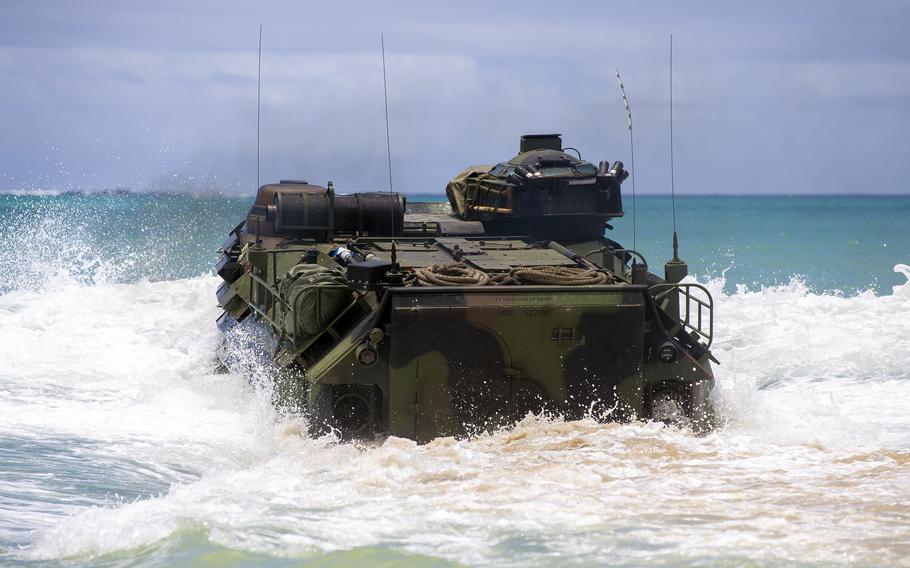 CAMP FOSTER, Okinawa — The Marine Corps has resumed waterborne assault amphibious vehicle operations on Okinawa, nearly a year after nine service members died while training in one of the vehicles off the California coast.
A "demanding" training began last week and was completed Tuesday by Marines from Company B, 3rd Assault Amphibian Battalion following a "thorough" review of safety, maintenance and operating processes and procedures, a III Marine Expeditionary Force statement said.
The maneuvers were conducted in compliance with updated policies and procedures following the fatal accident on July 30, 2020, according to the statement.
The incident took the lives of eight Marines and one sailor from Bravo Company, Battalion Landing Team 1/4 of the 15th Marine Expeditionary Unit. The Marine Corps called it the deadliest AAV training accident in its history.
III MEF heralded the "return" of an "important capability," its statement said. "Everything possible" is being done to ensure safety.
"We completed a rigorous review to ensure we can operate our [amphibious assault vehicles] safely, protect our Marines and Sailors, and complete our mission responsibly," the III MEF commander, Lt. Gen. H. Stacy Clardy, said in the statement. "We will continue to mitigate risk while employing a ready and capable force to deter aggression and respond to crisis in the region in support of our nation's interests and our allies and partners."
The AAV now in use was first fielded in 1983 to ferry Marines from ship to shore for both combat and humanitarian operations, according to the Marine Corps. It resembles an armored tank that can traverse both land and sea. It was designed to carry 21 combat-equipped troops and a crew of three at a maximum speed of 8 mph at sea. The 26-ton vehicles are much faster on land at a maximum of 45 mph.
The vehicles have been at the heart of Marine operations in the Pacific in recent years, often seen during exercises plunging into the surf off the back of one of the Navy's amphibious assault ships and heading toward shore for a beach raid.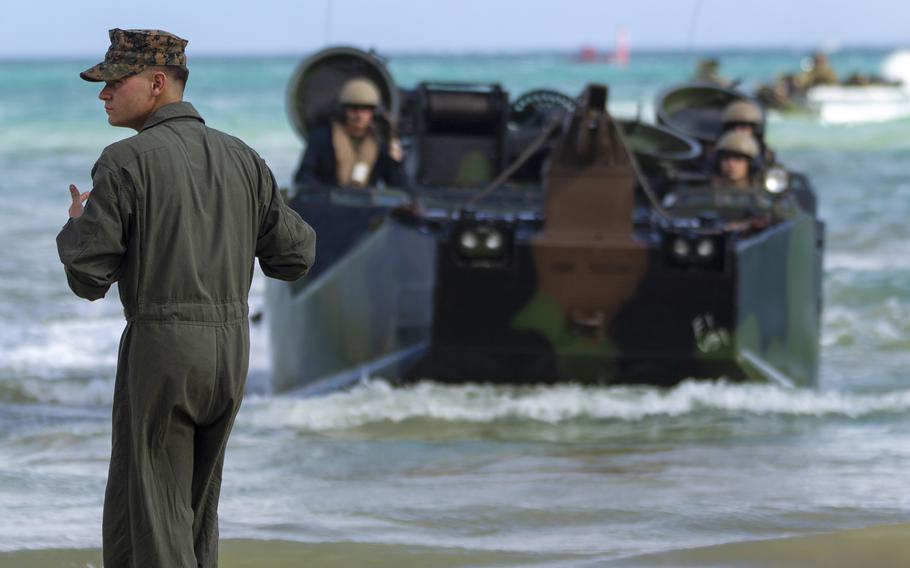 The platform came under intense scrutiny after last year's accident, about 70 miles off California's southern coast. The AAV began taking on water while returning to the USS Somerset.
After the incident, waterborne use of the vehicles was suspended by Commandant Gen. David Berger while a review of equipment, procedures and training was conducted. The AAVs were inspected to ensure watertightness, bilge pump function and emergency lighting.
An investigation found proper maintenance had been disregarded, Marines had not been properly trained and leadership had failed to evacuate personnel in a timely manner. The Corps also determined there was a lack of safety boats in the water that day, high waves and deficient personal flotation devices.
Commanders of the I Marine Expeditionary Force in California and III MEF on Okinawa were directed to review safety practices and procedures and ensure commanders were directly responsible for safety. They were also ordered to improve training for exiting AAVs in an emergency and communications between vehicles during a mishap.
The service told a subpanel of the House Armed Services Committee last month that 11 Marine leaders had been disciplined so far for their roles in the sinking.
Maj. Gen. Robert Castellvi, who commanded the 1st Marine Division at the time of the sinking, was fired Wednesday from his position as Marine Corps inspector general after it was determined he was at least partially responsible.
Review boards are still considering separation for some of the disciplined Marine officials, Gen. Gary Thomas, the assistant commandant of the Marine Corps, said at the May 3 hearing.
The service is in the process of replacing its fleet of AAVs with the next-generation amphibious combat vehicle by BAE Systems after abandoning plans to modernize the AAV fleet.
Twitter: @MatthewMBurke1