Marine Corps inspector general fired in connection with deadly amphibious vehicle sinking
by
Caitlin Doornbos
Stars and Stripes
June 9, 2021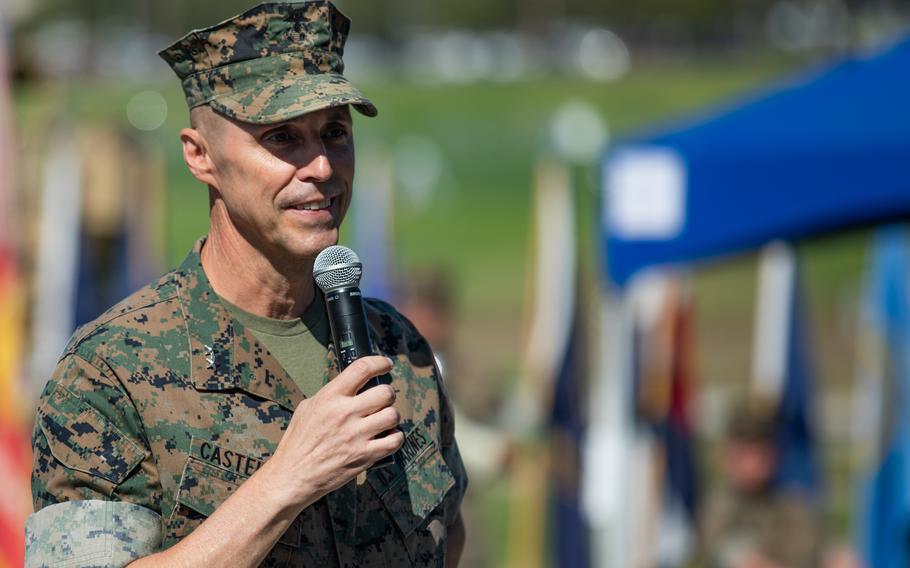 WASHINGTON — The Marine Corps has fired its inspector general in connection with an assault amphibious vehicle accident last year in which nine service members died, the service announced Wednesday.
Maj. Gen. Robert Castellvi will not return to his position after Marine Commandant Gen. David Berger suspended him May 3 amid an investigation into the formation of the 15th Marine Expeditionary Unit, which now oversees the AAV platoon that suffered the accident, the service said in a statement.
At the time of the accident, Castellvi served as commanding general of the 1st Marine Division, which was in charge of the AAV platoon in the training accident that killed eight Marines and one sailor about 70 miles off California's southern coast.
"The commandant took adverse administration action against him," the Corps said in its statement. "The commandant personally and formally counseled him for his failure to properly train the Marines and sailors for whom he was entrusted and for the inadequate evaluation of the AAV platoon before it was attached to the 15th MEU."
An investigation published March 25 found maintenance procedures on the AAV were disregarded and troops were not properly trained in evacuation and safety procedures.
"Contributing factors included lack of training, the material condition of the AAVs assigned to 15th Marine Expeditionary Unit, lack of safety boats in the water, a higher-than-anticipated sea state, and insufficient buoyancy provided by personal flotation devices at depth," the service said in a March statement announcing the findings.
The investigation also determined Castellvi "bears some responsibility" in the accident, according to a Wednesday report by The Associated Press.
His removal comes after some family members of the troops who died in the sinking questioned why no generals were punished in the accident, according to the AP.
Castellvi's punishment did not include a reduction in rank, but his removal as inspector general will remain part of his permanent record "and must be considered if he is evaluated for promotion, retention, or roles of responsibility," according to the service's Wednesday statement.
"This action typically prevents an officer from being promoted or serving in a role where he/she would be charged with the responsibility of caring for Marines and sailors," the Marine Corps said.
The investigation into the 15th MEU remains underway, and will be released once completed, the service said.
Rep. John Garamendi, D-Calif., in a statement Wednesday called the firing "an important step" toward "ensur(ing) that dangerous training required to prepare our service members for combat is done as safely as possible."
"It is my view that [Castellvi's] failures in ensuring the Marines under his charge were adequately trained prior to joining the 15th Marine Expeditionary Unit were a direct and contributing factor to the tragic loss of eight Marines and one Navy corpsman last July," said Garamendi, who serves as chairman of the House Armed Services Committee's subpanel on readiness.
Twitter: @CaitlinDoornbos