Poor training, supervision among leading causes of tactical vehicle accidents, GAO finds
by
Caitlin Doornbos
Stars and Stripes
July 14, 2021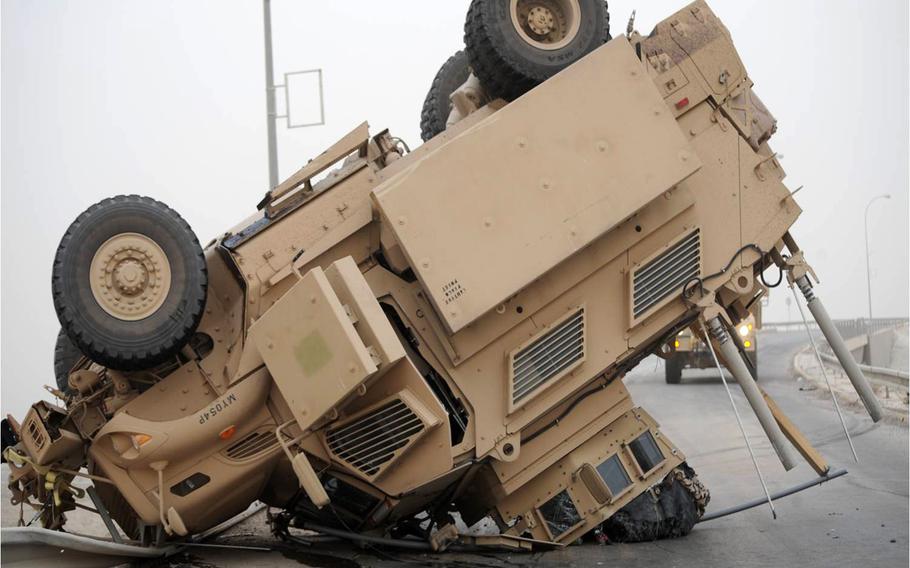 WASHINGTON — Driver distraction, supervision lapses and training shortfalls were among the leading causes behind Army and Marine Corps tactical vehicle accidents in a new report released Wednesday by the Government Accountability Office.
The study reviewed 3,753 Army and Marine Corps noncombat tactical vehicle accidents between 2010 and 2019, which resulted in 123 deaths. While the number of deadly accidents fluctuated during the years with a high of more than 23 in 2010 and a low of about 7 in 2017, the causes remained largely the same, according to the report.
To address the issue, the GAO made nine recommendations in the report, calling for the services to create more clearly defined roles for supervisors, establish procedures and mechanisms for risk management and ensure driver-training programs have a well-defined process with specific performance criteria.
"The Army and Marine Corps had not clearly defined the roles or put procedures and mechanisms in place for first-line supervisors — such as vehicle commanders — to effectively perform their role," according to the report. "As a result, implementation of risk management practices, such as following speed limits and using seat belts, was ad hoc among units."
While no single event inspired the study, the GAO said it was initiated because "the Army and Marine Corps have experienced tactical vehicle accidents that resulted in deaths of military personnel during noncombat scenarios."
The report found the services lacked appropriate and continuing driver training across "diverse driving conditions, such as driving at night or over varied terrain," according to the report.
"Licensing classes were often condensed into shorter periods of time than planned with limited drive time and unit training focused on other priorities rather than driving," according to the units that the GAO interviewed.
In some cases, troops weren't effectively communicating hazards found on training grounds and ranges to units and drivers, something that the GAO recommended the services evaluate to ensure "responsibilities to identify and communicate" dangers are upheld.
"If the responsibilities are not being carried out, the [services] should determine if existing workarounds are adequate or if additional resources should be applied to fulfill these responsibilities," the GAO said in its report.
The GAO also suggested the Army and Navy secretaries evaluate the number of personnel responsible for tactical vehicle safety "and determine if these units are appropriately staffed or if any adjustments are needed to workloads or resource levels," according to the report.
"The Army and Marine Corps have practices to mitigate and prevent tactical vehicle accidents, but units don't always use them," the report found.
The GAO also recommended the Army and Navy secretaries, along with the Army chief of staff and Marine Corps commandant, create "a formal collaboration forum" for the services to "share methods for identifying and communicating hazards to units with each other on a regular basis."