Marine Corps budget cuts 2,700 active-duty troops as force focuses on expeditionary warfare
by
Caitlin Doornbos
Stars and Stripes
May 28, 2021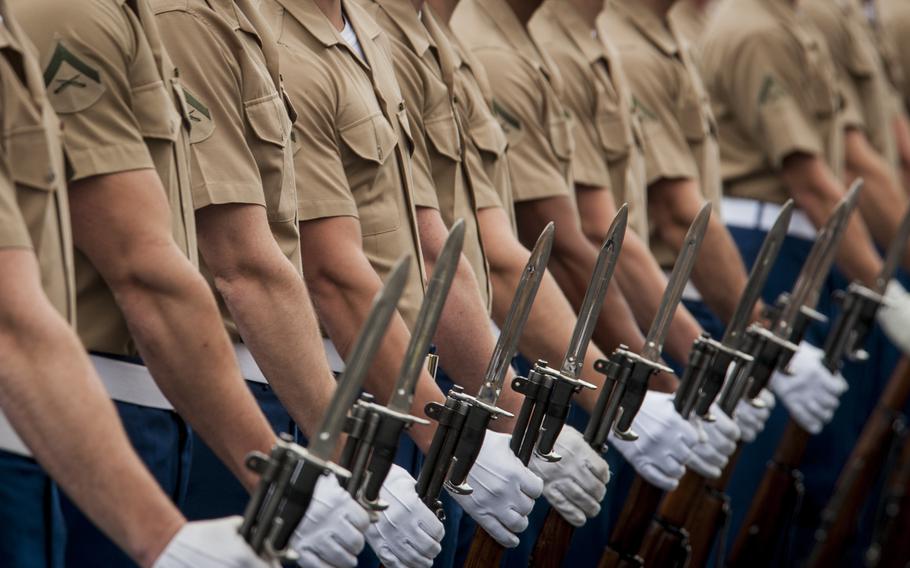 WASHINGTON — The active-duty force of the Marine Corps would shrink by about 1.1% under its 2022 budget proposal as the service continues to redesign itself to meet rising threats posed by China, according to budget materials released Friday.
While the service's $47.9 billion proposed budget is up $2.8 billion from fiscal year 2021, it would cut 2,700 active-duty Marines as the service "is vigorously redesigning the force for naval expeditionary warfare in actively contested spaces," according to the budget documents.
The cuts would come entirely from enlisted forces, which are set to drop from 159,716 troops to 156,650, according to the Marine Corps. The service aims to add 366 officers in the new budget for a total of 21,850.
"The reduction of active-duty end strength is part of the larger effort to modernize the Marine Corps by divesting of legacy capabilities, such as tanks, bridging and law enforcement, along with a reduction of surge capacity, with the intent of investing in modernization," the service said in the budget materials.
The change aligns with the Force Design 2030, a modernization effort announced in March 2020 that aims to transition the Marine Corps from a force focused on large-scale amphibious and sustained ashore operations to one optimized to support naval expeditionary campaigns.
To assist in the transition, the service is asking for $3 billion in procurements, which would include funds for ground-based anti-ship missiles and high-mobility artillery rocket system programs and purchase 613 joint light tactical vehicles and 92 amphibious combat vehicles, according to the budget materials.
"We prioritize investments in force-design programs that underwrite Marine Corps expeditionary nature and ability to contribute as a part of a larger naval campaign, including key efforts like long-range fires, sensors and network modernization," Rear Adm. John Gumbleton, deputy assistant secretary of the Navy for budget, told reporters at the Pentagon on Friday.
Twitter: @CaitlinDoornbos