Army Combat Fitness Test launches April 1 with scoring based on a soldier's age, gender
By
Stars and Stripes
March 23, 2022
---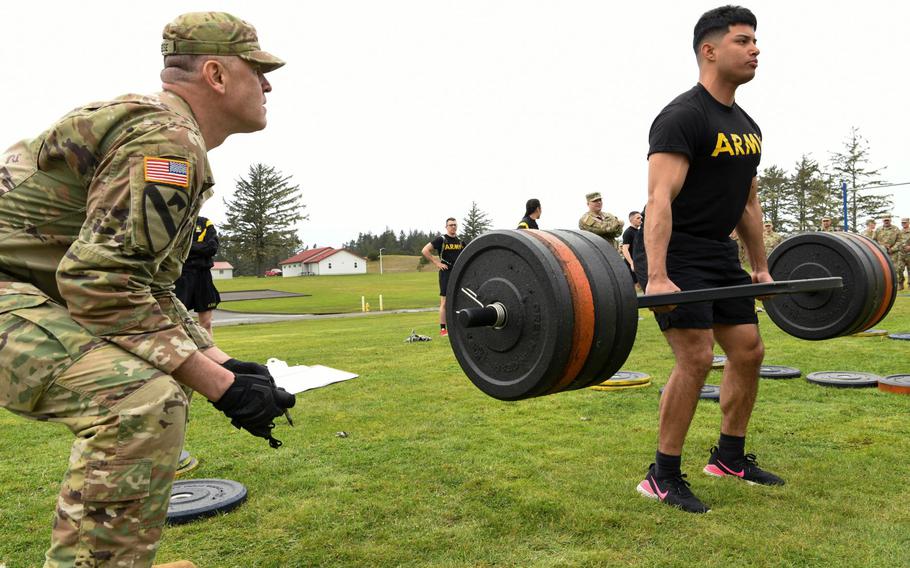 The Army will implement a revised version of its Army Combat Fitness Test on April 1 that considers gender and age when assessing each soldier's performance, the service announced Wednesday.
The new version follows an initial effort three years ago to make the test gender neutral, which a Rand Corp. report found caused women and members of the National Guard and Reserve to fail the test at higher rates.
Active-duty troops will have a six-month evaluation period before the results could impact their service, and Reserve and National Guard soldiers will have one year, the Army said.
"We listened to what the Rand study provided us. It said, 'You could disadvantage some groups.' This is a better test," Sgt. Maj. of the Army Michael Grinston said Monday during a call with reporters that also included several Army officials who worked on implementing the new fitness test.
This latest revision to the test, known as the ACFT, maintains "the Army's strong commitment to a positive culture of physical fitness while ensuring fairness in the transition to a new fitness test of record," he said.
The Army first introduced the six-event test in 2019 with the intention it could evaluate a soldier's ability to perform specific warrior tasks and battle drills with no need to adjust scoring for age or gender as the current test does. Two years later, women were failing the test at much higher rates than men, so Congress called on the Army to hire a third party to assess this possible disadvantage before using it as the standard and discharging soldiers who could not pass.
Rand conducted the research and found the Army lacked enough evidence to prove that all six test events adequately predict performance on combat tasks or reduce injury risks, according to its report. It also found women, part-time troops, and soldiers older than 45 had a more difficult time passing the test.
"Because this test may ultimately be used for personnel actions, it is especially important that all of the test's events and minimum standards are validated for all genders, components and occupational specialties," said Chaitra Hardison, a senior behavioral scientist at Rand and lead author of the report.
Rand reviewed test data for 460,000 soldiers and narrowed its report to four main findings and four recommendations. It found the Army needs more evidence to support the ACFT and the fitness events included in the test. The report also found higher failure rates in certain populations, training can improve pass rates, and a formal management structure to oversee test refinements would benefit implementation.
All of Rand's research findings and recommendations were based on a previous version of the test that was age and gender neutral, not the version that will be implemented throughout the Army next week. On those neutral scoring tables from the older version of the test, Rand found an 89% pass rate for men and about 54% for women, said Brig. Gen. Scott Naumann, the Army's director of training.
The report's four recommendations to the Army call for the service to address the shortfall of evidence and collect additional data, consider how to mitigate the impact of the test on the workforce, take steps to support more training over time, and create a management structure for its implementation and use.
Army leaders agreed to incorporate all the recommendations, most notably by returning to an age and gender-based scoring system that is based off the pass rates of the previous fitness test.
"With the age- and gender-normed scale, we predict similar outcomes, based on the data that we have right now that we that we had roughly with the old [Army Physical Fitness Test]," Naumann said.
To address other recommendations, the Army issued more than 40,000 sets of equipment to train for the test, instituted the grace period before scores are recorded, established oversight committees, and modified one event of the test.
The six events include a deadlift, standing power throw, hand-release pushups, the sprint-drag-carry, a plank and a two-mile run. The test originally included a hanging leg tuck instead of a plank to evaluate core strength. It was removed based on the results of the Rand study, which found the exercise has weak evidence to show that someone had core strength.
"The leg tuck has really three components to it," Grinston said. "There's a grip strength, then there's an upper-body strength, and then there's the core event. If I don't have the grip strength, but I may actually have core strength, then I actually can't do a leg tuck. The reason of wanting to take that out is that we wanted to measure everybody on the core strength."
Instead of seeing the test as a predictor for how someone will perform physically in combat, Naumann said the revised ACFT is a general fitness test.
"This test is a general fitness assessment, using age and gender performance-based norm scales to accurately assess an individual's physical fitness," he said. "This is just one aspect of a holistic approach to the readiness of our soldiers."
The current APFT measures muscular endurance through three events, pushups, situps and a two-mile run. This test has been the standard since 1983 and has about a 5% failure rate. In search of a test that would measure more than muscular endurance, the Army began in 2012 to create a new fitness test.
"We knew we could evolve, and we wanted to improve readiness overall and we wanted to reduce injury," said Brig. Gen. John Kline, commander of the Army's Center for Initial Military Training.
He encouraged soldiers to bring their ACFT scores to one of the Army's roughly 2,500 master fitness trainers to help create a personalized training program for improvement. Starting this month, Kline said they plan to increase the number of master fitness trainers within the service by increasing the program's capacity from certifying 830 soldiers to be trainers each month to more than 1,600.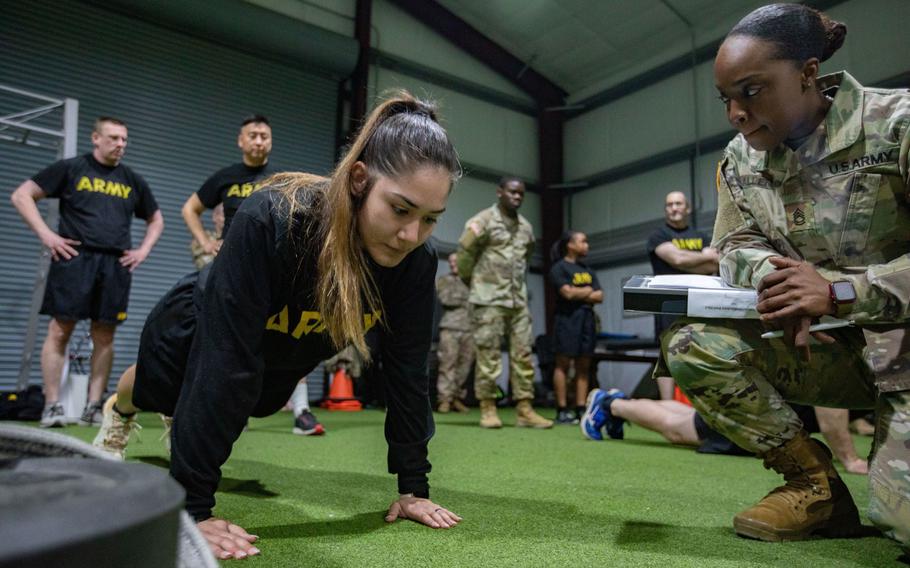 Master fitness trainers are non-commissioned officers and officers who have taken an Army course that certifies them to advise others on fitness.
Under the current APFT, soldiers had 90 days to retake the test after failing. In the new ACFT, soldiers will have up to 180 days to retake a failed test, said Jeff Angers, deputy assistant secretary for military personnel. For enlisted soldiers and officers who fail two tests in a row, commanders will initiate separation and no one in the active Army can be separated for a failed test before April 2023, he said.
"The intent of the Army is to build fit soldiers, not to separate a bunch of soldiers that on one day would be awesome, full faith and doing their job and … then implement a test that the next day, they would now be separated based on some scoring scale. That is not the intent, and that's not what this test will do," Naumann said.
The Army has established a set of committees meant to review and research the progress of the ACFT and a report on its implementation is expected to the Army secretary by April 2023. Through this oversight, there could be additional changes to the test.
Rand was commissioned to produce two additional studies on the implementation, which are intended to provide analytical support, identify issues, and help develop appropriate responses to those issues, Angers said.
"It's the Army's intent that the transition to full implementation of the ACFT will not adversely or disproportionately affect any soldier group. This is really important to us," Naumann said. "We think this new test maintains the Army's strong commitment to a culture of physical readiness while ensuring a deliberate transition to the new test. And to that end, the Army will incorporate the test in a very deliberate manner to ensure that soldiers can train and adjust to the new events and the new scoring scales before we use those for personnel actions."
---
---
---
---