Airmen have more options to demonstrate fitness as service updates test
by
Jennifer H. Svan
Stars and Stripes
November 15, 2021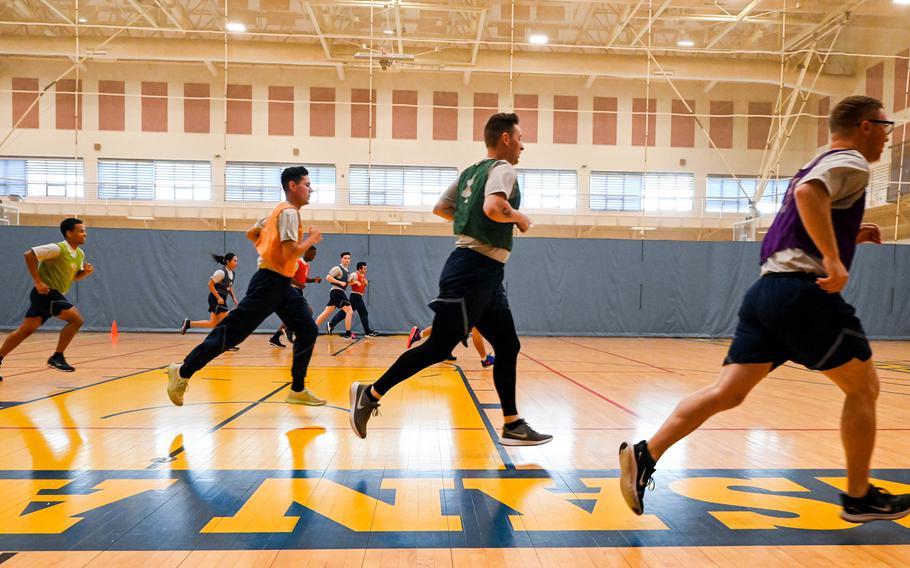 The Air Force has released updated scoring charts for its revamped physical fitness test and is giving airmen more options to meet their fitness requirements.
Beginning Jan. 1, airmen performing the cardio portion of the test may choose to run either 1.5 miles on a track or a 20-meter shuttle run set up inside a basketball court, the updated guidelines released Friday said. Speed walking one's way to aerobic fitness, however, is still not an option for most.
Service leaders said the walk would be included as a cardio component when announcing plans for the additional testing options in the summer. Airmen on a medical waiver will still be allowed to do the 2K walk — about 1.25 miles.
In a Facebook post Friday announcing the updated test components and scoring charts, Chief Master Sgt. of the Air Force JoAnne S. Bass said the walk option was removed "until we are able to standardize the VO2 measurement equipment across every installation."
The Air Force had proposed a 1-mile walk alternative to measure an airman's aerobic capacity, which is also referred to as VO2 max. Scoring would incorporate time to complete the test along with the member's age, weight, and heart rate at the time of walk completion, the Air Force said in the summer.
The 20-meter high-aerobic multi-shuttle run has been described as a better measure of functional cardio fitness by service officials. It requires airmen to sprint while adjusting their speed and direction, similar to what they might do if taking cover or helping others during a mortar attack.
To max out the shuttle run, a 20-year-old male airman would have to complete at least 100 laps back and forth. The laps are timed to a recorded beep that gets progressively faster, from a slow jog to a sprint.
The Air Force Reserve Command began testing and implementing the shuttle run in January 2020 as an indoor alternative to the 1.5-mile run in lieu of a weather waiver. On average, the command was issuing 1,800 to 2,000 weather waiver exemptions annually, officials said.
For the strength portion, airmen may opt to do traditional pushups or hand-release pushups.
The Army also incorporates hand-release pushups in its new combat fitness test. Soldiers are required to take the weight off their hands when at the lower position in between pushup repetitions and extend their arms out to a 90-degree angle.
Hand-release pushups tend to be harder than traditional pushups, requiring a stronger core, fitness experts say.
To max out the pushups, a 46-year-old female airman would have to complete 37 traditional pushups in one minute or 28 hand-release pushups in two minutes.
For situps, the Air Force has approved a cross-leg reverse crunch and plank, in addition to traditional situps.
The alternative fitness components will not apply to the U.S. Space Force, which is developing a service-specific health assessment over the next year, the Air Force said.
---
---
---