Army launches body composition study at Fort Bragg that could challenge the tape test
by
Corey Dickstein
Stars and Stripes
October 19, 2021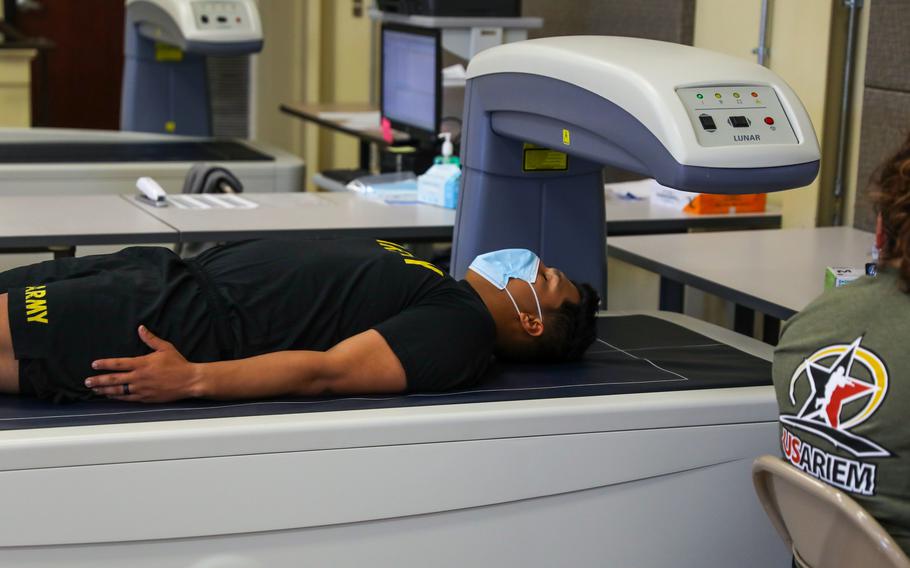 The Army's decades-old tape test used to determine whether soldiers meet body fat standards could be on its way out when the service gets the results of a new body composition study launched Monday at Fort Bragg, N.C., Army officials said.
The study will compare data gleaned from the roughly 30-year-old tape test — officially known as manual circumference measurements — with information provided by three new technology-driven measurement techniques in an effort to understand the relationship between soldiers' size and composition and their health, service officials said. The Army's Center for Initial Military Training and its Research Institute of Environmental Medicine, known as USARIEM, are leading the study that will gather data from about 1,500 soldiers at Fort Bragg through Oct. 29.
"The [study] really came from an outpouring of soldiers at just about every stop I've had who want to know about the [Army Combat Fitness Test] and then they want to know if we're going to do something about height and weight standards," said Sgt. Maj. of the Army Michael Grinston, the Army's top enlisted soldier who visited Fort Bragg on Tuesday to observe the study. "The rationale was — it was time to look at it, and [consider] ... what technology do we have today that didn't exist 30 years ago? There's a lot of new technology …. but, is it better or worse than what we're doing?"
Volunteer soldiers participating in the study each go through all four body composition assessments. This includes the traditional tape test, which uses a regular measuring tape to calculate body fat percentages based on Army height and weight tables. It measures neck and abdomen circumference in men and neck, waist and hips circumference in women.
The other three tests use machines to gather masses of data about an individual's body. They are:
• Dual-energy x-ray absorptiometry, or DXA, which is considered the medical industry's "gold standard" body composition assessment, using low-energy x-ray photos to determine the amount of muscle, fat and bone within a human, according to the Army.
• Bioelectrical impedance analysis, or BIA, which uses low-level electrical currents flowing at different rates through the body to produce body composition and body water level data based on a person's size in a 60-second scan.
• Three-dimensional body scan, which examines a person's entire body surface using infrared technology to collect some 2 million pieces of data, including the amount of muscle and fat a person has within their body.
Grinston said Tuesday that it was much too soon to make any real guess if Army leaders will decide to adopt any of the technology-driven techniques or kill the tape test. He defended the test as cost-effective and generally accurate for measuring a person's body fat percentage.
"Is this going to change anything? I have no idea. Stay tuned," he said. "We're literally on the second day … [and] the ultimate goal is to make us more healthy as individual soldiers, so we'll let the science do the talking.
The study is meant to gather data to be used to determine much more than whether to keep the tape test, said Holly L. McClung, a nutritional physiologist with USARIEM helping lead the study. The data gathered from soldiers via the four tests — along with their scores for Army fitness tests and other health information — will help scientists better understand the relationship between body makeup, health and performance, she said. It comes as the Army works to shift the service toward a culture focused on holistic health, which encompasses mental health, nutrition and other wellness factors along with physical training.
McClung said the study would sample soldiers of all shapes and sizes, races and ethnicities and it would include at least one-third women among those tested. She said she hopes it will provide Army leaders with new insights into the relationship between body composition and certain injuries such as knee and back problems so pervasive among service members. It also could provide new data about the recovery needed among postpartum mothers.
"We're really interested in looking at what the time for recovery impacts on their body composition, and does it have any link to their birthing method," McClung said.
The study began at Fort Bragg, and McClung expects to gather most of the data needed from soldiers at the North Carolina post. It will include assessment of active-duty, National Guard and Army Reserve soldiers, she said. The study might add additional stops later to collect further information, McClung said.
Officials hope to gather preliminary data by December, but they acknowledged it could be six to nine months before their study is completed and senior leaders can decide what, if any, decisions to make across the force.
Grinston said soldiers participating in the study told him Tuesday that they appreciated the Army looking at body composition, even if the service does not make major changes to its policies.
"They said, 'Even if you don't change it, at least you're looking at it, you've heard us. It's something we're concerned about,'" he said. "We're talking about the health of our soldiers here. And their height, their weight and how healthy and physically fit they are matter for them as individuals and for their units."