US military wrestlers to leave Tokyo without medals after losses to Croatia, Russia
by
Seth Robson
Stars and Stripes
August 3, 2021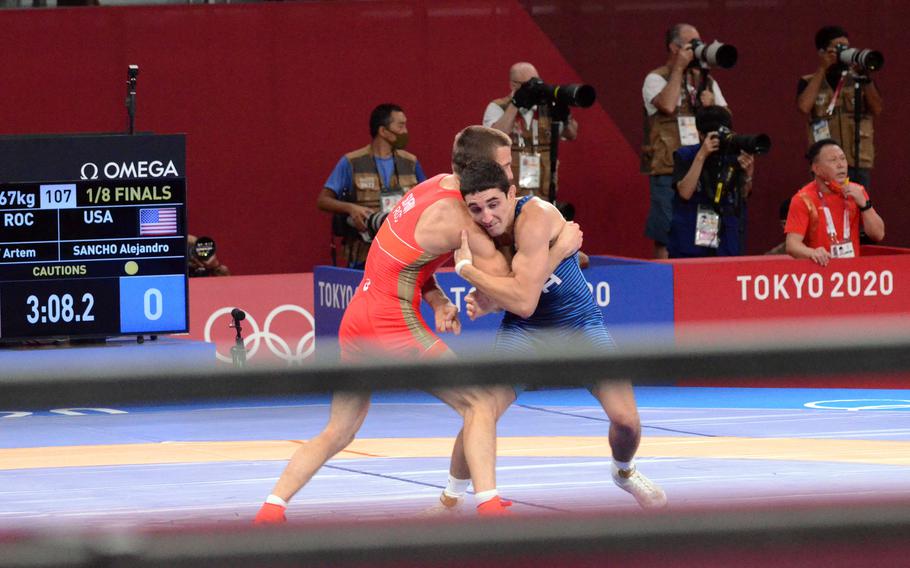 MAKUHARI, Japan — The Olympics are over for two U.S. soldiers and a Marine after they were defeated in Greco-Roman wrestling contests this week.
Marine Staff Sgt. John Stefanowicz, 29, of York County, Pa., lost a close match to 2017 Under-23 World silver medalist Ivan Huklek of Croatia in their 87 kg contest on Tuesday at Makuhari Messe Hall, a convention center in Chiba prefecture near Tokyo.
With other bouts going on beside them, the pair grappled on one of three mats surrounded by mostly empty stands, since only their fellow athletes, Olympic officials and volunteers and members of the press were allowed entry.
Down by five points in the waning minutes of the tussle, Stefanowicz, who was stationed on Okinawa from 2010 to 2012, narrowed the lead with a gut wrench turn but couldn't clinch victory.
Despite a frantic effort by the Marine in the last minute of the match, it ended in a 5-3 win for the Croatian.
Later in the day, Huklek won his quarterfinal bout against Rustam Assakalov of Uzbekistan, keeping Stefanowicz' chances for a bronze medal alive.
However, the Croatian's loss that evening to former world champion Zhan Beleniuk of Ukraine ended those hopes.
The games are also over for two U.S. Army wrestlers who lost on Monday and Tuesday.
Sgt. Ildar Hafizov, 33, a truck driver and member of the Army World Class Athlete Program who immigrated to the United States from Uzbekistan, lost to Russian Sergey Emelin on Monday to finish 12th in the 60 kg class.
Spc. Alejandro Sancho, 27, of Miami, a military policeman also in the World Class Athlete Program, lost to another Russian, 2018 World champion Artem Surkov, in their 67 kg clash on Tuesday morning.