New commander gets fourth star, takes charge of airmen in Europe and Africa
By
Stars and Stripes
June 27, 2022
---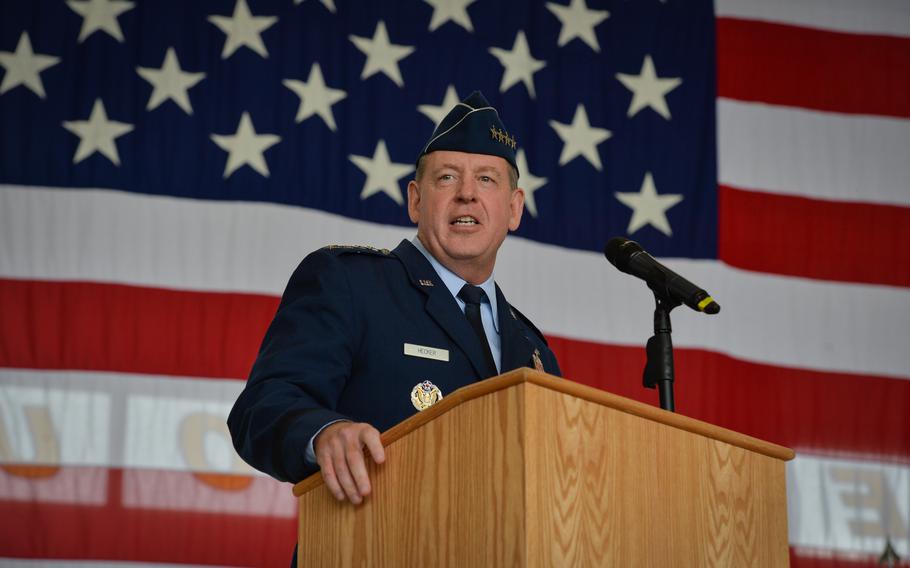 RAMSTEIN AIR BASE, Germany — Gen. James Hecker became commander Monday of more than 30,000 airmen and an air operations network spread across three continents, taking the reins in a ceremony that saw five four-star leaders on one stage.
Hecker, the Air Force's newest four-star general, received his promotion shortly before his elevation to command of U.S. Air Forces in Europe and Air Forces Africa.
Gen. David Allvin, the Air Force's vice chief of staff; Gen. Tod Wolters, U.S. European Command and NATO supreme allied commander; and Gen. Stephen Townsend, U.S. Africa Command commander, were on hand to welcome Hecker to Europe and bid farewell to the outgoing Gen. Jeffrey Harrigian, who is retiring after a 37-year career.
A fighter pilot and 1989 Air Force Academy graduate, Hecker comes to Europe from Maxwell Air Force Base, Ala., where he was the commander and president of Air University, part of Air Education and Training Command, for more than three years.
He has more than 3,500 hours in the cockpit flying the F-15C Eagle, F-22 Raptor and MQ-1B Predator, among other aircraft.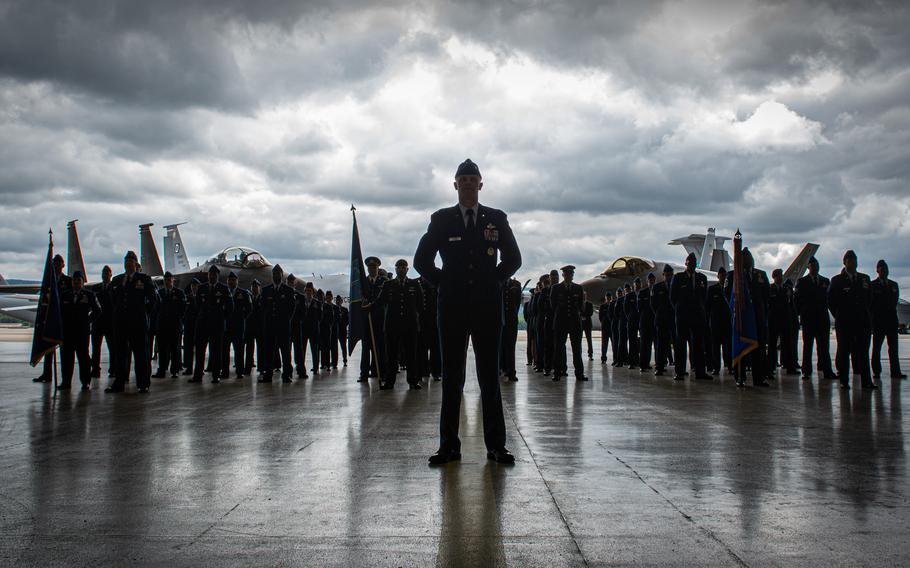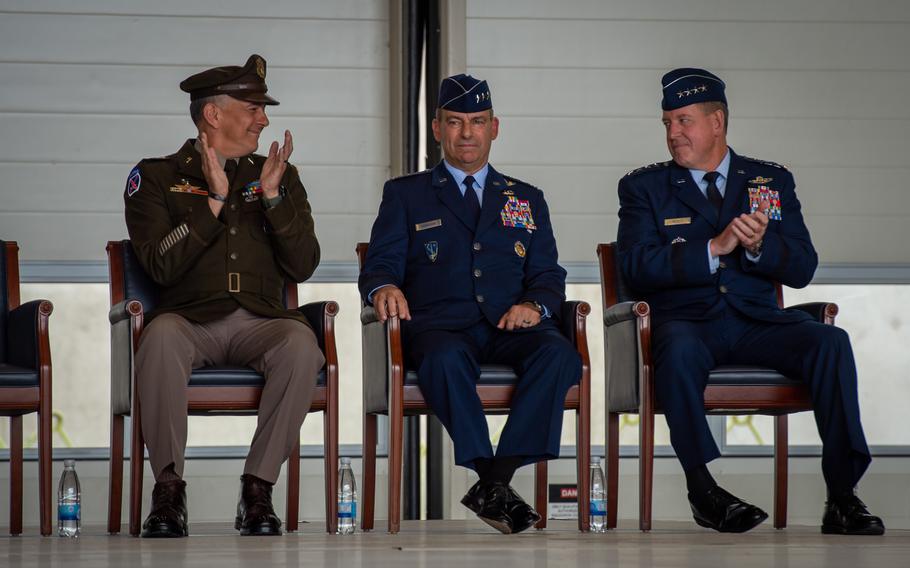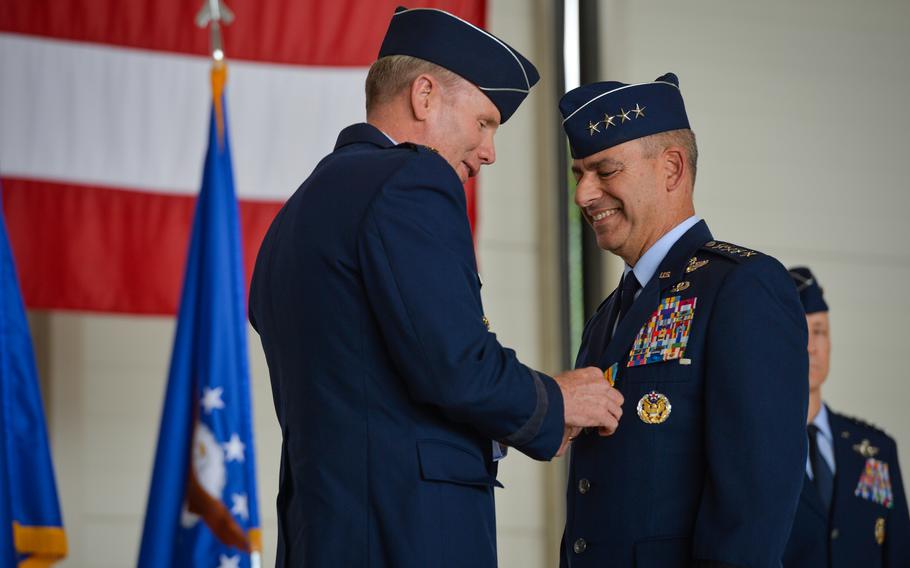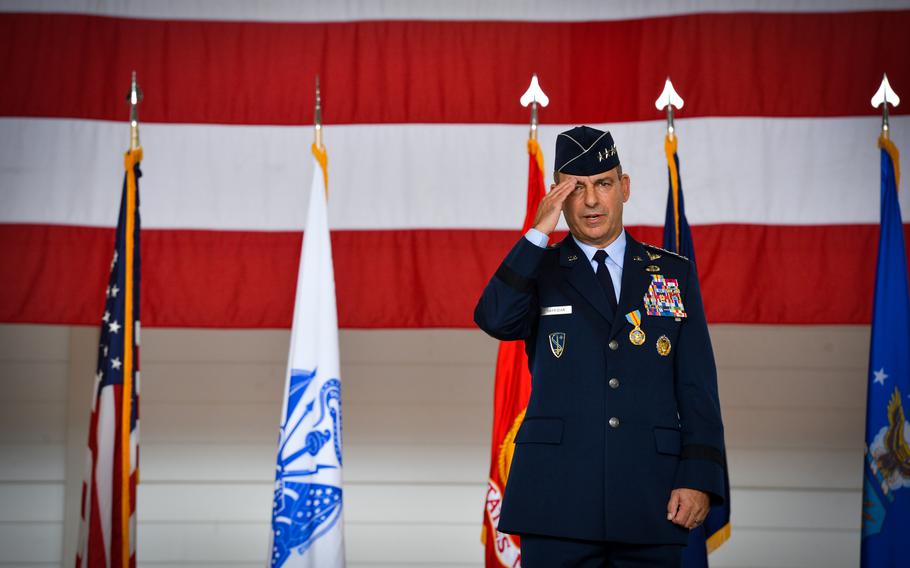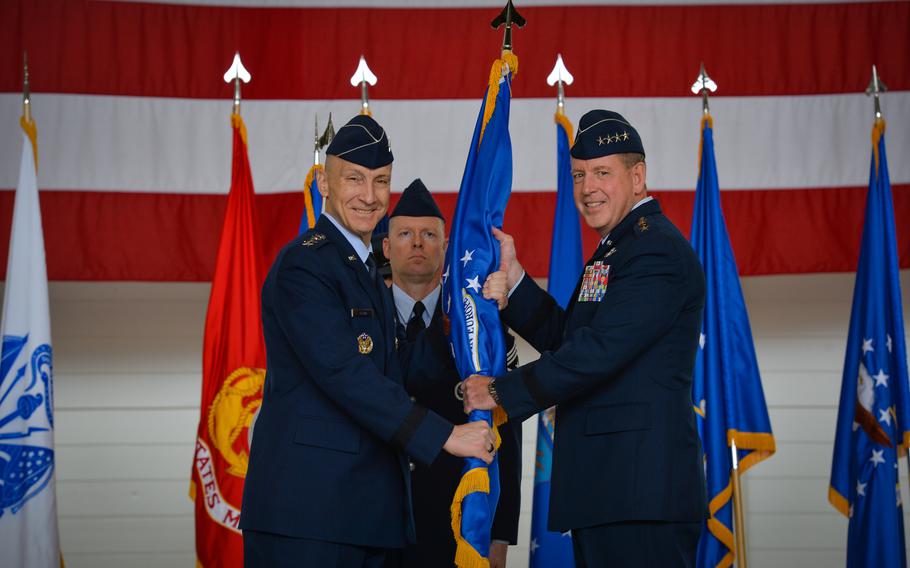 In his new assignment at Ramstein, Hecker will also lead Allied Air Command, which coordinates air and space operations for the NATO alliance.
Hecker noted that the U.S. military is a lot smaller now than it was when he joined the Air Force more than 30 years ago. He underscored the importance of working with partners and allies in standing up to Russia and China, adding that the latter poses challenges for the U.S. in Africa.
"We can't do this by ourselves. We must do it together," he said, also alluding to the possibility that NATO may soon have two new members, Sweden and Finland.
Harrigian led USAFE-AFAFRICA through the pandemic, during which the command launched more than 177,000 training and contingency sorties, according to his citation for the Legion of Merit, which he received during the ceremony.
The command under Harrigian also supported the evacuation of more than 120,000 refugees from Afghanistan following the U.S.-backed government's collapse and the Taliban takeover in August 2021. 
Most recently, Harrigian had the command ready to defend the alliance on "night one" of the full-scale Russian invasion of Ukraine on Feb. 24, Townsend said.
---
---
---
---