3rd Air Force in Europe says farewell to Reed
By
Stars and Stripes
May 18, 2022
---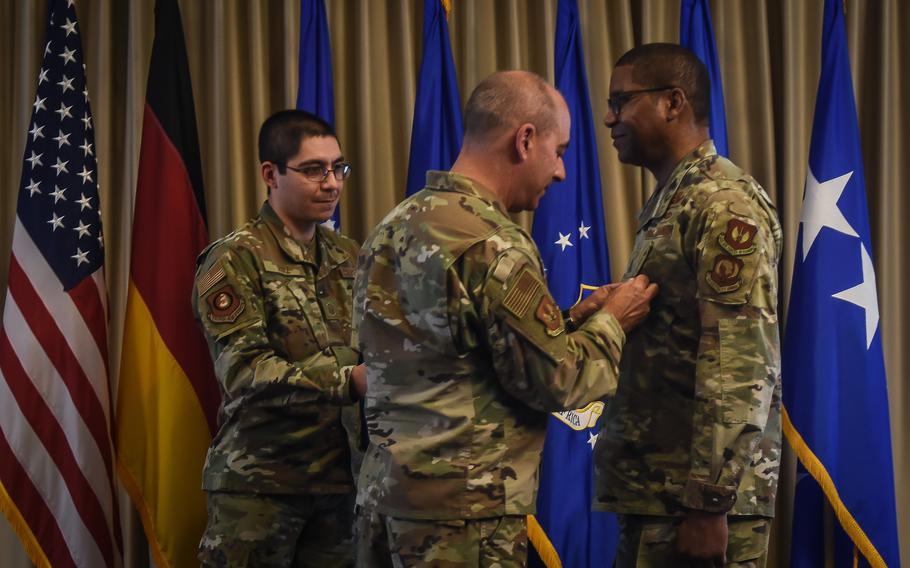 RAMSTEIN AIR BASE, Germany — Maj. Gen. Randall Reed made his final commander's call Tuesday as the leader of the 3rd Air Force, bidding goodbye with thanks to his staff, his boss and the 32,000 airmen and guardians his team of 30 supported for two years.
Reed is departing for Scott Air Force Base in Illinois, where he'll serve under Gen. Mike Minihan as the deputy commander of Air Mobility Command. He's also been nominated for a third star.
Reed's replacement, Maj. Gen. Derek C. France, an F-15 and F-22 fighter pilot, is expected to take command sometime next month, Air Force officials at Ramstein said.
When that time comes, France won't have to move his office far. His current assignment as the director of operations, strategic deterrence and nuclear integration for U.S. Air Forces in Europe-Air Forces Africa is also based at Ramstein.
In the interim, Col. John Gonzales, the 3rd Air Force vice commander, will lead the command until France takes over, Air Force officials said.
Reed relinquished command at the Ramstein Officers' Club, using the opportunity to highlight a few of the accomplishments of his airmen. 
"To my beloved wings, I'm at a loss at how to describe our time together," he said.
The command's 10 wings spread across two continents make up USAFE-AFAFRICA's only numbered air force.
He expressed pride in airmen from Spangdahlem's 52nd Fighter Wing, who helped put together "kits for date nights," with child care provided, to help military couples reconnect during the pandemic.
He also complimented a vehicle maintenance master sergeant at Lajes Airfield in the Azores who helped her team create a system to get rid of rust and salvage older military vehicles.
Reed was recognized with the Distinguished Service Medal during the ceremony.
During his Ramstein tenure, he oversaw the initial operational capability of the Air Force's first F-35A fighter squadron in Europe and facilitated the temporary housing of 35,000 Afghan evacuees at area bases.
Gen. Jeffrey Harrigian, the USAFE-AFAFRICA commander and Reed's boss, said that above all, Reed showed himself to be a people person.
Reed would "get out, interact with the young airmen, the families at the wing level" to make sure the command knew what their concerns were, Harrigian said, "and then always provide me with the appropriate advice of where we needed to go."
---
---
---
---