3rd Air Force welcomes new fighter pilot boss with experience in Europe, downrange
By
Stars and Stripes
June 22, 2022
---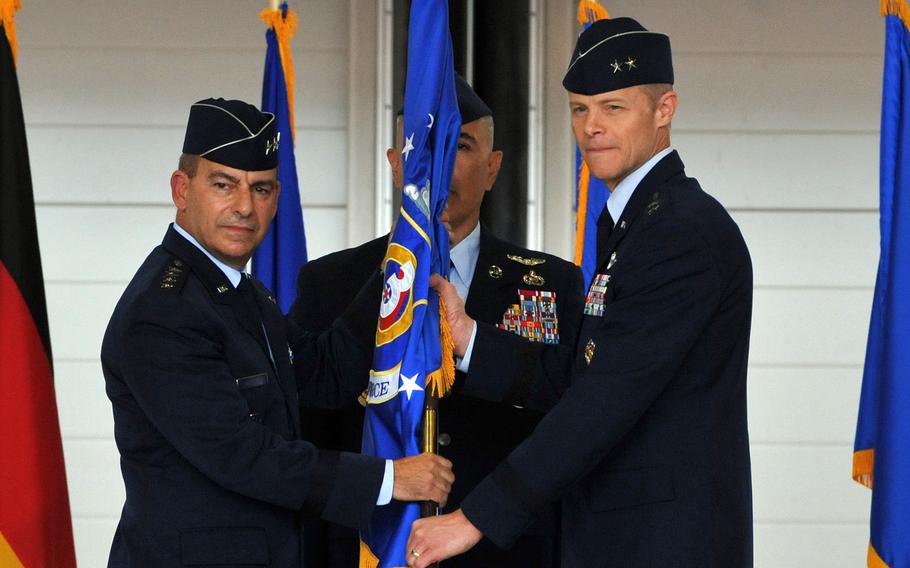 RAMSTEIN AIR BASE, Germany — The 32,000 American airmen in 3rd Air Force have a new boss, and he knows his way around the controls.
Maj. Gen. Derek France took the reins of the only numbered air force in USAFE-AFAFRICA at a ceremony Wednesday.
The command is in capable hands with France, U.S. Air Forces in Europe and Air Forces Africa commander Gen. Jeffrey Harrigian said, citing his tactical experience as an F-15 and F-22 pilot and his operational knowledge.
France stepped into the role about a month after his predecessor, Lt. Gen. Randall Reed, left to be second in charge at Air Mobility Command at Scott Air Force Base in Illinois, where he also put on a third star.
A fighter pilot and U.S. Air Force Academy graduate, France will oversee 10 wings across two continents at a critical time for Europe and the NATO alliance, as Russia's war in Ukraine is about to enter its fifth month with no end in sight.
France vowed to continue "to prioritize people, our readiness, our posture and partnerships" while also defending the alliance.
"While the world has changed, 3rd Air Force will adapt and embrace those new realities," he said. "The needle will not move when it comes to the dedication, readiness and resolve of our airmen." 
France commanded an expeditionary wing at Al Dhafra Air Base in the United Arab Emirates and served as deputy director of operations for U.S. Central Command.
The past two years, he was assigned to Europe, where he was the director of operations for strategic deterrence and nuclear integration for USAFE-AFAFRICA.
As a leader, France knows how to "collectively find the right balance" between executing the mission" and taking "care of airmen and their families," Harrigian said.
---
---
---
---