New Air Force commander on Guam urges readiness for a conflict with China
By
Stars and Stripes
June 10, 2022
---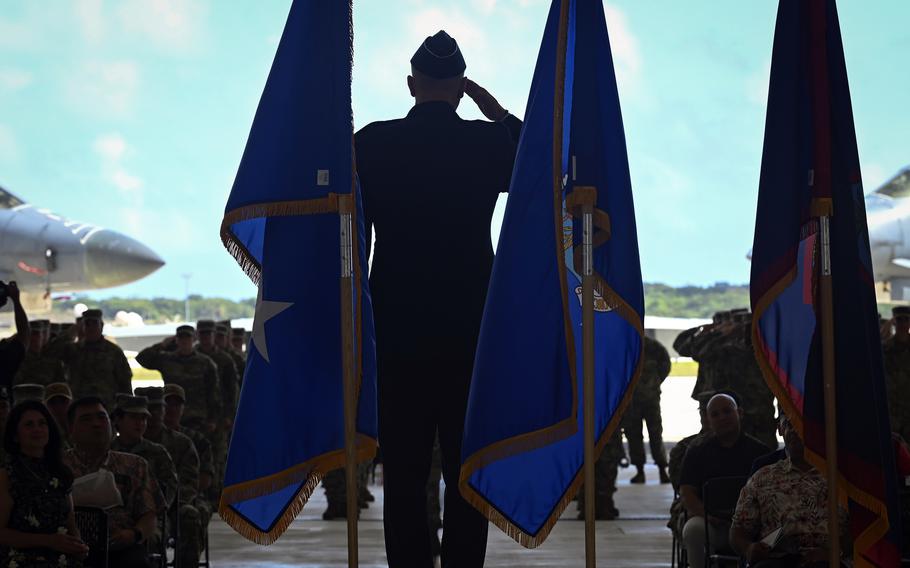 The U.S. military must prepare to fight decisively if China challenges America, its allies or partners, the new commander of Andersen Air Force Base on Guam told troops moments after stepping into the job.
Brig. Gen. Paul Birch took command of Andersen's 36th Wing from Brig. Gen. Jeremy Sloane on Friday during a ceremony in a hangar at Andersen that was livestreamed on Facebook.
Birch, a former Pentagon strategic planning chief, pinned on his first star March 2. He told airmen he looks forward to working with them, as well as troops from other branches and allied militaries, to increase Andersen's capabilities.
"We have to get it right now, right here because of the world's situation," he said.
U.S. allies in Europe have been focused on Russia's invasion of Ukraine since February. Meanwhile, North Korea has been conducting regular missile tests and Chinese planes have been buzzing Taiwan.
"The threat is relentless," Birch said. "We need to enhance our … readiness and lethality in such a way that deters our adversary today and also postures us to fight decisively should that adversary – China – make a strategic miscalculation and elect to take on the United States, its allies or its partners."
Birch, who graduated from the Air Force Academy in 1996 and received a master's degree from the Massachusetts Institute of Technology in 1998, takes command during Valiant Shield. The biennial exercise on and near Guam involves two aircraft carriers, 15 surface ships, more than 200 aircraft and an estimated 13,000 personnel.
The exercise and others like it aren't just building troops' skills, he said.
"They also signify our resolve to our global commitments," he said. "Our methods of command and control must be the golden braid that holds together the substance of operational warfighting capability even when it is stressed in the most demanding conditions of high-end conflict and a near-peer fight."
Service members on Guam can contribute to the mission in ways that are possible in a free country out of the shadow of tyranny and autocracy, Birch said.
Sloane, who received the Distinguished Service Medal for his command of the wing since July 2020, praised airmen for their efforts to continue the mission during the coronavirus pandemic and noted "the pacing threat just over the horizon."
Sloane is set to retire from the Air Force and will be moving to Alabama with his family, the service said in a news release Friday.
The 36th Wing is the key for security in the region, 11th Air Force commander Lt. Gen. David Krumm told the troops during the ceremony.
China has been ignoring international norms, borders and sovereignty for years. It wants to replace the international system that undermines a peaceful and prosperous Indo-Pacific, Krumm said.
"Today a free and open Indo-Pacific is under threat by China," he said. "China only recognizes its own self-interest."
---
---
---
---