North Korea fires 8 ballistic missiles off eastern coast, South's military says
By
Stars and Stripes
June 5, 2022
---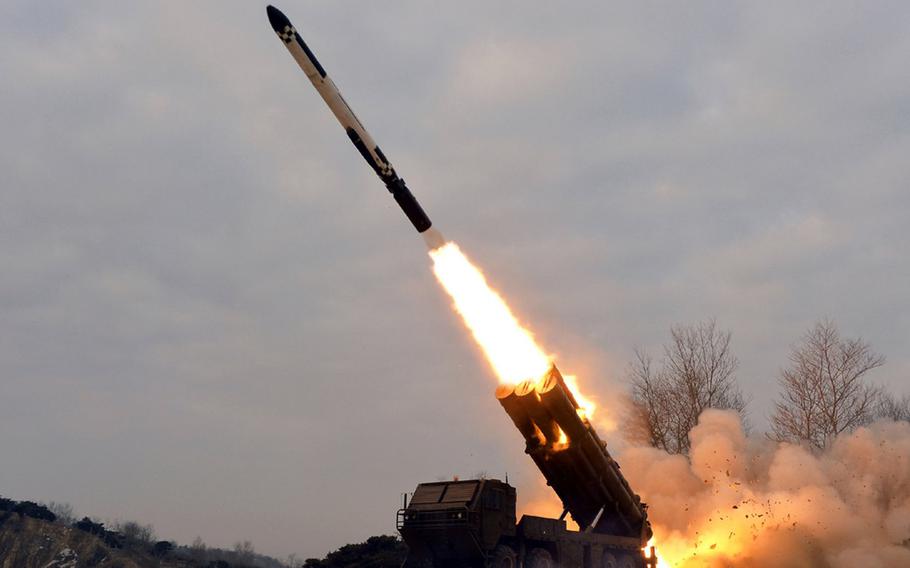 CAMP HUMPHREYS, South Korea — North Korea on Sunday launched eight short-range ballistic missiles off its eastern coast, according to the South's Joint Chiefs of Staff. 
The missiles were fired between 9:08 a.m. and 9:43 a.m. from four provinces in the country, the Joint Chiefs said in a text message to reporters. The missiles are estimated to have flown between 68 and 416 miles at altitudes of 16 to 56 miles. They are believed to have reached three to six times the speed of sound. 
South Korea's military is prepared for additional missile tests and is "maintaining a full readiness posture" through consultation with U.S. forces, the Joint Chiefs said. It added that military leaders discussed the latest launch with U.S. Forces Korea's commander, Army Gen. Paul LaCamera, and "confirmed the combined defense capability and readiness to immediately detect and intercept" North Korean missiles.
U.S. Indo-Pacific Command said in a statement Sunday afternoon it was aware of the launches and that it assessed they did "not pose an immediate threat to U.S. personnel or territory, or to our allies."
"The U.S. commitment to the defense of the Republic of Korea and Japan remains ironclad," the statement said.
If the number of missiles is accurate, it would be the largest test event conducted by the regime, Michael Duitsman, a research associate at the James Martin Center for Nonproliferation Studies, told Stars and Stripes by phone Sunday.
Duitsman said North Korea fired four missiles "almost simultaneously" in 2017. Experts said it may have been an exercise simulating an attack on U.S. forces stationed in Japan.
"It has conducted multiple launches in a single event before, but it's usually in much lower numbers," Duitsman said, adding that North Korea has launched a record high of 28 ballistic missiles so far this year.
The regime in recent months conducted several ballistic missile tests in pairs or in threes and also fired several rockets using multiple rocket launchers, Yang Uk, an associate research fellow at the Asan Institute for Policy Studies in Seoul, told Stars and Stripes on Sunday.
Uk said that based on the initial evidence, North Korea would have likely fired different types of missiles and characterized the launches as a military exercise, rather than a missile test.
The launches mark the 17th round of missile tests so far this year by North Korea and its first in June. The communist regime last conducted a test on May 25, hours after President Joe Biden left Asia after his first presidential trip to South Korea and Japan.
During his trip to Seoul, Biden and newly-elected South Korean President Yoon Suk Yeol vowed to reinforce their alliance and proposed to start talks to expand the scale of joint military exercises between their militaries. Those large-scale exercises, which North Korea claims is a rehearsal for an invasion, were suspended in 2018 following the series of summits between then-President Donald Trump, then-South Korean President Moon Jae-in and North Korean leader Kim Jong Un.
Sunday's launches came as officials assess that North Korea may soon conduct a nuclear test. Government officials from the U.S., South Korea and Japan cited mounting evidence that the regime has made preparations for its seventh nuclear test, its first since 2017.
The Biden administration said it continues to leave the door open for North Korea for negotiations without preconditions.
---
---
---
---